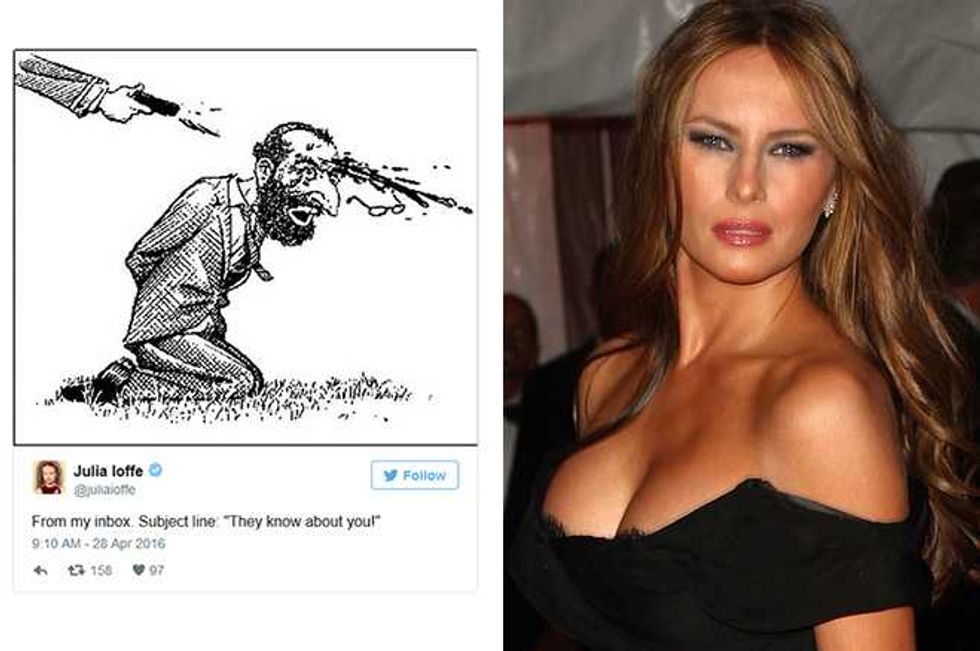 Writing a profile of Melania Trump for GQ this week, journalist Julia Ioffe was not prepared for the nature of the attacks that followed.
Angry Trump supporters reacted to her piece with the same antisemitic fervor that impelled Ioffe's family to leave their native Russia 26 years ago.
Within 24 hours of publishing the fairly innocuous profile, Ioffe has received a 'torrent of antisemitic, vitriolic and threatening messages from supporters of the Republican frontrunner,' according to the Guardian.
While the abuse has not been directly linked to Donald Trump, it is indisputable that his campaign has fostered an atmosphere of violence and a tacit approval of white supremacist sentiment.
Ioffe received a phone-call on Thursday in which the caller played a recording of a Hitler speech.
On Twitter, Trump supporters lashed out at the journalist with antisemitic epithets and even a picture of her superimposed on an Auschwitz mugshot.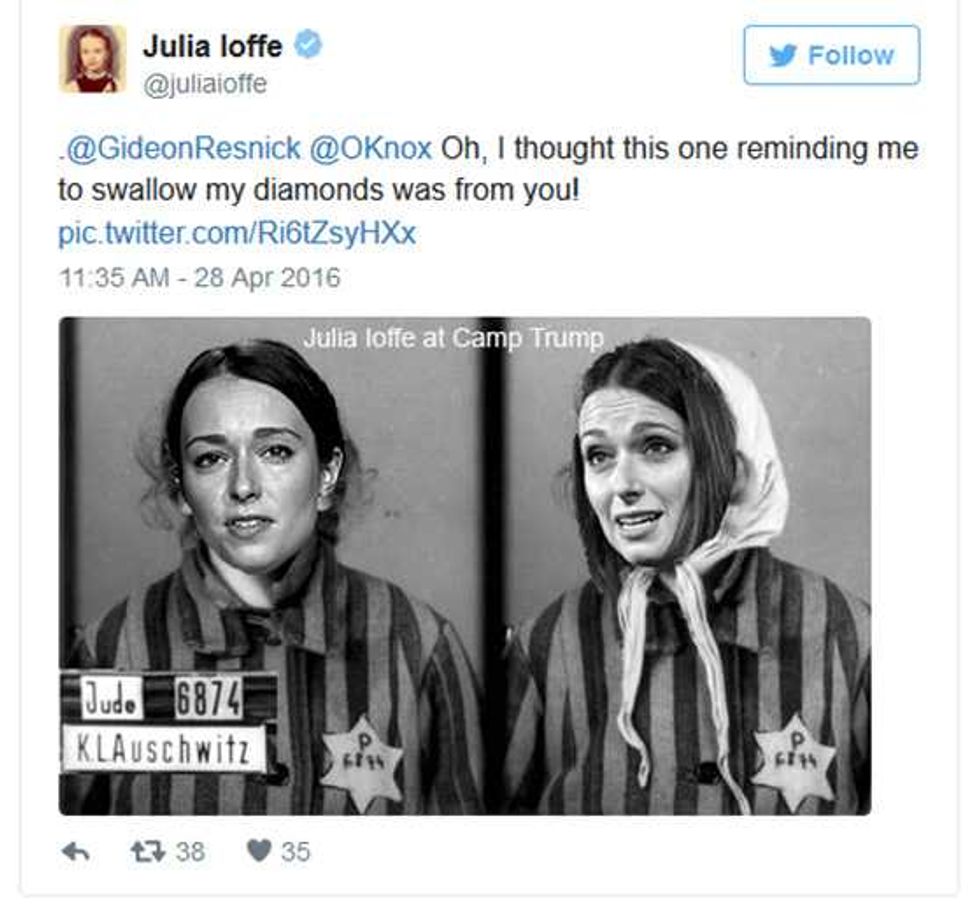 The Daily Stormer, one of the Internet's premiere neo-Nazi portals, wrote a post about Ioffe titled
Empress Melania Attacked by Filthy Russian Kike Julia Ioffe in GQ!
People, what do we do about this kind of unhinged hatred?
How will America fare under the leadership of Donald Trump as President?
If you're not afraid, be afraid.
Melania Trump has expressed her displeasure with the GQ profile, which Popdust covered earlier this week, in a Facebook post that reads:
The article published in GQ today is yet another example of the dishonest media and their disingenuous reporting. Julia Ioffe, a journalist who is looking to make a name for herself, clearly had an agenda when going after my family. There are numerous inaccuracies in this article including certain statements about my family and claims on personal matters. My parents are private citizens and should not be subject to Ms. Ioffe's unfair scrutiny.

Furthermore, the statement surrounding the performance of my skincare collection is completely false. The company in which I was involved with did not honor the contract and did not meet their obligations and as such the courts ruled in my favor.

I am hopeful that the media will begin to cover me fairly and be respectful of my family's privacy.
At issue, evidently, is the revelation that Melania has a half-brother the family wants nothing to do with.
In contrast to the bit about the journalist wanting to make a name for herself, Ioffe is a well-established features writer who freelances for the New York TImes and the New Yorker.  On Thursday night,  Ioffe told the Guardian:
It's unsettling. I started the day off having a sense of humor about it but by the end of the day, after a few phone calls like this, with people playing Hitler speeches, and the imagery, and people telling me my face would look good on a lampshade, it's hard to laugh.
Indeed. We are not laughing.