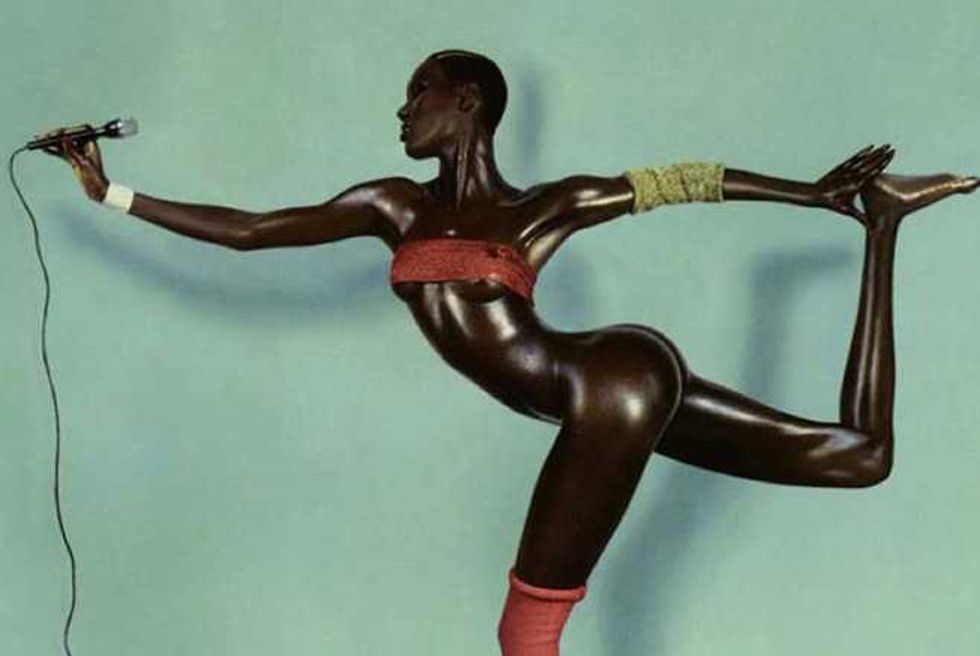 All hail Grace Jones, the Original Diva.
The 67-year-old has penned a candid tell-all, titled I'll Never Write My Memoirs, and it promises to be every bit as salacious, opinionated and sex, drugs and rock 'n roll filled as you would expect, given Jones' rich and colorful life so far.
Jack White Lashes Out Against Diva Rumors In Open Letter
And, when we say rich and colorful, we mean, filthy rich and vividly colored—the trail blazing model and singer's escapades are the stuff of legend, and rock history is littered with amazing tales of Jones' outrageous behavior and glorious excesses.
Like, when Jones was living in Paris with fellow models Jerry Hall and Jessica Lange, and attended a stuffy cocktail party full of French big wigs and politicians, totally naked, save a string of bones around her neck.
All Hail Queen Mimi! Mariah Carey's Most Fabulous And Divalicious Photos
And the story of when she went on an acid-fueled road trip with the Hells Angels, during which one can only imagine what went down.
Then, there's the time Jones flashed her breasts during a live performance at Walt Disney World in Florida, earning her a lifetime ban from the theme park; the truly shocking and crazy TV interview where she slapped British talk show host Russell Harty around the face because she felt he was ignoring her; putting two stunt men in hospital during the filming of Conan the Destroyer in 1984; posing naked for Playboy with bodyguard-turned-boyfriend Dolph Lundgren; conducting press interviews from the bath whilst naked or concluding them by making out with the hapless reporter….. the list is endless.
The View Turns Battle Of The Divas As Massive Egos Collide
Jones' memoir ends on a high note, with a printed copy of her diva-licious tour rider, which Gawker has printed in its entirety.
Highlights include:
6 Bottles of Louis Roederer Cristal Champagne

3 Bottles of French Vintage red wine (e.g. St Emilion, Medoc, Bordeaux)
3 Bottles of French Vintage white wine (e.g. Sancerre, Pouilly Fuisse)

2 Dozen Findeclare or Colchester Oysters on ice (unopened)—(Grace does her own shucking.)

2 Sashimi and Sushi platters for 8 people
Wine glasses, champagne flutes, tumblers (all glass, no plastic)l
3-4 Bunches of flowers—prefer lilys and orchids
2 Cases of decent lager beer, chilled
Selection of chocolate / sweets including Minstrels, Maltesers
2 x First Class roundtrip tickets for Grace and traveling companion (These must be fully flexible tickets)

Airport VIP Service for Grace and her companion must be provided: on departure (curbside-airside) + on arrival (airside-curbside) for ALL flights relating to the event.
6 five star Hotel rooms for three nights (the night of the show and the night before and after the show)
Grace's room is to be a presidential suite, which MUST include:
2 Large separate rooms
2 Bathrooms
24 HR Room Service
Full Spa facilities (steam room)
Director Dishes On 'Slightly Declining Actress' Sharon Stone's Diva Behavior
These days, Jones likes to play down her diva-tastic escapades and status (depending on her mood at the time, natch!) claiming, in an interview with the Daily Mail, that she's very low key now, and actually just a big old softie at heart.
To be honest, my life is not really as way-out and myth-loaded as people like to portray it. A friend has a great quote about me which would make a great song, 'I'm not a rock star, I'm a soft person.' I think it's hilarious.

In the Seventies and Eighties we all had our fun, and now and then we went really too far. But, ultimately, it required a certain amount of clear thinking, a lot of hard work and good make-up to be accepted as a freak.

I don't party now, and nobody really knows how to party with me any more. So I stay in a lot. I really am a home person. I like to have my own little parties at home, especially now because where is there to go?

It's much more exciting to be the villain and much more me. I do change roles in life, I live that way. I go feminine, I go masculine. I am both, actually. I think the male side is a bit stronger in me and I have to tone it down sometimes. I'm not like a normal woman, that's for sure.
Indeed Grace Jones, Indeed.....and we wouldn't want you any other way.