There's a crowd forming outside "Original Barbershop" every Friday night, and for good reason.
Although the first show hasn't let out yet, over a dozen young professionals gather outside the dimly-lit, vintage-style barber shop in anticipation for the second show. Given the prime time and location for going out – 10:00 PM on a Friday, smack in the middle of the East Village – the fact that this show is such a popular choice speaks volumes about its draw.
Before the last of the 8 PM crowd even trickles out, the impatient bystanders try to push their way in to grab a seat on a rickety chair, a sunken bench dragged in from the sidewalk, a counter-top, anything that works. A few lights, a solitary microphone, and rearranged chairs transform the barbershop into a intimate, cozy performance space. I can't help but feel out of place in an audience that looks like I walked into the cast party of every CW show ever made; this does not look like the comedy scene that I am accustomed to, and yet "Greatest Show Ever" has much to brag about.
NYC stand up comedy is legendary in general:
But Greatest Show Ever is building something truly special, with comedians like Judah Friedlander (30 Rock) and Roy Wood Jr. (The Daily Show).

RESERVE TICKETS FOR NEXT FRIDAY NIGHT! HERE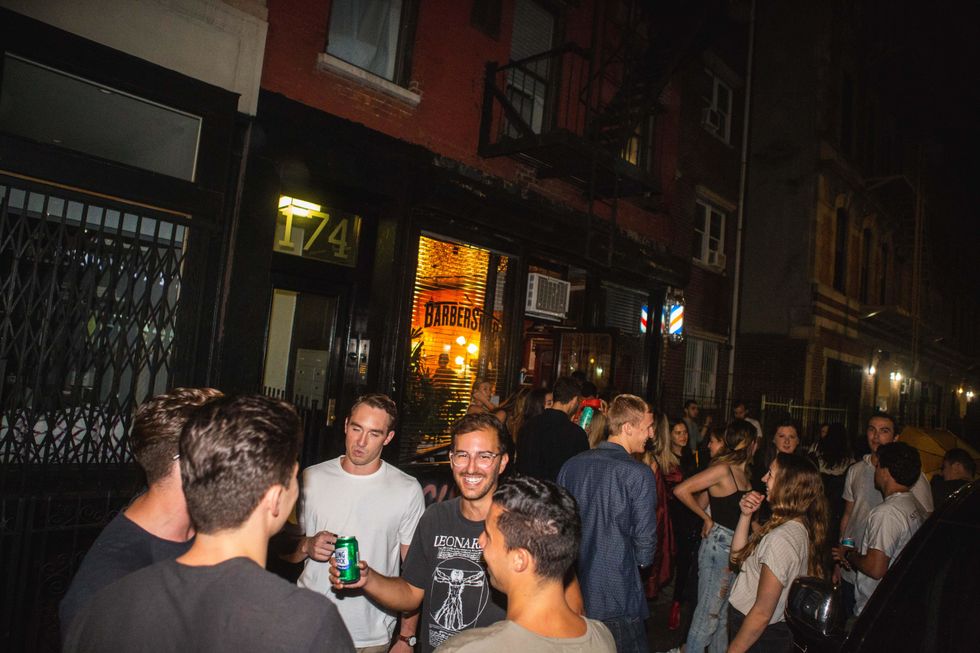 A crowd forms outside before the 10:15 showPhoto by Mike Lavin
The true gem of this show is producer and host Lev Fer's ability to pull together a stellar group of performers. I have rarely been to a show that highlighted so much diversity without having a specific "diversity" theme – diversity in background, content, and performance style. Molly Austin took us back to the embarrassment of childhood with a spur-of-the-moment tale about a distinctly embarrassing dental mishap, which she delivered perfectly with a blend of awkward-coy.
Jared Waters brought such warmth and reality to his stories about being the only black teacher at a Jewish Prep School; his fondness for his wife and his prank-prone students can't help but shine through. We got the Irish immigrant's perspective of America from Sean Finnerty, complete with a very strict lecture on the legal difference between loitering and prowling.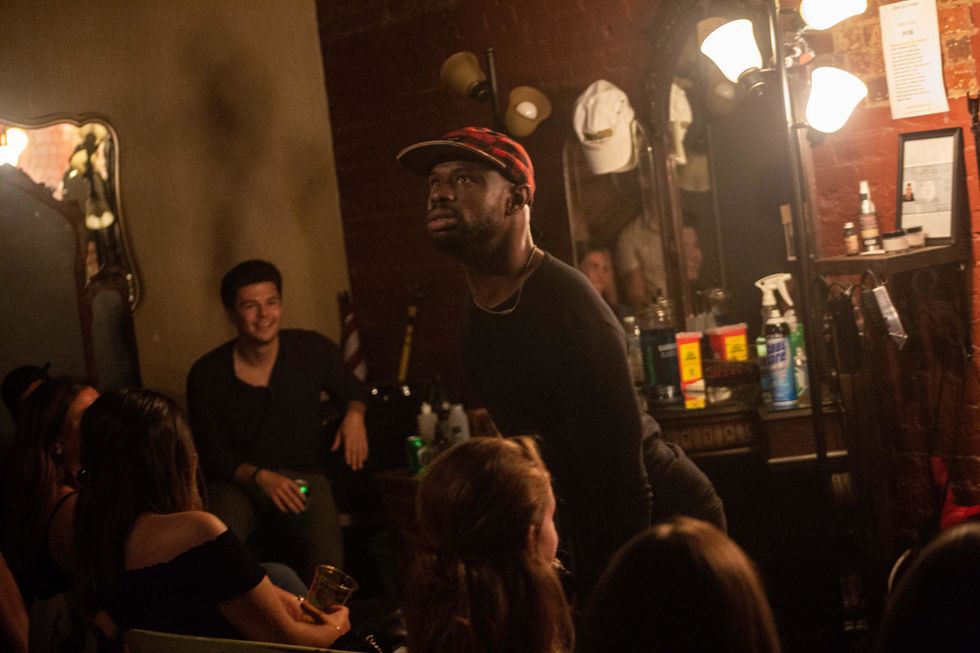 Jamar NeighborsPhoto by Mike Lavin
Ashley Hesseltine breathed new life to jokes about basic white womanhood; she could've easily given us ten minutes of "wine and bad boyfriends, amirite LADIES?", and instead she gave us vulnerability and raw honesty (who among us DOESN'T relate to stalking the ex that they dumped?). Jamar Neighbors ( Keanu, Jeff Ross Presents Roast Battle) takes home the gold in terms of showmanship; his physicality (at one point an updated homage to Monty Python's "Ministry of Silly Walks") made him a standout performer, challenging the reserved poise of the audience with his wild command of the stage.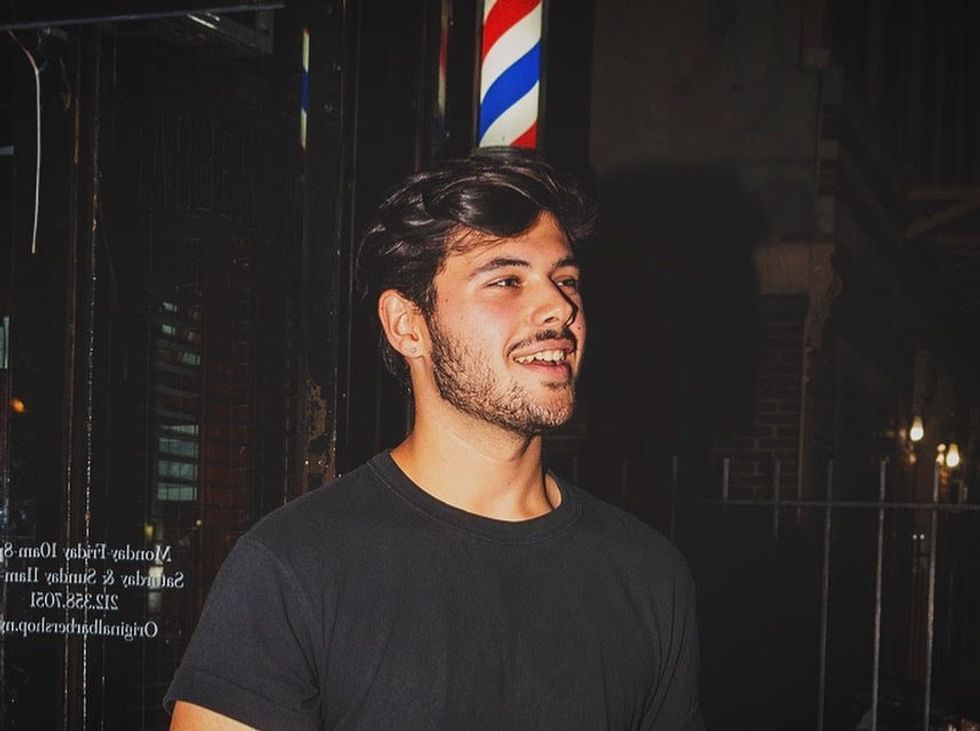 Host and Co-Producer Lev FerPhoto by Mike Lavin
Fer, as host, has the necessary gift of improvisation; the middle of his opening set was interrupted when the barbershop phone rang loudly next to the stage – it was an audience member from the previous show, wondering if he could stop and look for her keys. A hilarious three minutes or so of riffing ensued before he hung up on her. To this day, who knows what became of her keys?
The show's co-producer, Ronnie Lordi, closed out the night with a solid set – if West Virginia was on my list of honeymoon destinations, I would've crossed it off immediately after hearing his wild bachelor party tale. Fer and Lordi clearly exhibit a knack for crowd work, and an even greater talent for producing.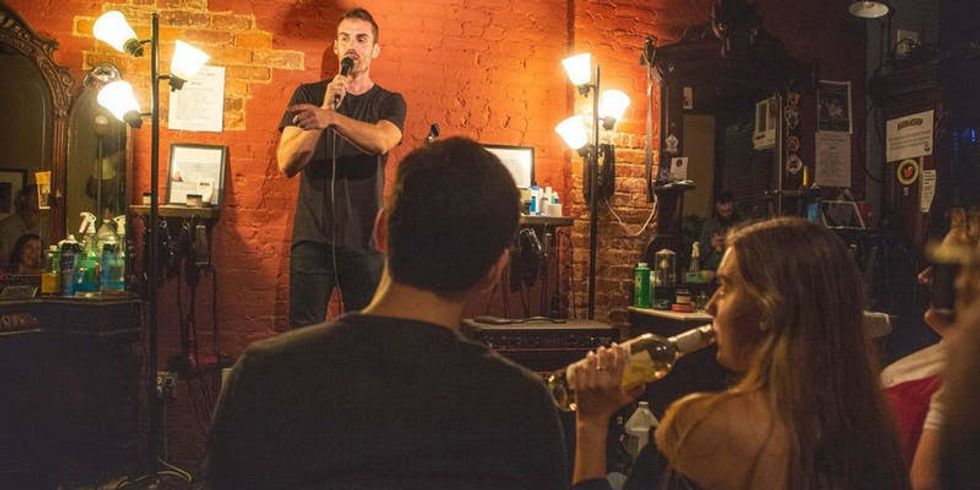 Co-producer Ronnie LordiPhoto by Mike Lavin
If anything needs to change, it's this: if most of the shows are as successful as the one I saw, then it's time for "GSE" to expand. Admittedly, the atmosphere of a small vintage barber shop in the East Village offers a uniquely charming "comedy pop-up" experience that larger comedy clubs cannot offer. However, performers like these deserve a larger audience, and a larger audience deserves to see them, preferably seated in real chairs, ones that don't feel like they could give at any second. That being said, should Fer and Lordi opt to keep their current location, I will wholeheartedly testify that the jokes outweigh everything else.
---
Katie Skiff is a writer, comedian, and actor based out of Brooklyn, NY. You can check her out on Twitter for bad jokes and on Instagram for gratuitous photos of her cat, Spinach.
---
POP⚡DUST | Read More...
Crocs! The Musical is a Comfortable Fit
Nicky Paris Talks his Career, Artistry, and Opening for Mean Girls' Daniel Franzese
Tig Notaro's New Netflix Special Is AWESOME (& Jennifer Aniston Agrees)