OK.. so, let's play Guess The Hills Meth Head!
Actually, don't bother guessing.... we'll just go ahead and tell you.
The teen tweaker was none other than Stephanie Pratt!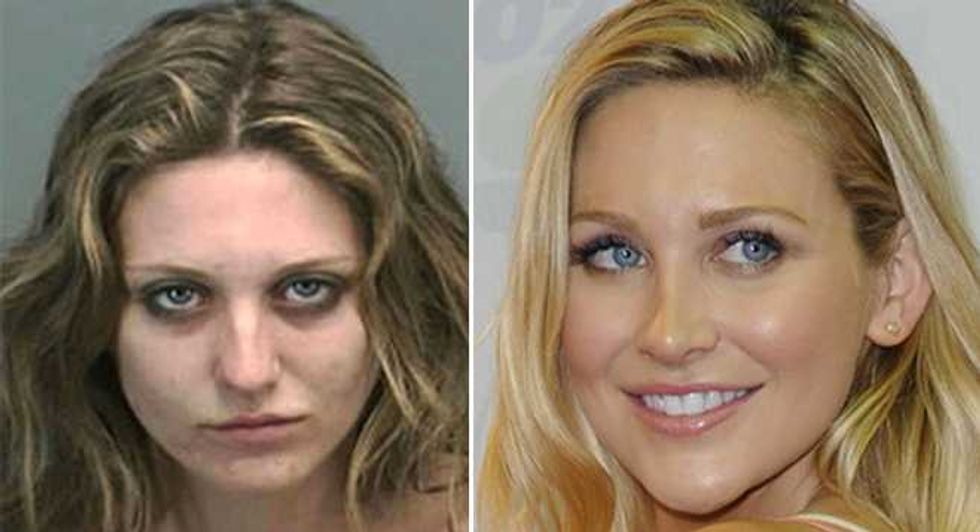 That's faces of meth right there.... boom...
In her new memoir, Made in Reality, the former reality TV star confesses to Breaking Bad way early.
"I was 14 or 15 [when I first smoked it]," she writes in her book (via the DailyMail)
"I was on the extreme level and addiction developed instantly. [I smoked] probably four times before school, then at snack... probably 12 or 13 times a day."
Dr. Drew Admits To Past Drug Use
The 29-year-old also revealed she was something of a coke head as well, the allure being that it made her feel "rebellious and grown-up."
According to Pratt, her parents didn't seem too concerned, so the party raged on.
Kristin Cavallari Finally Open Up About Why She Was Such A Bitch On The Hills
"I didn't care about anything. I could live or die, I didn't care," she says. "I had nothing to get out of bed for, nothing was exciting."
Liza Minnelli Checks Into Rehab For Substance Abuse
Shit started getting real real after Stephanie was arrested in Hawaii for stealing $4,000 worth of designer clothes during a drug induced haze back in 2006.
"I woke up handcuffed to a hospital bed. When I landed back in L.A., Mom took me back home and I went upstairs to my old bedroom and I felt so much shame," she candidly explains in her book.
Then the stress of being surrounded by size twos on the MTV hit only intensified her addiction.
Eminem Talks Drastic Weight Loss, Replacing Drugs With Exercise Addiction
"I lost about six pounds in two weeks but bulimia made my face very puffy so I freaked out and began going on crazy little diets, like I'd only eat Tic Tacs," she admits. Her weight dipped to a dangerous 105 pounds in 2009.
Eventually, Pratt managed to get her shit together and began a regime of healthy eating and exercise… leading to her current clean living lifestyle.
The Good, The Bad, And The Very Very Ugly Celeb Mugshots
As she hurtles towards 30, Pratt says she now is enjoying a sober life—in London of all places.
Spencer's little sister is now a regular on the British pile of shit reality show Made In Chelsea—which has all the manufactured drama of its Cali predecessor, with bad teeth.
At least that meth addiction came in handy for something.....
The Hills Reunion—Kim Kardashian Cut As An Extra And Lauren Conrad's Fake Relationship