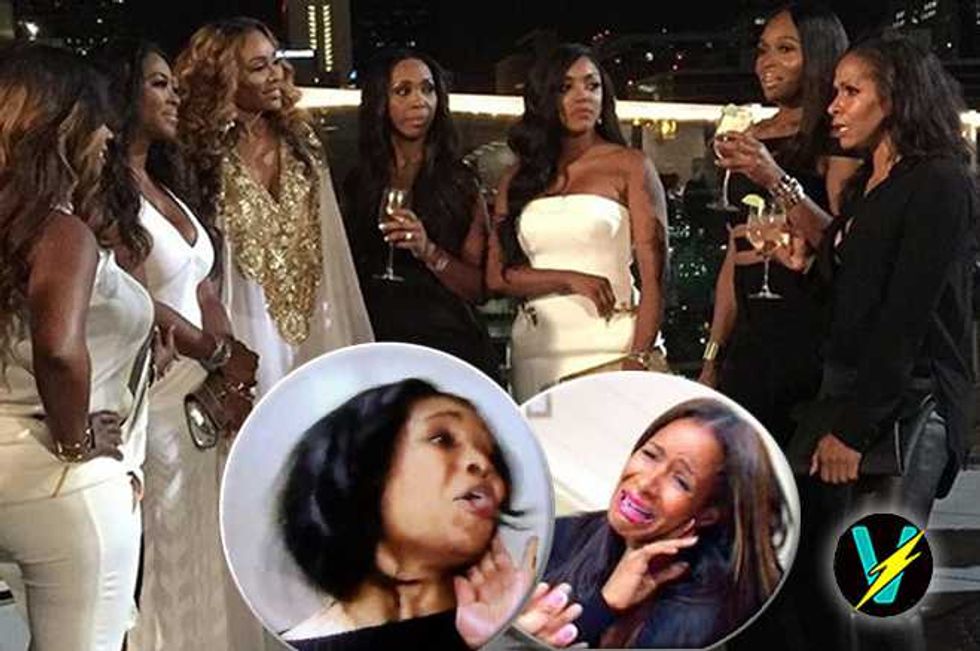 Season 8 of Real Housewives of Atlanta has just started filming and Bravo have brought back a couple of old faces to fill the void left by NeNe Leakes' departure.
Nene Leakes And Kim Zolciak—Taking The Road To Riches Together
Sheree Whitfield is officially back as a full time housewife—she was one of the originals and feuded with everyone, including the infamous wig-tugging fight with BFF Kim Zolciak outside a restaurant.  She was last seen trying to get a better divorce settlement out of ex-husband and former NFL star Bob Whitfield to finish building her mega mansion—Chateau Sheree. The absence of any sign of progress to the building was something of a bitchy joke to the other housewives during Season 4.
Porsha Williams Demoted On Real Housewives of Atlanta For Being Diva Brat
One of Sheree's knock-down-stand up fights was with the other returning face, Marlo Hampton in Africa, where shockingly NeNe ended up being the mediator.  Originally brought on as a friend of the housewives to wind up NeNe (they shared an ex), Marlo stunned everyone by becoming close friends with Ms Leakes—she was even a bridesmaid at Nene's re-marriage to Gregg Leakes in 2013.  That friendship came apart at the seems though and the pair are no longer on speaking terms.
'Head Bitch' NeNe Leakes Throws Epic Tantrum, Storms Out Of Therapy
Sheree's fight with Marlo was one that has gone down in housewives history.  It included screaming at the tops of their voices, a lot of finger wagging and so much shade thrown about each others financial situations it's surprising they ever managed to be in the same room again.  Its amazing what you can force yourself to put up with when there are a few $$$ and some screen time on the table as they are both back for Season 8.
https://videos.files.wordpress.com/NkTgrpjH/rhoa-airdate-1-29-12-sheree-marlo-22encounter22_std.mp4
Given the personalities involved we can see potential drama in the form of Sheree vs Kenya Moore, throw in a bit of Peter Thomas (Cynthia Bailey's husband who likes to get into the ladies business) and it will be shade central!
We cannot wait to see, what is arguably the best Housewives franchise back on the air.