CULTURE
Are most of your instant messages group chats with people you met online? Do you have strong opinions about Oxford commas but aren't sure how to use them? Then we think you'd enjoy the J.R.R Tolkien-inspired The Shire Cafe!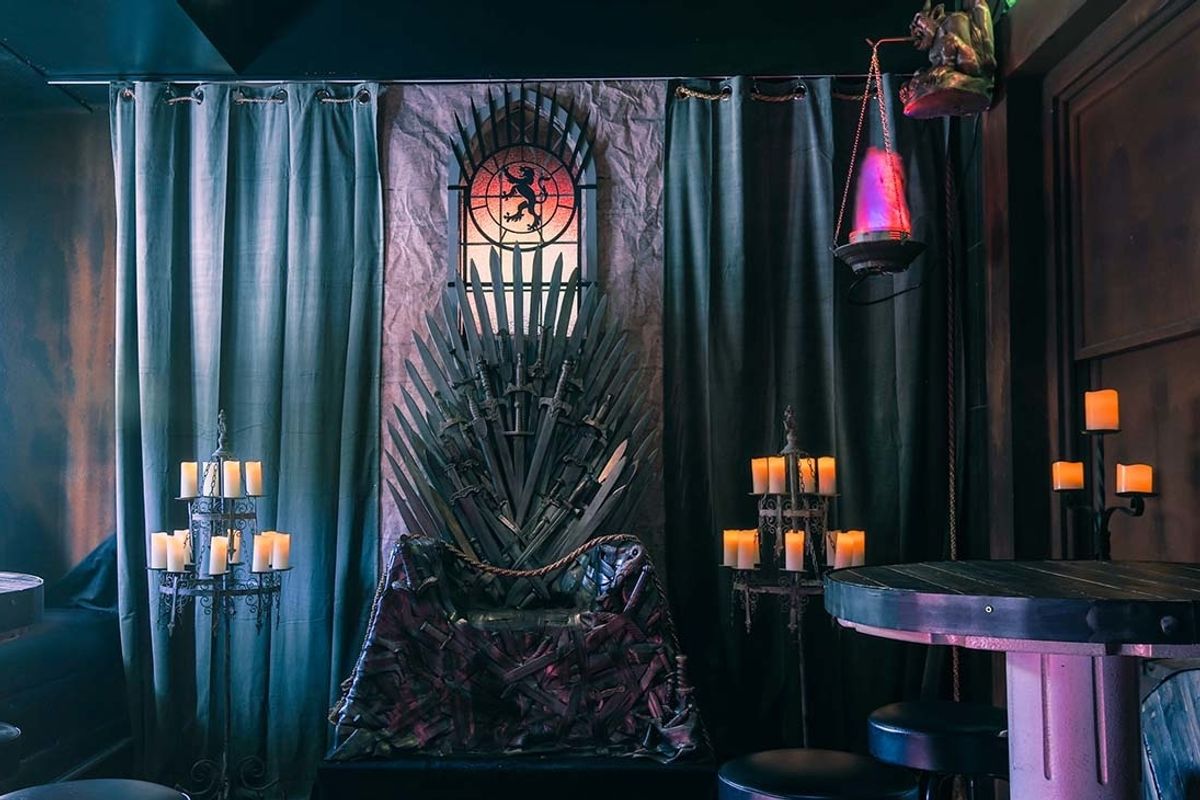 Unless you want to be that person buying a single adult ticket to Disneyland, themed restaurants are among the few immersive fan experiences for adults.
In Japan, you can eat a black bun burger on a plate scratched by a raptor at Jurassic World Cafe. In Los Angeles, a Michelin-star chef will prepare you a Monte Cristo sandwich in a replica of the Saved by the Bell diner. A Stranger Things-themed bar in Chicago serves "Eleven's Eggo's" slushies in a copy of Will's living room, and this year the first Garfield-themed restaurant will open in North America and serve pizza in the shape of the orange cat's head.

Is it capitalist greed turning fans' adulation into profits? Mostly. But it doesn't always work. New York City's short-lived Golden Girls-themed cafe closed within a year due to deep management flaws, and only die-hard Will Ferrell fans frequented Stay Classy, the New York City pop-up bar dedicated to Ferrell memorabilia before it closed. Aside from the legal snags of marketing a copyrighted brand, the success of a themed-establishment depends on the strength of its niche appeal and how well it targets a fanbase.
We've compiled a guide to your ideal TV/movie-themed eateries, depending on your preferred tastes, hobbies, personal wardrobe, Internet browsing habits, choice of pet and/or emotional support network.
1. The Pandorica
Location: New York, New York

Visit the Doctor Who-inspired bar if...
You identify as "sapiosexual" in your dating profile(s).

You went vegan after having a panic attack in a McDonald's bathroom.
Tumblr is still your favorite social media site.
You've called Nesquik's customer service line to suggest a new flavor.
You like the smell of gasoline.
2. The Shire Cafe
Location: Houston, Texas
You'll love this The Hobbit-themed cafe if...
You use a baby voice when you speak to dogs, yet you've never held an infant.
You have strong opinions about Oxford commas but aren't sure how to use them.
Like a child, you prefer hard cider to beer.
The only reason you don't own an emotional support animal is the certainty it'll die before you.
Most of your instant messages are group chats with people you met online.
3. Game of Thrones Pop-Up Bars
Locations: Pittsburgh, Chicago, D.C.

Drop by one of these Game of Thrones bars if...
You "hate the taste of water" but ordering Pellegrino makes you feel classy.
You lecture friends with the advice you get from a daily finance app.
Half of your Twitter followers came from hate-comments about Fox News anchors.
You wear Axe body spray for some reason.
You've injured yourself in a fight you started during trivia night.
4. Beetle House Bar
Locations: New York, New York, and LA
You'll enjoy this Tim Burton-themed bar if...
Your dirty tote bag smells like burnt coffee.
You've hung your own watercolor painting in your living room.
Your favorite book is The Fault in Our Stars, but you say it's 1984.
You end half of your sentences with "-you know what I mean?"
You listen to 30 Seconds to Mars.
5. Overlook Lodge
Location: Cincinnati, Ohio

Step into this restaurant straight out of The Shining if...
In 1997, you skipped to the end of Titanic.
You're the one taking loud personal calls in quiet public places.
Your Facebook page is full of quote memes from actors and religious leaders.
You respond to arguments with, "actually."
You've lied about the death of family members to get out of casual plans.
---
Meg Hanson is a Brooklyn-based writer, teacher, and jaywalker. Find Meg at her website and on Twitter @megsoyung.

---
POP⚡DUST | Read More...
10 "Game of Thrones" Sex Scenes To Get You Ready For Season 8
Body Positivity: Seven Celebrities Who Think You're Hot Just the Way You Are
BTS' New Album "Map of the Soul: Persona" is Algorithm-Friendly Nothingness