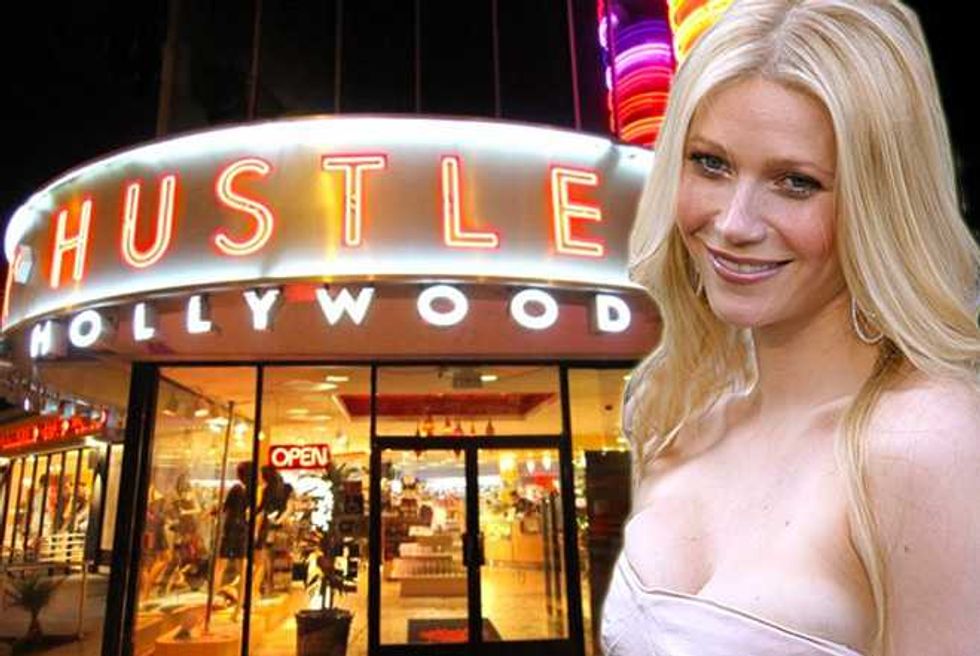 Hollywood's legendary Sunset Strip is about to get all GOOPey and shit.
Proving it really is the end of the world as we know it, Gwyneth Paltrow is going to tear down the iconic Hustler Hollywood Store and replace it with a shiny, new, annoying and expensive (because it's Paltrow, DUH!) private members club.
Yay!
According to TMZ, Gwynnie, along with her business partner, Gary Landesberg, purchased the property from Mr. Hustler himself, Larry Flynt.
Paltrow is looking to open a string of Arts Clubs—similar to the London chain of pricey, private members' exclusive boozing boltholes—but, because it's Paltrow, DUH! hers are apparently going to be even more exclusive and, of course, more expensive, to join. (Membership to the London Arts Clubs franchise is $2,000 to join and then $2,000 a year……..)
The original Arts Club, in Mayfair, was formed in 1863 "for gentlemen interested in arts, science and literature."
According to Zagat, "the likes of Dickens, Liszt and Whistler have been congregating at this 'sophisticated' private club in Mayfair, and even today it's still one of the "hottest" spots in town."
The club has a strict dress code and prohibits swearing and gambling inside—but, you can play no-stakes backgammon.
SNORE.
Imma gonna have to go with Groucho Marx on this one, "I don't want to belong to any club that would accept me as one of its members."