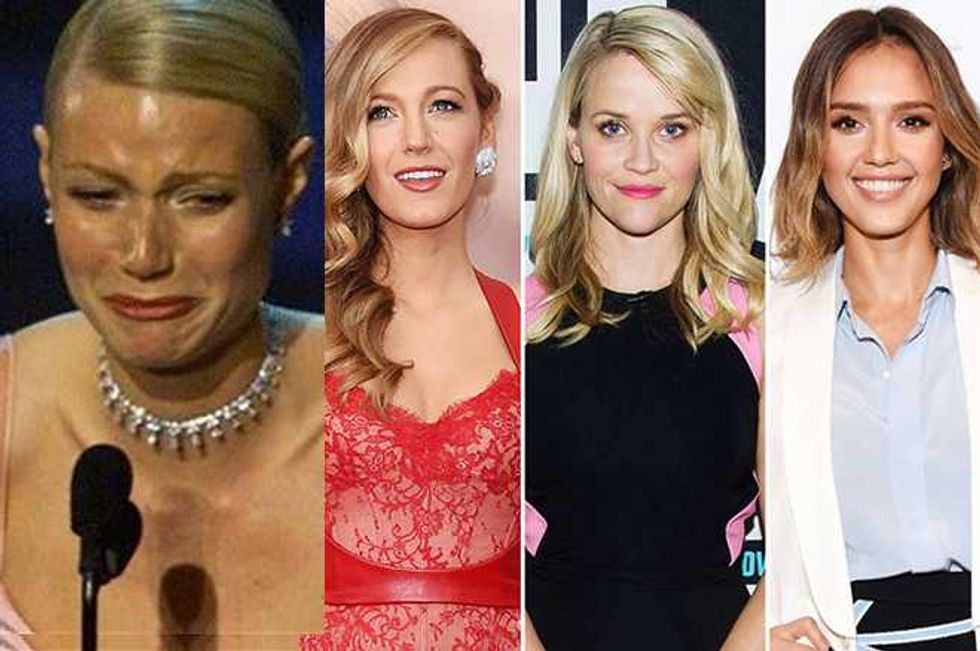 In a move to maintain her standing as Most Despised Celebrity, Gwyneth 'Please Hate Me' Paltrow has complained to Time magazine about comparisons to fellow actress/entrepreneurs, calling it misogyny.
Don't even ask her what she thinks of Blake Lively, Reese Witherspoon or Jessica Alba, who have all launched lifestyle websites and products touting 'wellness.'
How dare you lump them all together when they have nothing in common, you goddamned sexist!
Here's how Gwyneth puts it:
People are grasping at straws to tie us together and I get it, because it makes a good story, but I'm slightly offended by this sort of generalization that happens with myself and Jessica and Reese and Blake. I feel there's something slightly misogynistic about it.
Waah!
In fact, why don't you misogynists pick up on men, she asks, not the least bit defensively or bitter:
I wonder if George Clooney would be asked about Puff Daddy's ancillary liquor line.
Oh snap, good one, Gwynnie. She goes on to insist there's no competition between her and her fellow entrepreneurs, and that people are just struggling to accept a new archetype of 'being a woman with a brain who's also sexual and trying to do more than one thing at a time.'
So there you have it, Gwyneth is a new archetype of woman and that's why we're so annoyed by her. Read the whole interview here if you're up to it.