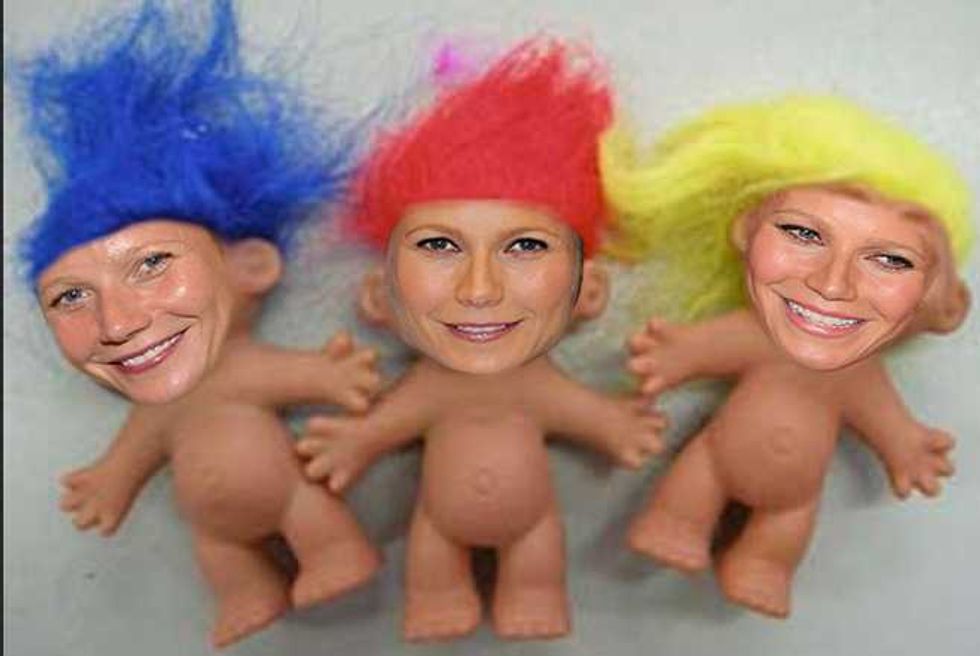 Gwyneth Paltrow is the biggest troll of our time—hell, of ALL TIME—and here's the proof.
According to Wikipedia the definition of troll is such:
 

In Internet slang, a troll is a person who sows discord on the Internet by starting arguments or upsetting people, by posting inflammatory, extraneous, or off-topic messages in an online community, either accidentally or with the deliberate intent of provoking readers into an emotional response
Now, of course I'm not trying to make out Paltrow is posting her heart out on internet chat boards—she's WAY too busy as a working mom to do that—but she does post some truly amazingly ridiculous shit on her "lifestyle website" GOOP and in her cook book My Father's Daughter—and she is the uncrowned Queen of saying inflammatory, extraneous shit in interviews.
Like just last week, when the 41-year-old compared herself to a war veteran, drawing an analogy between nasty comments posted on the Internet to engaging in armed combat.
"You come across [online comments] about yourself …. and it's a very dehumanizing thing. It's almost like how, in war, you go through this bloody, dehumanizing thing, and then something is defined out of it," she said.
But, that's just the tip of the iceberg—here's a rundown of the most monumentally dumb, hilarious, annoying and just downright idiotically bourgeois Paltrow comments of all time.
"I am who I am. I can't pretend to be somebody who makes $25,000 a year."
"It is so different [in Europe] from the United States. It seemed to have a history, and the buildings are years and years and years old. Here in the United States an old building is about 17 (years old), and over there it's from 500 B.C., it's incredible."
"I love the English way, which is not as capitalistic as it is in America. People don't talk about work and money; they talk about interesting things at dinner parties. I like living here because I don't tap into the bad side of American psychology, which is 'I'm not achieving enough, I'm not making enough, I'm not at the top of the pile.' It's just kind of like, I am."
"We have great dinner parties [in England] at which everyone sits around talking about politics, history, art and literature—all this peppered with really funny jokes. But back in America, I was at a party and a girl looked at me and said, 'Oh, my God! Are those Juicy jeans that you're wearing?' and I thought, I can't stay here. I have to get back to Europe."
[As a Brit, all I can say is HAHAHAHAHA]
"I'm just a normal mother with the same struggles as any other mother who's trying to do everything at once and trying to be a wife and maintain a relationship. There's absolutely nothing perfect about my life, but I just try hard."
"[My children's nanny is] French, so she's teaching them French, and their previous nanny was Spanish, so they're fluent in Spanish."
"[My children] love a brown rice stir-fry, but they also love their 'Coke of the week'…My daughter gravitates toward fresh fruit and raw nuts but will inhale a bag of hot Cheetos at the airport. It's all about balance."
"I think it's different [being a parent] when you have an office job, because it's routine and, you know, you can do all the stuff in the morning and then you come home in the evening. When you're shooting a movie, they're like, 'We need you to go to Wisconsin for two weeks,' and then you work 14 hours a day and that part of it is very difficult. I think to have a regular job and be a mom is not as, of course there are challenges, but it's not like being on set."
"I'm just like any other regular mum; cooking, cleaning, wiping butts, picking up after kids, being a wife and helping the kids with their homework. Mind you, I'm terrible at maths. I can't even do my six-year-old's maths homework with her."
"I just look for interesting supporting—biggish supporting parts, and try to do one a year, and that's my limit. Some women can do it and that's fantastic, but I can't. You make choices as a wife and mother, don't you? You can't have it all. I don't care what it looks like."
"I AM AFRICAN."
"Through this process my father and daughter had unwittingly taught me the importance of balance. Could I use some butter and cheese and eggs in my cooking without going down some kind of hippie shame spiral? Yes. Of course I could."
"I'll never forget [going on a retreat in Sedona]. I was starting to hike up the red rocks, and honestly, it was as if I heard the rock say: 'You have the answers. You are your teacher.' I thought I was having an auditory hallucination."
"No. I think [people who get drunk are] the idiot people and I'm the normal person. But I don't really go to parties where…I don't really have drunk friends. My friends are kind of adult; they have a drink. But they hold their liquor. I think it's incredibly embarrassing when people are drunk. It just looks so ridiculous. I find it very degrading. I think, oh, you're really degrading yourself right now, to be this pissed out in public."
"Sometimes Harvey Weinstein will let me use the Miramax jet if I'm opening a supermarket for him."
"Every woman can make time [to work out] — every woman — and you can do it with your baby in the room. There have been countless times where I've worked out with my kids crawling around all over the place. You just make it work."
"I would rather die than let my kid eat Cup-a-Soup."
"Some days I feel like everyone in my world has plugged themselves into my kidneys. I'm so tired."
"I had my first bowl of gazpacho when I was fifteen in Spain, and the impression it made was a lasting one."
"[My last meal would be] Oysters and cocktail sauce, and then a baked, stuffed lobster and french fries. I would have a baguette and a cheese course for my dessert, and red wine. I drank like crazy [when the kids were babies]. How else could I get through my day?"
"We've got a wood-burning pizza oven in the garden—a luxury, I know, but it's one of the best investments I've ever made."
"One evening when I had my wood-burning stove going I realized I hadn't thought of dessert."
"I'd rather smoke crack than eat cheese from a tin."
"I first had a version of this at a Japanese monastery during a silent retreat—don't ask, it's a long story."
"You know, I use organic products, but I get [laser treatments]. It's what makes life interesting, finding the balance between cigarettes and tofu."
"I don't hold on to fear as much as I used to, because I've learned a lot about genuinely not caring what strangers think about me. It's very liberating. It's very empowering, and I've learned a lot of that from Jay—Shawn Carter—Z, because his approach to life is very internal. It's a very good lesson to learn."
"[My family] basically can't live without Vegenaise—it's a little out of control."
"When you go to Paris and your concierge sends you to some restaurant because they get a kickback, it's like, 'No. Where should I really be? Where is the great bar with organic wine? Where do I get a bikini wax in Paris?'"
"I basically love anything that comes in a hot dog bun… except hot dogs."
"When I pass a flowering zucchini plant in a garden, my heart skips a beat."
"Beyonce's like, 'Okay. The singing is great. But you're not having any fun.' She's like, 'Remember when we were at Jay's concert and Panjabi MC comes on and you do your crazy Indian dance? Do that. Be you!'"
"Even actresses that you really admire, like Reese Witherspoon, you think, 'Another romantic comedy?' You see her in something like Walk the Line and think, 'God, you're so great!' And then you think, 'Why is she doing these stupid romantic comedies?' But of course, it's for money and status."
"I think that women, especially women in my job, come to me because they know I'm very loving and nonjudgmental and I'm not competitive, and I've been through a lot."
And… last but most definitely not least…
"I don't want to be rich and I don't want to be famous."