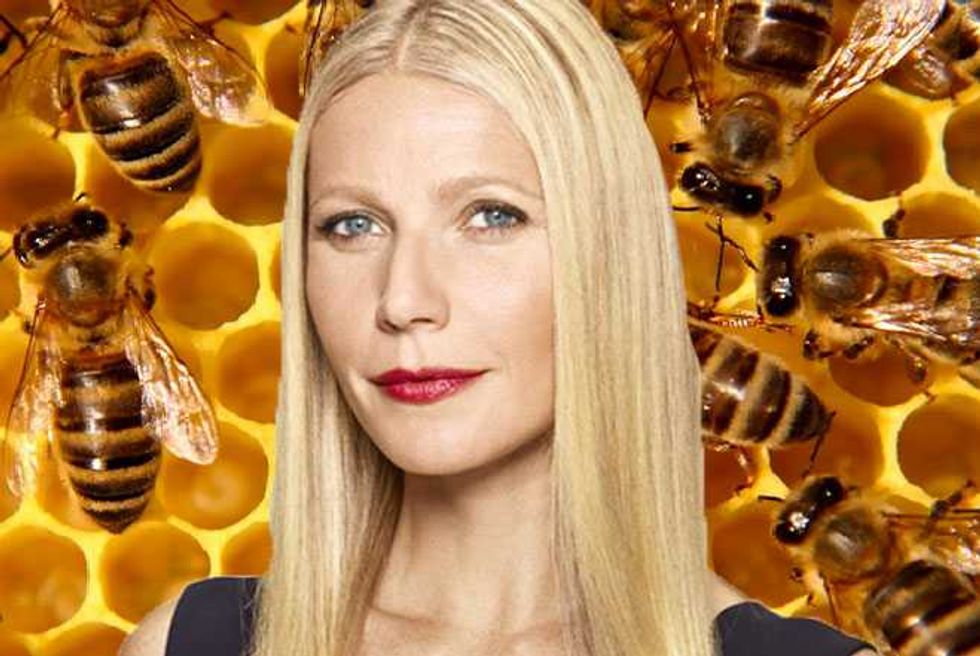 gwyneth paltrow bee stings
Gwyneth Paltrow is definitely in the "no pain no gain" camp when it comes to her beauty regime.
The 43-year-old opens up to the New York Times about her beauty secrets—and along with a dizzying array of creams and lotions, she admits to some decidedly unconventional treatments.
Gwyneth Paltrow Knows What It's Like To Be Poor, To Eat Ramen (Gasp!)
Unconventional beauty
gwyneth paltrow bee stings
How unconventional? Well, how about apitherapy?
For those of you who do not live in Paltrow-world, apitherapy is an ancient form of treatment which involves being stung by bees.
Yep, really.
Why The Fuck Is Gwyneth Paltrow Selling $1,695 Biggie And Tupac Clutch Bags?
Paltrow gushes about the treatment:
I'm always the guinea pig to try everything. I've got to try them all. I love acupuncture. Also, I just heard of a service called a sound bath, which might be too hippie-ish even for the likes of me. It's some new healing modality. I might not be able to handle it.

But generally, I'm open to anything. I've been stung by bees. It's a thousands of years old treatment called apitherapy.

People use it to get rid of inflammation and scarring. It's actually pretty incredible if you research it. But, man, it's painful. I haven't done cryotherapy yet, but I do want to try that.
Painful? Really? You do surprise us!
Gwyneth Paltrow Scores 100% On Narcissist Diagnostic Test!
What price beauty
gwyneth paltrow bee stings
Aside from the obvious pain associated with the treatment, there's something just damn wrong about this, on a whole different level.
Because, obviously, each and every bee is giving up its life for the sake of old Gwynnie's beauty.
Gwyneth Paltrow Bulldozing Hustler Store To Build Annoying Expensive Private Club
And with the bee population in dramatic decline around the world, thanks to pesticides, disease and global warming, we don't think their sacrifice is justified.
Dramatic decline
gwyneth paltrow bee stings
As Greenpeace notes:
In recent winters, in Europe alone, bee losses up to 53% became a reality.

This dramatic decline in bee populations is the result of multiple factors such as diseases and parasites, climate change and wider industrial agricultural practices.

Monocultures and the extensive use of deadly pesticides are of special concern. Some pesticides are real bee-killers.

The next time you see a bee buzzing around, remember…

…that a third of our food crops are pollinated by bees and other insects. Up to 90% of all wild plants exist thanks to bees and other pollinating insects.

The economic value of pollination services globally provided by bees amount to some €265bn.
Gwyneth Paltrow—I'm Just a Common Woman Like You!
€265bn—that's $302 billion in real money—probably the amount Ms. Paltrow spends on her beauty regime each year.
For more entertainment, music and pop culture updates and news, follow Max Page on Twitter