With the expansive New York City landscape behind her, Hailey Knox took up her guitar and her even mightier voice atop The Standard in lower Manhattan. The symmetrical space was an apt venue for the starlet's meager but commanding soul, as she etched her wholly personal stories into vibrant portraits. Her introspective lyrics cast a resonating shadow across the floor, which was peppered with friends and industry moguls. With only her guitar and electric loop pedal at her disposal, the 17-year-old delivered a riveting, intimate and sweeping set, unraveling cuts from her astounding and thoughtful debut EP Awkward, as well as two new tracks from her untitled full-length. Wide-eyed and grinning from ear to ear, Knox did not miss a beat, even when the loop pedal proved to be a difficult musical partner. From the giddy "Take It or Leave It" kiss-off -- in which she offers one of the EP's cheekiest lyrics ("give me the guitar and I'll give you the truth" / "I'm gonna serve it up hot like chicken soup") -- to the lonesome cry of "Geeks," which harkens to old time country music like Bobbie Gentry and Loretta Lynn. Make no mistake, she's not touting her collection of high-powered jams to be anything other than thoughtful, engaging pop music.
"I got it as a Christmas gift. I love Ed Sheeran, and I was like 'mom, can I get a loop pedal for Christmas?' And I got it," Knox affirms of her control over her own career -- she may be only 18, but she's already learned how to hold her own in a room full of adults. "I started with one track and looped up an Aloe Blacc song called 'I Need a Dollar.' My mom posted a video of that on Facebook. My producer reached out to us, and he was like 'oh, I'd love to work with you.' That's what started the whole writing and traveling."
As the stories began pouring forth from her pen, she quickly realized she had something special. "This EP was cool because it was my first time sitting down with professional writers who have written with Avril Lavigne and the Jonas Brothers. It was a cool experience. The EP is about a lot of teenage struggles. It's really all the stuff I've gone through in high school and feeling like a geek (and still feeling like that)," she shares with Popdust.
Like any teenager, she struggled with mother's close involvement in her life. Sheepishly, Knox eyes her stalwart maternal figure, who lounges on a couch close by, when asked about the brash, not-so-subtle lyrics in the EP's title track. "That song is about when your parent or teacher is constantly nagging you. It can get into your head. It's like 'come on, leave me alone.' It can break you. That line is about wanting to be left alone to do my own thing. Just trust me."
When left to her own devices, Knox looms large, letting the music do the talking and only offering up a humble "thank you" between songs. You'd never know the young singer was set to open for Charlie Puth on his just-launched Don't Talk Tour, criss-crossing the country and hitting up many of the nation's best venues. She's nervous, sure, but she also feels she is prepared as much as she can be. "I've been on a radio promo tour. It has prepped me a bit because I've been traveling so much. Traveling is so crazy. I'm still trying to get used to that. It's going to be even crazier the next few weeks," she beams. "I'm going to be using a loop pedal, which I've tried to master. It's actually Ed Sheeran's loop pedal. It'll help the sound been even deeper with the four tracks I'm playing. I won't have a band; it's just gonna be me and my loop. I have to make every element and sound count. Hopefully, if I master this, I'll have more control over the guitar. Sometimes if I create a loop, it's too loud and I have to adjust it myself. With this new one, the sound person will do it."
Knox also chats with Popdust about how exactly she prepared herself for her first tour, key EP tracks, feeling overwhelmed and her next album. Dig into our Q&A session below:
What was that moment like when you realized you could have a viable music career?

I always struggle finding a specific moment. I used to sing with my sister. We were the Knox Sisters. We would play locally. Once I got my loop pedal, I was really loving what I was creating. It was a whole new world. I could create my own drum and layer my own vocals instead of bugging my sister, 'hey, can you harmonize with me?!?' I can do it all myself. There are a few artists, like Ed Sheeran and KT Tunstall, who use that incredibly.
Personally, how did you change from writing this EP?
Getting how I feel out into the world is cool, especially knowing how people relate to this. It has made me feel I'm not alone in these situations.
A standout track is "My Worst Enemy." It is extremely introspective.
People don't realize that it is a song I'm singing to myself. I end up looking myself in the mirror; that kind of thing. People don't get that. They're always like "who is this song directed to?" That's one of my favorites, lyrically. I think anyone feels like crap sometimes. You can always relate to that.
What is it like seeing adults relate to your music?
It's pretty cool to see how the music touches a wide variety of people. Although there are parents that are like "I'm gonna take this kid's tablet away" (like in the video), there are parents who are relating because their kids are feeling that way.
How are you approaching these songs to bring them to life for the tour?
I create the tracks live for the audience, and they get a glimpse of how the EP sounds. I'm using some of the elements that are in the tracks. We've imported drum tracks and samples into the loop pedal. Although, we didn't want to get too crazy with putting elements from the tracks. Otherwise, it would appear I am singing along to an actual track rather than just me. I layer stuff onto it. There's so much that goes into looping. It's really crazy to see the reactions when I'm creating the loop.
Another impressive moment on the EP is "Loopty Loop." Your phrasing is very urban. Who are your influences?
It's really all the artists I listen to growing up. My dad listened to Dave Matthews nonstop. He's been to a million concerts. I love Justin Bieber; I'm a huge Belieber. I like Allen Stone; he's amazing. I love Jon Bellion right now. His album "The Human Condition
is incredible. I saw him live at Webster Hall. I like Ingrid Michaelson. There are a lot of artists who have influenced the way I sound. I like indie-pop, too. I find so many interesting tracks online. Movie soundtracks have such great songs.
The aforementioned lyric "give me the guitar and I'll give you the truth" / "I'm gonna serve it up hot like chicken soup" is one of your EP's biggest moments.
I like that line. I'm a huge chicken fan. I don't know. It's a weird obsession. I have a chicken pillow, a chicken emoji and I use the chicken theme a lot.
How did that lyric come about?
A friend of mine and I use to say it a lot. My neighbor had a bunch of chickens running around his backyard. Then, a vine came out about chickens. So, the chicken obsession is really random. It's something I say when I don't know what to say. Like I said, I'm a weirdo.
You have amassed such a huge following on YouNow. Do you ever feel you are too connected to people?
With YouNow, you are. You become friends with these people. I try to talk to them as much as I possibly can, whether it is through SnapChat or Twitter DMs. I love going live. Live interaction is one of my favorite things. They are commenting, and it's like I'm hanging out with them. With YouNow, you can now bring up a guest and talk to them face to face, which is really cool. It's like a live FaceTime call. I don't think I've ever felt too connected. I try not to share too much. I try to keep my private life somewhat private and be careful what I share when I go on YouNow. One time, I got pizza and Chinese food delivered to my house and fans found out. I don't know how they found out where I live. It was scary.
Will you be releasing an EP or an album next?
I am thinking about an album. We're working on it. We have some really cool songs. "Don't Got One" is similar to "My Worst Enemy." It's kind of acoustic, with simple production.
Thematically, what stories will you be telling?
There are some more groovy songs, like "Take It or Leave It." The messages are similar to that song, too. "Don't Got One" is emotional. Nowadays, you have so many social media platforms and followers, but you don't have that one person to reach out to and connect with, personally.
As your star begins to rise, has it started to become overwhelming for you being pulled into so many directions?
A tiny bit. It's about balancing and managing time. I'm still learning to do that...and not sleeping until 2pm. [laughs] This radio tour has been cool because it's helped me get on a schedule. I've been waking up and going straight to a station and playing my stuff. Everything is set down, like interviews and this and that.
Don't forget to grab a copy of Hailey Knox's brand new Awkward EP now on iTunes.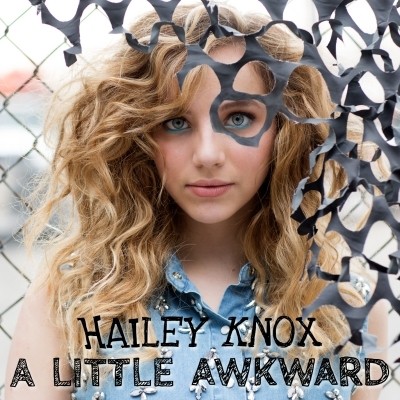 ---
READ MORE ABOUT MUSIC...
Song Feature: Honey & Jude's Anti-Bullying Anthem, 'Weirdos And Freaks'
Luna Aura Suits Up For New 'Madhouse' EP
Fletcher Finally Releases Debut EP 'Finding Fletcher'
---