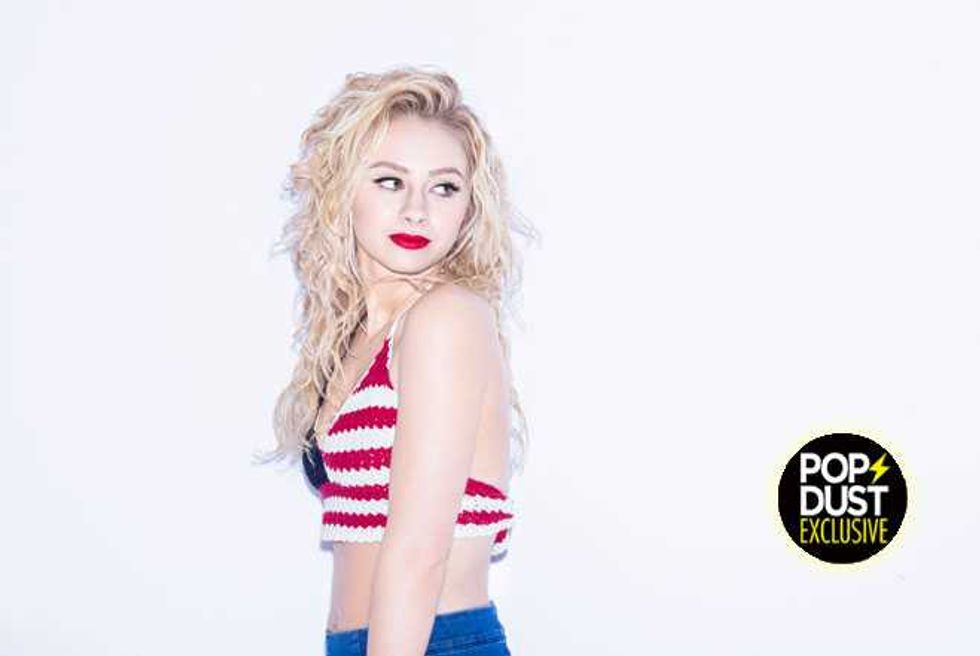 Nashville is about to be swept up in the firestorm that is Haley Georgia. Newly signed to EMI Nashville, the singer bursts onto the scene with her pop and hip-hop spun country track called Ridiculous, in which she targets men on their, well, ridiculous nature of playing games. The infectious earworm will most assuredly wiggle its way into your head, as it samples her forthcoming yet untitled debut project. Despite harsh criticisms of the song "not being country enough," the starlet takes it all in stride. "I am just super thankful to anyone who has taken the time to listen to it. I like to shake things up a bit and was hoping to cause a little ruckus," she shares exclusively with Popdust, as part of a joint venture in premiering a behind-the-scenes glimpse into the song's official music video. "The kind of statement I want to make with my first single is honesty. 'Ridiculous' is one of the many pages ripped from my diary."
As you can see below, Georgia certainly went for big and splashy, with the help of accomplished director Roman White (Carrie Underwood, Kelly Clarkson). "I've always been obsessed with him," she says of the collaboration. "When the opportunity came for me to make my first music video I knew I HAD to get Roman to direct it. Thankfully, he loved the song and got on board. As a director, he's super chill with a side of cray and really let me do my thing." In the steamy clip, the singer gets hot and heavy with a hunky male model, and no, she wasn't nervous one bit. "I met the boy I kissed in the car the morning of the shoot. I was so excited to be there, I didn't even have time to get nervous before kissing him. Right before we started shooting he told me he had modeled for Abercrombie and Fitch. I worked there while I was in high school and his abs were actually hanging on the wall while I had my part time job there! We thought it was pretty funny."
For inspiration, she shares what famous video fueled her creative direction:
"When I started brainstorming on how I wanted the video to look, I had Toby Keith's 'Red Solo Cup' on repeat for a few days. The party in that video is super sick, everything is handheld and I love how low-fi and vibrant it is."
Without further adieu, check out the exclusive premiere of the Ridiculous featurette, and stay tuned for the real (badass) thing:
Make sure you grab a copy of Haley Georgia's Ridiculous on iTunes now!
Stay tuned for Haley Georgia updates. Be sure to follow @Popdust and @JasonTheScott on Twitter!