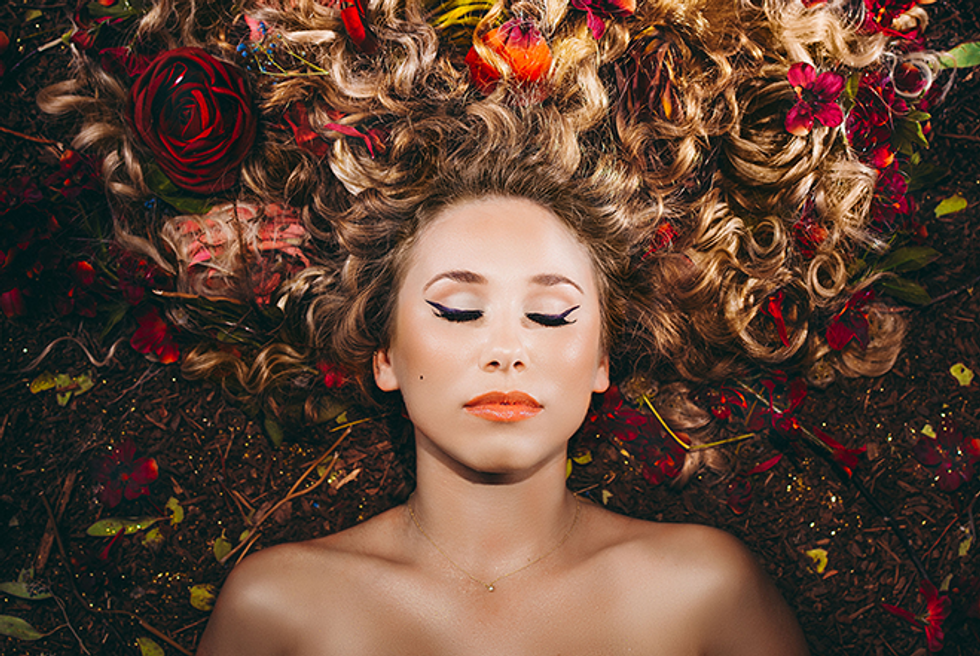 "Now, I'm right where I want to be, out on the road back to the 8-1-8," reads Haley Reinhart's manifesto, otherwise known as the title track to her sophomore studio album (out on Friday). So much has happened since the release of her outstandingly-groovy 2012 debut Listen Up! on Interscope Records; yes, she was dropped six months later, but that is only a small piece of the puzzle. In nearly four years, she, too, has gone through other machinations of Hollywood and a fickle music business in order to find her soul and a new muse worthy of greatness. Better, packed to the brim with 11 soul-inspired, Motown-fused tracks, is a kind of greatness which forges career-defining moments in time. Reinhart is having her moment, and she has enlisted a bevy of songwriters and producers to bolster her stylistic expression, including Rob Kleiner (who worked on her last album and has also produced the likes of Sia, Britney Spears and The Weeknd), Sir Charles Prince (a mastermind who taps into the magic and sheer sucker-punch of Reinhart's raw voice on Love is Worth Fighting For) and Swedish producer Anders Grahn (whose imprint is found on three songs, Bad Light, Better and the sweltering Good or Bad).
What is especially satisfying is the placement of Reinhart's growl and finesse (mostly) above the production, licensing her the freedom to color outside the lines in breathtaking ways. Her framework has always been the jazz standards of the '30s and '40s with a lacquered coat of '60s disco, with a bit of soul painted on for equal measure. My Cake [co-written by Reinhart, Keithian Sammons, and Fabian Ordorica and Jose Lopez (the duo known as Mynority, who also produced the track)] jumpstarts the record with an invigorating slither fit for Aretha Franklin or the Supremes, but there is enough of a modern pop glow here to transfix you for days.
The thread-line of the album, though, lies embedded deep within the lyrics. "The theme throughout is confidence. Even with 'Listen Up,' I would gear a lot of the record toward the ladies out there. The new album has the same kind of thing throughout it, too," she told Popdust. "The title 'Better' is simple and sweet, and the word itself means to progress or evolve or grow. It's positive. Even in a lot of the artwork I'm doing, I have roses represented throughout all the photos. I wanted to tie in something that represents growth and evolution. A rose is constantly growing, blooming, flourishing." And when you dig into the record, there is a sense of overwhelming urgency and a longing to take back what is rightfully hers. It all clicks into place quite magnificently.
"We left our clothes in Rio. It was a well known affair. It was the unspoken language, saying love me if you dare," she coos on the first verse of Talkin' About, in which she owns her sexuality and her willingness to express it. Then, later on the chorus, she declares, "If you want it, you can have it. If you like what you see, well you can grab it. You know the way I live, I ain't mad at it. I said honey it's time to funk." Elsewhere, she strikes out as a woman scorned but confident in reclaiming her supremacy (on Check Please). "Hey, I thought you were the one, but this happiness is gone. Wish I could bite my tongue. You'll never get me. I can't just play along. What was sweet is now so wrong. Watching the tables turn. I'll take the check please. I got to got to get out now..." On Good or Bad, too, Reinhart remains a dominate force, giving her lover an ultimatum. "You know I'd stay every morning, every evening. Boy I'd stay, just as long as you can please me. Boy, I'd stay, wrap myself around your body can't let go."
While Reinhart's collaborations with Postmodern Jukebox did not necessarily inspire her or free her up artistically (those performances were more about having a release outside of her solo work), there is something profoundly different in her vocal ticks, stylistic choices and the storytelling. Taking a seat in the executive producer chair, she issues Better independently, which might be, well, better for her in the long run. A major label would not know how to market the project. Instead, there are no expectations, and this gives the singer a chance to let the music breathe for the first time in a long time. Her delicate vocal nuances are more intricate, layered and driving. Can't Help Falling in Love (a cover of Elvis Presley) is stark, haunting and a rather appropriate stepping stone to a more seasoned performer. Reinhart shares producer credit here with fellow American Idol alum and friend Casey Abrams, and it pays off. Left to her own devices, the sharp-shooting "slayer" aims her daggers with cutting precision and pierces the heart without faltering. On songs like Check Please (co-written by Reinhart, Clare Reynolds and producer Kleiner) and the stunning Love is Worth Fighting For (co-written by Reinhart and Clare Reynolds and produced by Sir Charles Prince), Reinhart has found the sweet spot of her voice which perches nicely between vulnerability and strength. Bad Light (co-written by Reinhart, Adam Erhrlich and producers Grahn and James Flannigan) and Talkin' About (co-written by Reinhart Grahn and producer Justin Gray) are equally as organic and open, borrowing a Smokey Robison tilt.
Behave (co-written by Reinhart and producer Bhavik Pattani, who has worked with such international artists as Natalie Bang Bang, Booty Love and Nabiha), Listen (co-written by Reinhart, Grahn and song's producer Maria Marcus) and I Belong to You (co-written by Reinhart, Clarence Coffee Jr and producer Alex Geringas) are her most experimental forays into psychedelic rock, hooking together a Flaming Lips undercurrent with a straight-up Alanis Morissette slink. The 1-2 stylistic kick (of the latter two tracks) closes out what is one of 2016's most compelling albums. The lasting impression Reinhart leaves on your ears is like the final sip of strawberry wine on her lips: memorable, buzzy and undeniably intoxicating.
If you thought Listen Up! demonstrated her full potential, well then, you are in for one helluva ride. Pre-order Better now on iTunes.
Must-Listen Tracks: My Cake, Can't Help Falling in Love, Check Please, Better, Love is Worth Fighting For
Grade: 4 out of 5
Stay tuned for Haley Reinhart updates. Be sure to follow @Popdust and @JasonTheScott on Twitter!