This week Halima Aden became the first Somali-American to grace the cover of Sports Illustrated's annual swimsuit issue.
The publication lauded Aden as the first model in history to pose in a hijab and burkini. "We both believe the ideal of beauty is so vast and subjective," said Swimsuit editor MJ Day. "We both know that women are so often perceived to be one way or one thing based on how they look or what they wear. Whether you feel your most beautiful and confident in a burkini or a bikini, YOU ARE WORTHY."

The Kenyan-born model spent the first seven years of her life at the Kakuma Refugee Camp before her family moved to Minnesota. At 19 years old, she was a semi-finalist in the Miss Minnesota USA pageant, as well as the first contestant to wear a hijab. She's enjoyed success with IMB modeling agency, including appearing on the cover of British Vogue and walking in New York Fashion Week. For her SI cover, the magazine said, "We couldn't think of a more perfect place to travel than her birth country, where she shot at Watamu Beach with photographer Yu Tsai."

Aden
commented
, "I keep thinking [back] to six-year-old me who, in this same country, was in a refugee camp. So to grow up to live the American dream [and] to come back to Kenya and shoot for SI in the most beautiful parts of Kenya–I don't think that's a story that anybody could make up."
The model also recognized her boundary-breaking success on Instagram, posting, "Don't change yourself .. Change the GAME!! Ladies anything is possible!!! Being in Sports Illustrated is so much bigger than me. It's sending a message to my community and the world that women of all different backgrounds, looks, upbringings... can stand together and be celebrated. Thank you so much @si_swimsuit & the entire team for giving me this incredible opportunity."

However, within hours of Sports Illustrated's announcement, critics began questioning the implications of praising a model in a hijab and modest swimwear. While Aden "changing the game" is a positive move towards inclusivity of all religions and cultures in mainstream media, the traditional Muslim garb (a hijab, or حجاب in Arabic, simply means "cover") is fraught with controversy in America. Aside from prejudicial judgments based on anti-Muslim sentiments, the feminist implications of a hijab to many non-Muslim women are of female oppression. Writer Kira Davis lambasted SI's choice as a hypocritical act of feigned "religious tolerance" that celebrated "one of the most sexually oppressive religious cultures on the planet" but historically rejected" Judeo-Christian communities that have long suffered ridicule at the hands of secular culture."
A veteran writer of conservative perspectives, Davis challenged the public's celebration of Aden as an icon of female empowerment and religious freedom by accusing SI of implicitly condoning the belief that women's bodies are shameful. She claims that doing so is just as objectifying to women as celebrating scantily clad women as sex objects. Davis wrote in Townhall, "In the same way the model in a string bikini on the cover of SI is an objectification, so is the model in a full-on 'burkini.' It is a symbol of an idea that a woman's body is unsuitable to be publicly seen, that she is an object to be covered rather that a human to be admired. In a country like America it is a huge step backwards."

Sadly (and yet predictably), her sentiment was supported by like-minded thinkers posting similar reactions on Twitter, such as, "The Islamification of America continues," or even, "HA, HA, HA!!! NOW SPORTS ILLUSTRATED IS PUSHING SHARIA CLOTHING FOR WOMEN!!! WHO WOULD HAVE THINK IT???"
Of course, any movement towards social progress will be met with resistance, some of which is patently not worth acknowledging. But there can be a social function to haters, trolls, and even prejudice. Plainly, inclusivity is not considered by all to be a universal good. In this case, that awareness should inform our celebrations of it, whether by articulating more fully why an act is to be celebrated or simply spreading the message further. As Sports Illustrated noted, "At SI Swimsuit, we strive to continue to spread the message that whether you are wearing a one-piece, a two-piece, or a burkini, you are the pilot of your own beauty."
As for Aden, the 21-year-old spoke to Allure the day after her history-making cover was announced. She promoted her new fashion line of headscarves, which are designed for all women, regardless of religion. "I put thought into having a piece for any woman," she says. "This collection is open to all." The model noted, "Fashion and activism go hand-in-hand."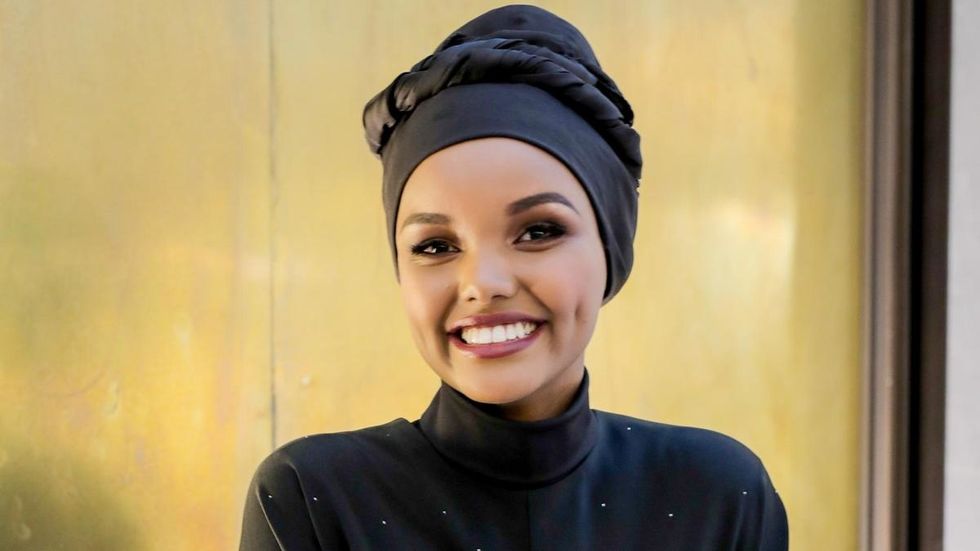 Halima Aden /The National
---
Meg Hanson is a Brooklyn-based writer, teacher, and jaywalker. Find Meg at her website and on Twitter @megsoyung.

---
POP⚡DUST | Read More...
What Happened at Sarah Lawrence and Why You Keep Reading About "Sex Cults"
To Achieve Gender Equality in Music, We Need More Female Producers and Musicians
Why Series Finales Hurt: When Your Favorite TV Shows Break Up With You