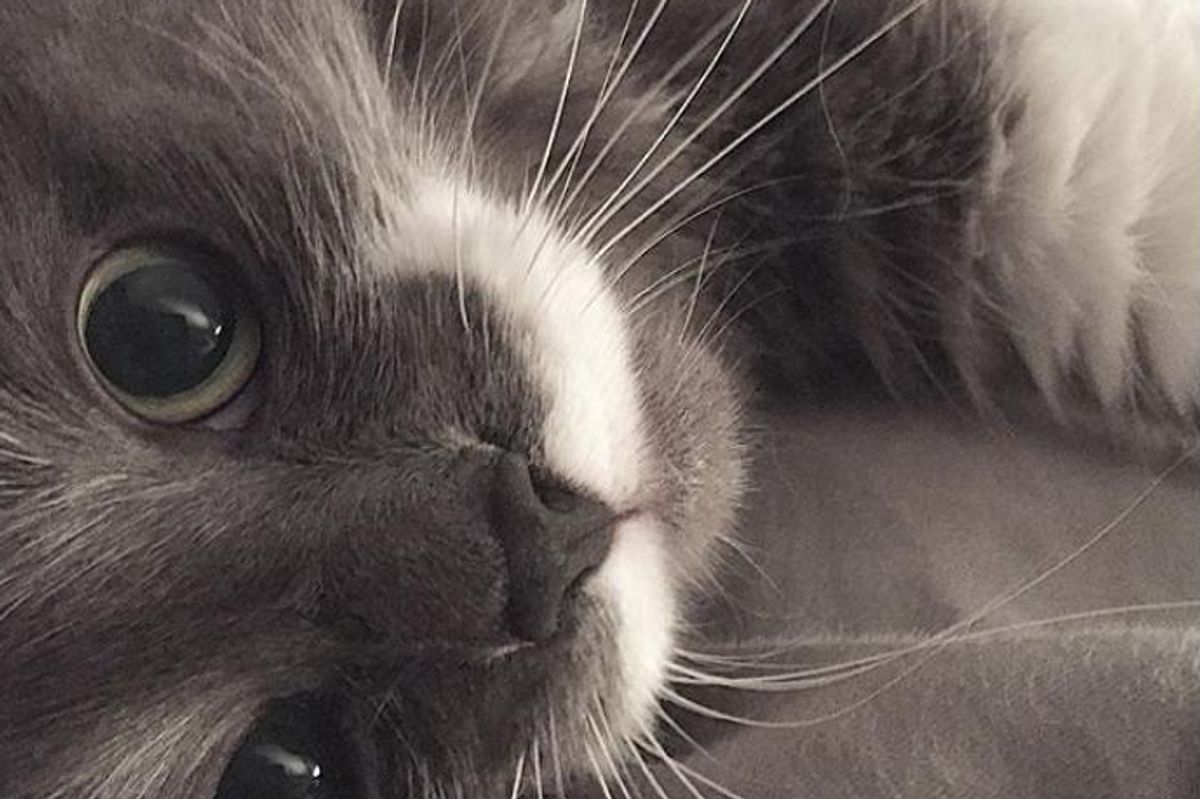 hamilton hipster cat too cool for school—has a mustache that would be the envy of any Williamsburg hipster wannabe

Hamilton the Hipster cat doesn't have to try to be cool.
He just is.
So totally zen peeps.
Hamilton has a mustache that would be the envy of any Williamsburg hipster wannabe—and facial features that are uncannily human.
According to his website—yeah he has one, along with an app, a hugely popular Instagram account, a Facebook page and range of merchandise…:
Hamilton is a rescue kitty adopted from the Humane Society in Silicon Valley.

His perfect mustache and human like facial expressions have made him an internet sensation and earned him recognition on various news programs/papers around the world.

Hammy was found on the streets of San Jose in a feral colony.

Hammy and his sister, Flower, were rescued by a volunteer at the Humane Society Silicon Valley and brought in for care.

Being ferals, both Ham and Flower did not trust people or their new environment. Both of them had to have a lot of special care and attention before they could be put up for adoption.

Hamilton met his human on September 1st, 2012.

Hammy was still a very skittish kitty and would hiss anytime anyone came near him.

His now owner requested to see him despite his fears and they had an instant connection.

Hamilton calmed down the second he was in his human's hands and actually fell asleep within a few minutes.
Both Hamilton and his owner knew that this was meant to be.

Before Hammy was allowed to go home, he and his owner had to meet with a behavioral specialist who walked his owner through getting Hamilton adjusted.

When Hamilton got to his new home he was unsure and scared of his new surroundings.

To make his life easier and less stressful Hamilton moved into the bathroom of his new house.

He lived in there for the next month.

One night at 4am Baby Hammy started meowing - his owner opened the bathroom door and Hamilton decided it was time to move out of the bathroom and take over another part of the house.

Ham decided the closet would be his next apartment and moved in there for the next 3 weeks.

Slowly, but surely Hamilton became more comfortable with his surroundings and took over the whole house.

Now he is definitely the king of the castle.

One of the things the behavioralist told Hamilton's owner was that it would be hard at first, but once you earn the trust of a feral cat and give them the love that they deserve the bond you will form is unlike any other you can have.

This has definitely proven true in this case. Hammy and his owner are inseparable when they are home.
Hamilton is now a fully loving, playful, fun loving kitty.
Go to PETA's website to learn more about rescue animals and to see adoptables.
---
READ MORE...
25 Times Geordi LA Corgi Slayed Us With Cuteness
Watch Out Grumpy Cat! Earl The Grump Is Stealing Your Spotlight
Esther The Wonder Pig May Just Make You Rethink Bacon
Why Mr Bagel The Chinchilla Is More Popular Than You
25 Times Lil Bub SLAYED Us With Cuteness

---