Arts
Meet Hal: Middle Age England's all new rock and roll queen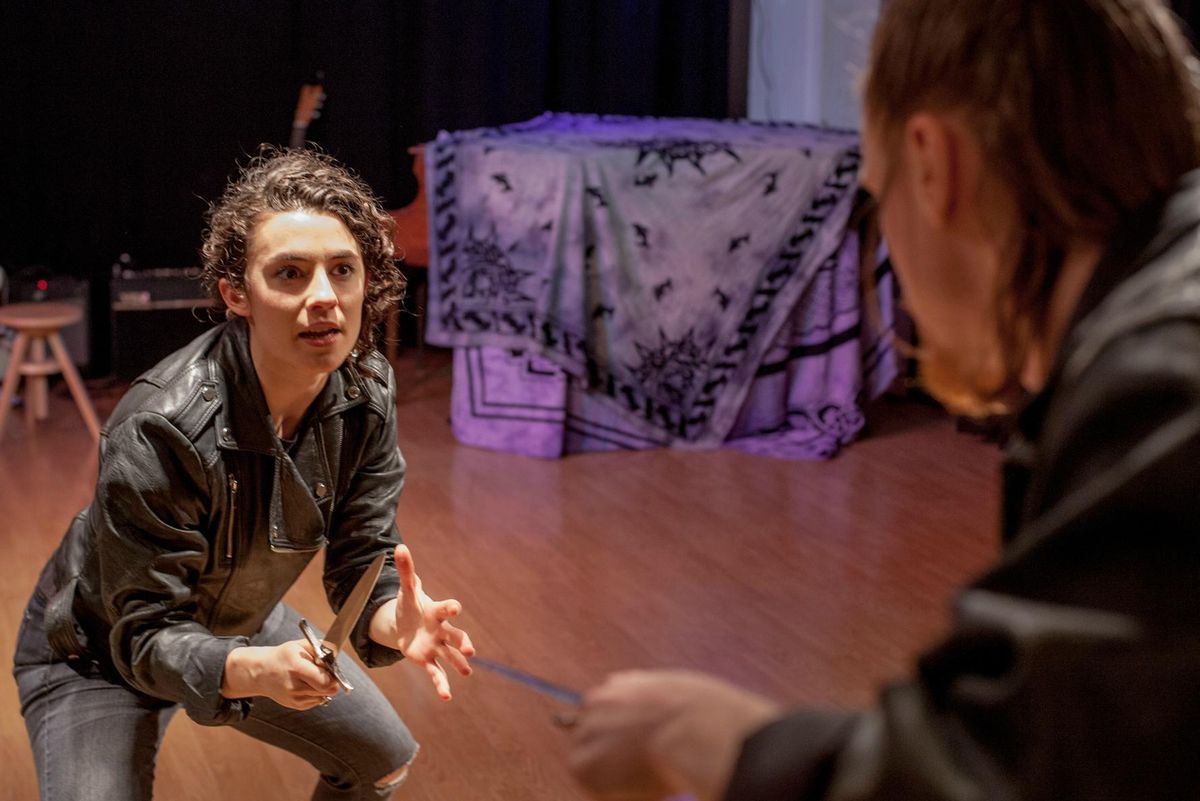 Marie Claire Roussel & Isaac Miller
Photo by Kevin Johnsrud
Rock and roll, feminist Shakespeare. That's what's on sale now from NYC indie-theatre company Hamlet Isn't Dead. In their latest daring staging of Henry IV (parts one and two combined and cut into a two hour amalgam of both plays) we get live rock music, a flower-power/mod/punk aesthetic, and a female Prince Hal. As with every bold Shakespeare re-imagining there is the risk of the aesthetic overshadowing the meat of the play. However, what we see here is a striking take on the material that lends it life, vigor, and a blistering pace that keeps the audience on the edge of their seat.
Marie Claire Roussel is our female Prince. She starts her journey through the play in a torn Blondie tee, spray painting her name on a cape, and ends it in a bespoke white leather jacket, wearing the crown of England. Roussel's work throughout the play is fascinating. She avoids the temptation to eschew vulnerability in the part, instead allowing Hal's youthful brashness to inform a confident, yet insecure, tomboy character. When matched against Kevin Percival's Falstaff and his leather trench-coated, untempered bacchanalia, we are able to see the character's growth as born out of a feminine character struggling to embody masculine ideals. Her punk-to-pomp journey is both endearing and exciting, and gives the play an almost John Hughes feel.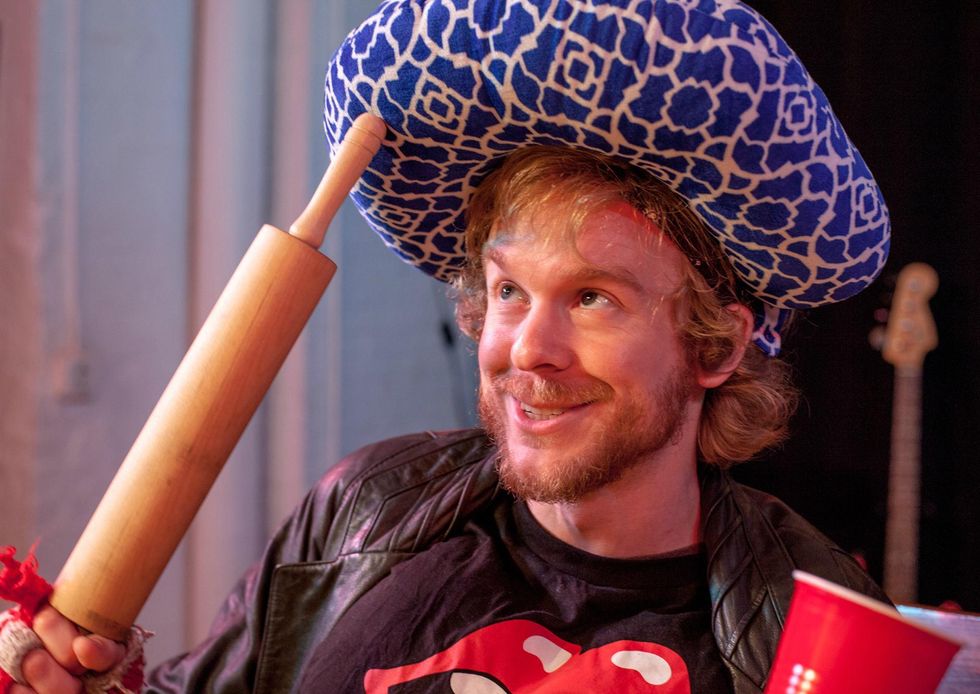 Kevin PercivalPhoto by Kevin Johnsrud
Speaking of Falstaff, Percival's work here is blindingly good, particularly for someone as obviously young as he is. While the obvious fat-suit padding under his costume feels a little cartoonish, it is the only thing about the character that is so. The appendages-to-the-wall performance that Percival gives fills the Wesbeth performance space to bursting point. Similarly, Isaac Miller as Hotspur exudes angst and frustration at a rate only measurable by scientific instruments. He makes an excellent, and sympathetic villain. Match that up with the understated demurity of James Swanson's King Henry, a game company of fellow players, and back them up with a rocking band (John Mahaffey, Linus Ignatius, Derek Spaldo), and you have quite the crew here.
Director Megan Mahaffey's tireless work shows through in this production. She builds the show around aesthetic, but never lets style overtake substance. Her dramaturgical work is ferocious. This is a brisk, brisk cut of the two plays. A purist might faint at it, however its efficacy cannot be ignored. Not a plot point gets missed, all major character beats are left intact, and the play moves brilliantly. The only issue with it as a cut falls in the structural department. Henry IV Part One effectively becomes Act One of the play, and Part Two, Act Two. The overall arc of the play works, but the tonal shift between acts is jarring. Music helps smooth this over, but an unfortunate casualty is the now less satisfying conclusion to Falstaff's journey.
These niggles aside, Hamlet Isn't Dead's Henry IV is a rocking good time. The take is clear, the music is awesome, and the performances excel far beyond what is often expected of independent Shakespeare productions in the city. Roussel is a fantastic Hal, Percival a buoyant Falstaff, and Swanson a princely King Henry. For the Shakespeare fan, and the regular theatre-goer alike, this is a show to see.