"I don't really read fiction," a friend of mine recently told me, "well, except for Harry Potter."
Twenty years ago today, the world of literature was forever changed with the publication of Harry Potter and the Philosopher's Stone in the United Kingdom (which is more commonly known as Harry Potter and the Sorcerer's Stone in the states). A boy named Harry found out he was a wizard and people started to become entranced with the idea of taking the mystical train to Hogwarts themselves. And a woman going under the name J. K. Rowling — who had previously been dealing with a divorce and depression, a dozen rejection letters from publication houses, and the assurance that even if she was published there was no money to be made in children's books — defeated all odds, becoming a successful author.
Since its publication, Harry Potter and his friends and foes have gone on to be characters in seven novels of the series, all of which subsequently led to people standing in lines for hours wearing robes and holding wands awaiting their releases over the years. The last book in the series, Harry Potter and the Deathly Hallows, sold 11 million copies in the first twenty-four hours after it was released. All of the books have also spent time on bestseller lists. Heck, a book about the Harry Potter fandom has graced the New York Times bestseller list.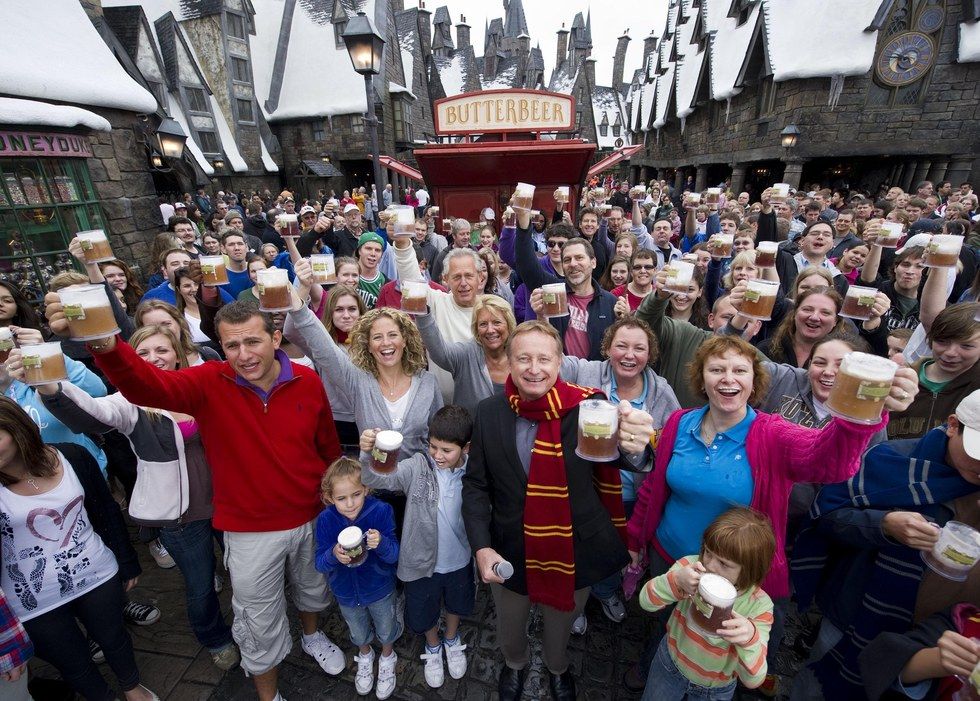 The world of Harry Potter has had a lasting impact on our world beyond its page, as well. It's added an understanding of a certain kind of magic, one where kids are disappointed when they turn eleven and don't receive their invitation letter from Hogwarts and join quidditch as a club sport in college. It also taught lessons of friendship, hard work, and kicking ass when needed (because who can forget the number of times Hermione Granger told Draco Malfoy off?).

Most prominently, perhaps, has been the adaptation of the series for the screen. What started as a £1 million deal became a gigantic franchise that launched the careers of Daniel Radcliffe, Emma Watson, Rupert Grint, and a slew of other talented British actors as we watched them grow up alongside us, playing out the scenes we had read about and could only dream about.
Eventually, however, the Wizarding World of Harry Potter also became available to the general public, with the opening up of attractions sharing the same name at Universal Parks & Resorts across the world over the past three years. Now, fans of all ages can ride the Hogwarts Express, shop around for supplies at the stores on Diagon Alley, and see what it's like to be a wizard themselves through a variety of attractions.
Across the globe other attractions can be found for fans, too. Conferences for fans are held all over the world, and there's even a world cup tournament for quidditch held annually. Podcasts and songs have been created by many and listened to by others. And almost everyone has joined Pottermore and taken the quiz to figure out which house they will be sorted into (yes, I'm a Hufflepuff). The sets from the original film can be visited if you find yourself in the United Kingdom, as can a replica of Platform 9 ¾ at King's Cross Station in London, a play based on the later life of Harry and his family playing nightly in London's West End, and the ability to spend the night in the hotel room in Edinburgh where Rowling completed the final book in the series (an upgrade from the small café in the city where she penned the book that started it all).
However, the biggest and most lasting impacts of Rowling's debut novel are not in the theme parks or even in fan clubs. It's in people like myself, who want to write books, and in people like my friend, who might not have fallen in love with readings big, thick books if not for this series that encouraged him to carry them around in his youth. Harry Potter encouraged many things, but reading was the most prominent.

The book series inspired a generation of children that were being drawn to video games and television screens to instead turn to books, because sometimes storytelling and imagination is a better place that the world of technology. I know for many of my friends, growing up and today, wouldn't have fallen in love with reading without those books. I know without stories like Rowling's, I wouldn't continue to have the courage to pursue being a writer.
And this plethora of magic (pardon the pun) all started with this little book, which thankfully, Bloomsbury publishing house gave a chance twenty years ago, and has continued to infiltrate lives of young readers ever since.

You can purchase the special, anniversary editions of Harry Potter and the Philosopher's Stone and find out more about the special celebrations happening today here.