Harry Styles' first solo embark is here - and it's the first real taste of who he, not as a member of One Direction but as a real person, is.
It's safe to say we know Harry Styles (with know being a subjective term here, as far as you're able to know someone you'll never meet). We know he's in the top five of the UK's richest people under 30, according to Heat magazine. We know he's from a small town just south of Manchester. We know all about his highly publicized relationships, from Taylor Swift to Kendall Jenner. We know he auditioned as a solo artist on X-Factor and ended up with four other similarly tone-deaf dudes by his side (in part to them being sixteen, another part to Niall Horan).
We know because we witnessed it. We experienced, in real time, the artistic growth of Harry Styles from One Direction's "What Makes You Beautiful" music video to the Harry Styles standing in front of us now.
That's why Harry Styles doesn't feel like it's coming from the same pop star we've come to feel so familiar with, but an introduction - or an expansion, if you will - of someone entirely new. It lends itself to the vulnerability of being center stage for the first time, with no one else behind you, despite the crowd already knowing your name.
Let's dig into it. "Meet Me in the Hallway" is the opening track and a soft, indie introduction to an album that feels anything but. Everything - the echoing vocal harmonies, swelling chorus, timid chord progressions - is intended to reel us into a world where Harry Styles is just Harry Styles and not a former member of a multi-billion dollar pop phenomenon. Within the first few words uttered - "I just left the bedroom, give me some morphine" - we already feel like we are somehow invading his privacy, as if they were read directly from his notebook. It's followed by "Sign Of The Times", a fantastic track in it's own right (and one that certainly demands not 40% of your attention, but all of it) but one that still feels mistakenly chosen as the record's leading single. I couldn't help but wonder how drastically different the song would feel had I been introduced to it via listening to the album in it's entirety versus a top 40 platform.
The rest of the tracklist - "Kiwi", "Only Angel", "Sweet Creature" - intermingles, with widely differing sounds and influences still bound together by the same thread. "We're not who we used to be," croons Styles on "Two Ghosts" amidst soft guitar and melancholic longing. "We're just two ghosts standing in the place of you and me." Much of the album as a whole deals with themes of self-identity, loneliness and love that got away. In all honesty, Styles reflects most of his shine as a singer here instead of a songwriter - something I'd argue is his weakest link (I'm really not just saying this - on "Woman", he asks "Should we just search romantic comedies on Netflix and then see what we find?" Yeah, I guess.) It makes sense, though, because the key to understanding where Styles is coming from is remembering that he has only just begun to figure it out himself.


Harry Styles comes to an end with "From the Dining Table", a song that feels so intimate - like a hushed prayer - that it makes sense why he would leave it as his final note. "Maybe one day you'll call me and tell me that you saw it too," he sings over a rising crescendo, before it all falls back into place. "But you never do." Despite us living in a world so deeply focused on singles - getting a single to the top 10, hitting a certain number of hits via Youtube - Harry Styles reminded me of the beauty of the album format, and why it'll never really die. From start to finish, it's an invitation - one that lets you explore the inner musings of someone who never had a chance to divulge them before.
How you feel about this record really depends on where your expectations are coming from. If you're a One Direction fan, you'll either embrace this newly three-dimensional Harry, or you'll excuse it as a drastic departure from the band you know and love. If you're simply trying to find out what the fuss is all about, you might just be pleasantly surprised. Take it or leave it.
Harry Styles is out at midnight. Pre-order it here.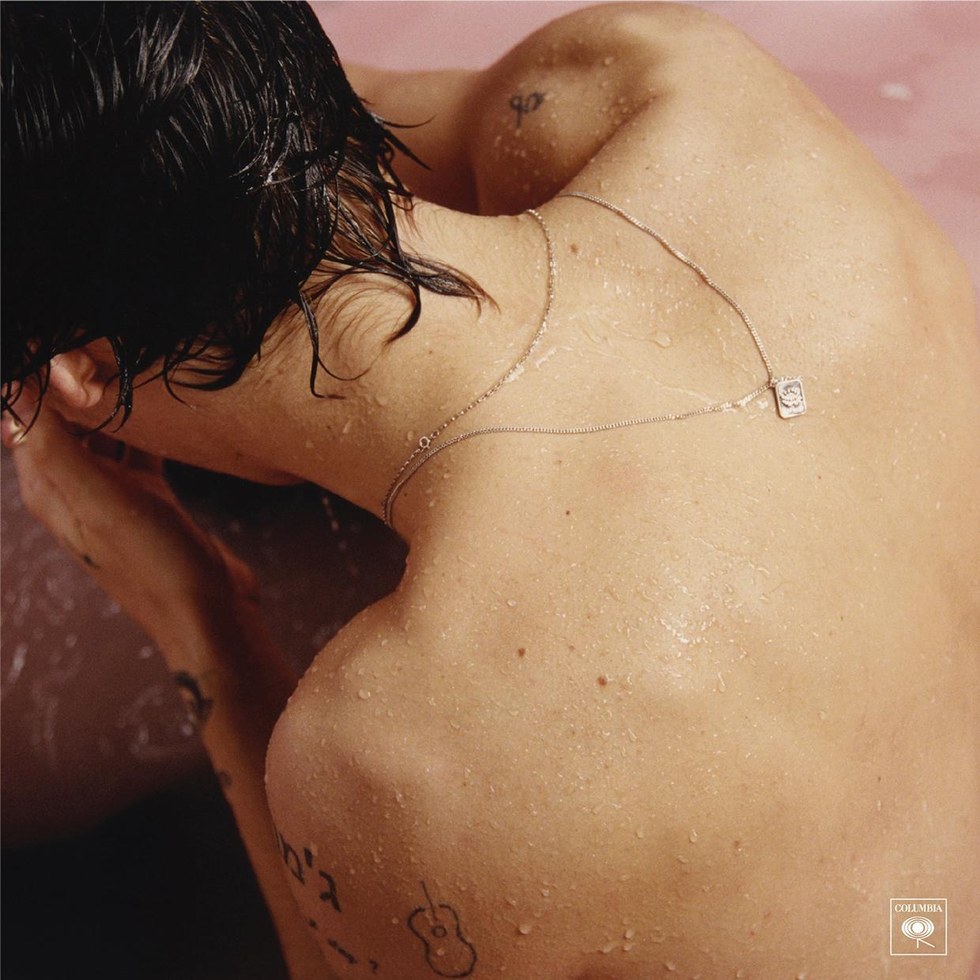 ---
Vanessa is a music writer who has listened to two One Direction songs in her lifetime but would still take a bullet for a teenage girl's right to stan. Follow her on Twitter.