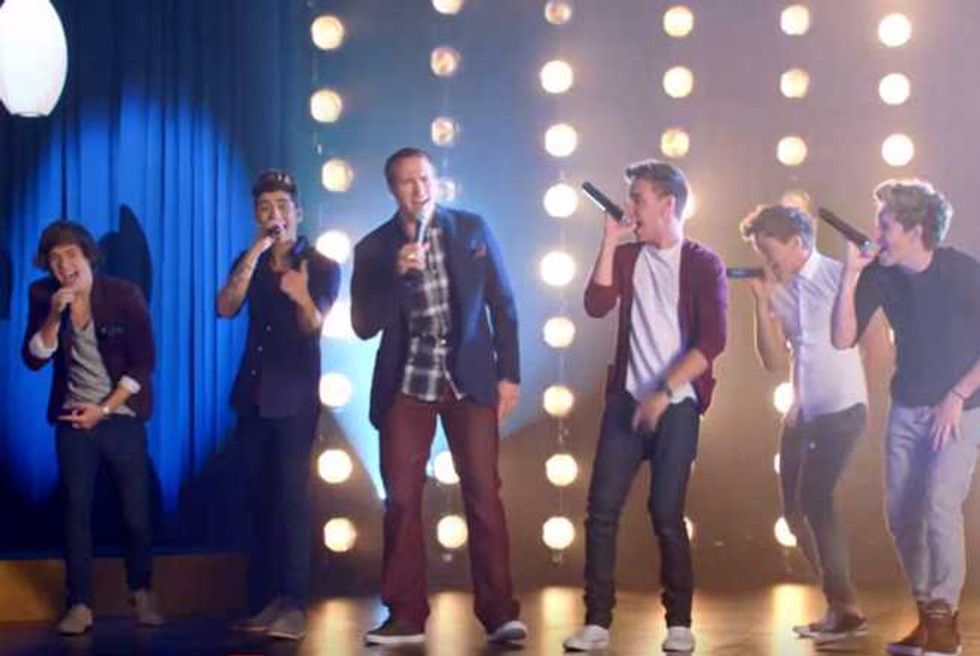 Imagine this: After what has presumably been a long day spent replying to your Twitter inquires, Harry Styles reaches for a cold Pepsi to quench his thirst. Inside the frosty refrigerator his hands meet the golden paws of Drew Brees, equally parched, yet twice his size. The two commence a classic battle of wit to determine who gets the last serving of the precious drink, with Harry enlisting some help from his boys. 
While this could be a nightmare born only in the mind of the world's biggest Directioner, who also happens to be a dedicated member of Who Dat nation, it's actually the full version of the latest Pepsi commercial starring the blokes of 1D and the New Orleans Saints quarterback. Rather than focus on the athlete's well known desire to be a part of the boy band phenomenon, the two sides present a logical argument as to why they deserve that not-so-elusive Pepsi can.
For One Direction, the reasons why Harry should get it over some old guy who plays the wrong kind of football are obvious:
1. They have a platinum album.
2. They're on the cover of magazines.
3. Girls follow them around screaming.
4. They're One Direction!
Tough call, but our gut says to go with the guys who've most recently made history with the biggest opening U.S. sales week by a U.K. artist. Plus, shouldn't Mr. Brees be drinking Gatorade?
Because they're sweethearts, 1D helped No. 9 live out his dream—in sort of a Make a Wish-type situation, as Shauna of The Mindy Project would say.
This will probably be the first and last time 1DB takes the stage together, so you'll want to get a look at their act while you can. DB is coming for your solos, Harry!