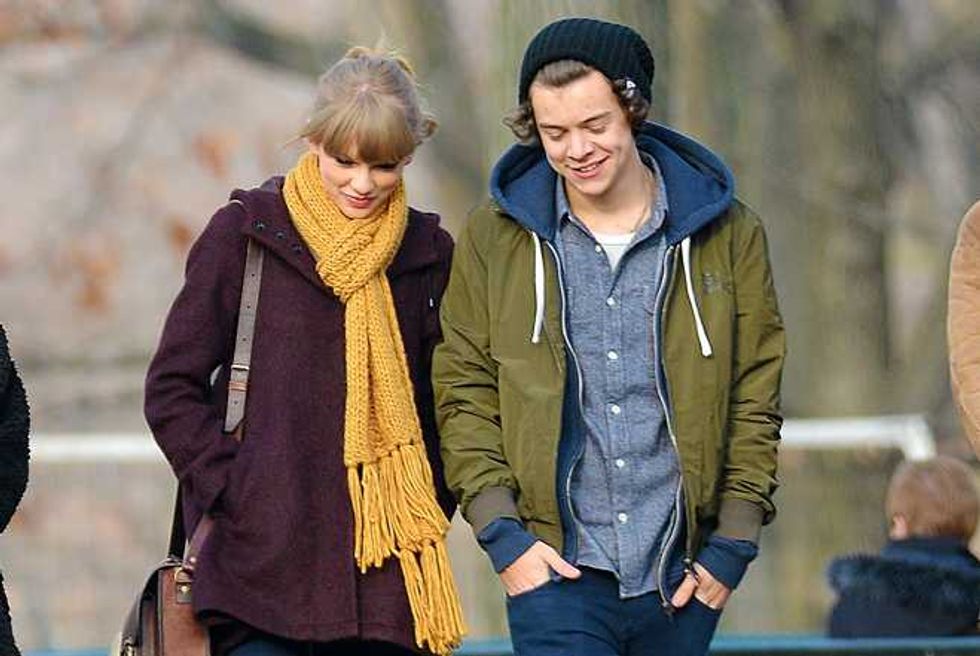 While you were enjoying a relaxing Sunday afternoon watching football or practicing your Les Miserables sing-along for Christmas Day, Taylor Swift was crushing the hopes and dreams of many a Directioner. Yes, friends, there was a Haylor (Tarry?) sighting in New York, and Twitter will never be the same. Taylor Swift and Harry Styles were spotted strolling through New York's Central Park yesterday afternoon, looking picture perfect in weather-appropriate accessories and holding an adorable baby they seemed to have rented just for the photo opp. Kidding—we think. According to MTV, the cute child belongs to Harry's stylist Lou Teasdale and her fiance, Tom Atkin, who joined the kiddos for their day at the park.
The day date comes after weeks of speculation that Taylor has begun again with the One Direction heartthrob, following her October split from (yet another 18-year-old) Conor Kennedy. Is this evidence that she's not wasting any time researching for her next album, or is she simply trying to make rehearsals for Z100's Jingle Ball less awkward?
Is this all to make Conor jealous? We've told you time and again, Tay. Ethel's approval is all that matters.
There's no visible PDA to be seen, or any evidence that Harry's finger has ever grazed so much as Taylor's elbow. The two also visited the Central Park Zoo, where fellow animal lovers didn't so much as bat an eye at the photogenic maybe-couple. Harry's hair is hidden under that hat, but we'd recognize Taylor's wonderstruck expressions and sweaters anywhere. And who knew that Harry was taller than the statuesque Taylor? Awaiting his stance on ladies in heels...
The Daily Mail has exclusive video of their tankside chat, sans audible conversation. What could they be talking about?! Israel, duh.
As expected, such a public outing from two of pop's most powerful invokes all sorts of reactions—sadness, panic, confusion, anger and depression among the most frequent.
https://twitter.com/LOHANTHONY/status/275425708992507906
https://twitter.com/Its_iJackieee/status/275620750298329088
LUCKILY, THERE ARE A FEW TWITTER USERS CAPABLE OF FEELING HAPPY FOR SOMEONE ELSE
AS WELL AS THOSE WHO LOVE TO COOK UP CONSPIRACY THEORIES
lol Taylor Swift and Harry Styles are not dating, it's obviously a publicity stunt.
— Keeks (@Keeks_Mc1) December 3, 2012
AND OF COURSE, THE BUDDING COMEDIANS LOOKING TO MAKE A JOKE FROM IT ALL
This is serious stuff! If it's true, and Harry's wild mane has finally been tamed by an even more famous lady, who is Niall supposed to hang out with? We'll psychoanalyzing whether or not Taylor is chasing a high school dream, getting her self wrapped up in boys who are likely not looking to commit, until there's more substantial confirmation (Twitter flirtation and/or a recorded duet, followed by a trip to a cafe). So close, Ed Sheeran. So very close.
As for the rumors that Taylor will be joining One Direction during their Madison Square Garden show tonight, she's scheduled to be honored at the Robert F. Kennedy Center for Justice and Human Rights' Ripple of Hope Awards Dinner. It's nearby, at the Marriott Marquis in Times Square, and Alec Baldwin, 2012's soldier of love, is also scheduled to attend. We're sure the family of her former boyfriend will understand if she has to leave early to take a new romance public.