MUSIC
LIVE | The gold dust woman joined pop's golden boy at his recent L.A. gig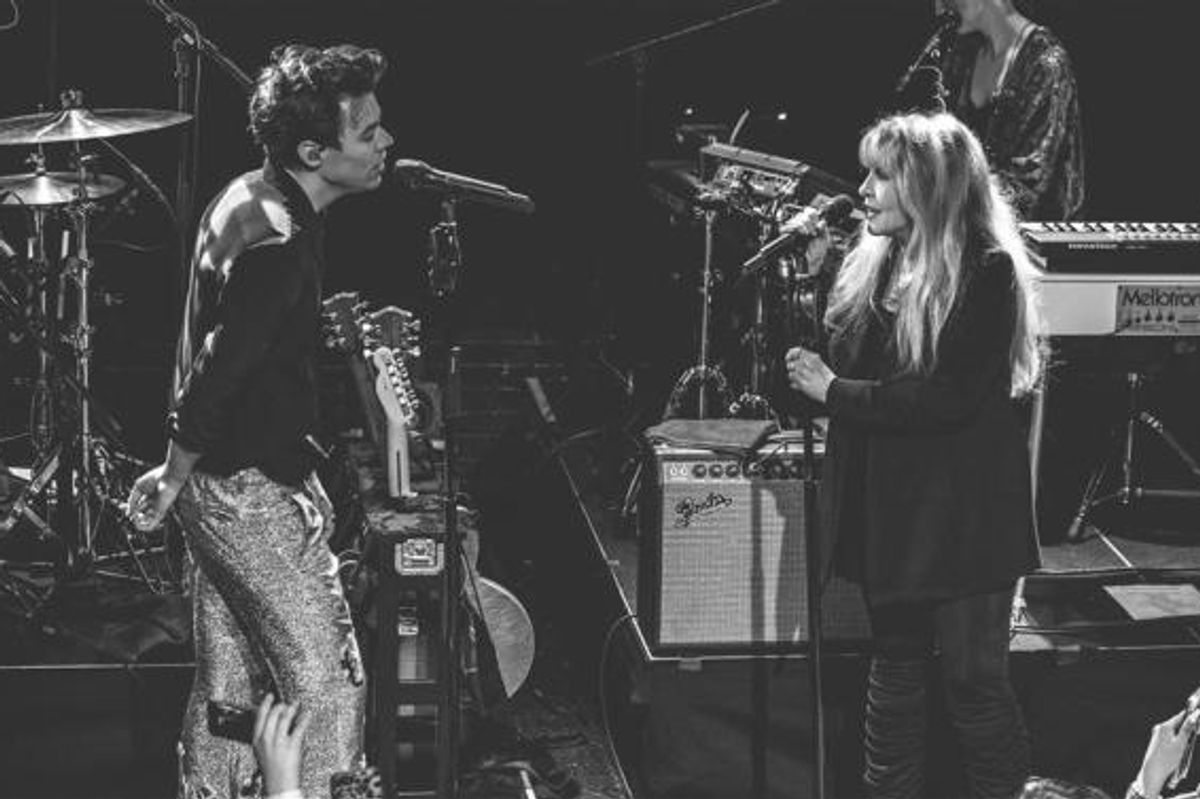 Jacqueline Verdugo
The landslide can't possibly bring him down.
Pop's newest crown prince Harry Styles, breaking away from the long shadow of One Direction with arguably more grace than his former bandmates (we're looking at you Liam Payne), played a secret gig at legendary Los Angeles rock club The Troubadour. He was joined onstage, much to the shock of the audience, by none other than one of the reigning goddesses of the classic rock pantheon: Stevie Nicks herself.
With the recent announcements of Nicks working with younger artists (she's slated to feature on Lana Del Rey's forthcoming record, Lust For Life), her appearance doesn't come as a surprise. Regardless, everyone in attendance was positively stunned as she joined Styles onstage. The pair teamed up for a re-imagining of "Leather and Lace," Nicks' iconic duet with Don Henley, and an intimate version of "Two Ghosts" from Styles' self-titled solo debut.
[rebelmouse-proxy-image https://media.rbl.ms/image?u=%2Fmedia%2FDAPhAtfUAAAL36t.jpg%3Amedium&ho=https%3A%2F%2Fpbs.twimg.com&s=108&h=36a0890af66ea0b30469bb07eb85cd36da69348a863932553454cb49c30015b2&size=980x&c=3940740649 image-library="0" caption="" pin_description="" crop_info="%7B%22image%22%3A%20%22https%3A//media.rbl.ms/image%3Fu%3D%252Fmedia%252FDAPhAtfUAAAL36t.jpg%253Amedium%26ho%3Dhttps%253A%252F%252Fpbs.twimg.com%26s%3D108%26h%3D36a0890af66ea0b30469bb07eb85cd36da69348a863932553454cb49c30015b2%26size%3D980x%26c%3D3940740649%22%7D" expand=1 photo_credit="via @1027KIISFM | Twitter"]via @1027KIISFM | Twitter
The show-stopper here, as is to be expected, was "Landslide." We usually wouldn't want anyone but Lindsey Buckingham to accompany Nicks on the track, let alone infringe on her vocals, but Styles did the track justice with a suave finesse that puts to rest any doubts of his rock star cred. If the solo album didn't convince you, him going head-to-head with the Gold Dust Woman and coming out with an embrace (and a firestorm of social media response) should be more than enough to silence the naysayers.
Watch Harry Styles sing "Landslide" with Stevie Nicks below.
---
E.R. Pulgar is a music writer, poet, image-maker, and once cried reading Virginia Woolf. Follow him on Twitter.
---
READ MORE ABOUT MUSIC...
Stevie Nicks, Pretenders Cast a Spell on Madison Square Garden
Review | HARRY STYLES' self-titled LP is an intimate look into the man himself
Interview | FLEETMAC WOOD bring gold dust to the dance floor
---