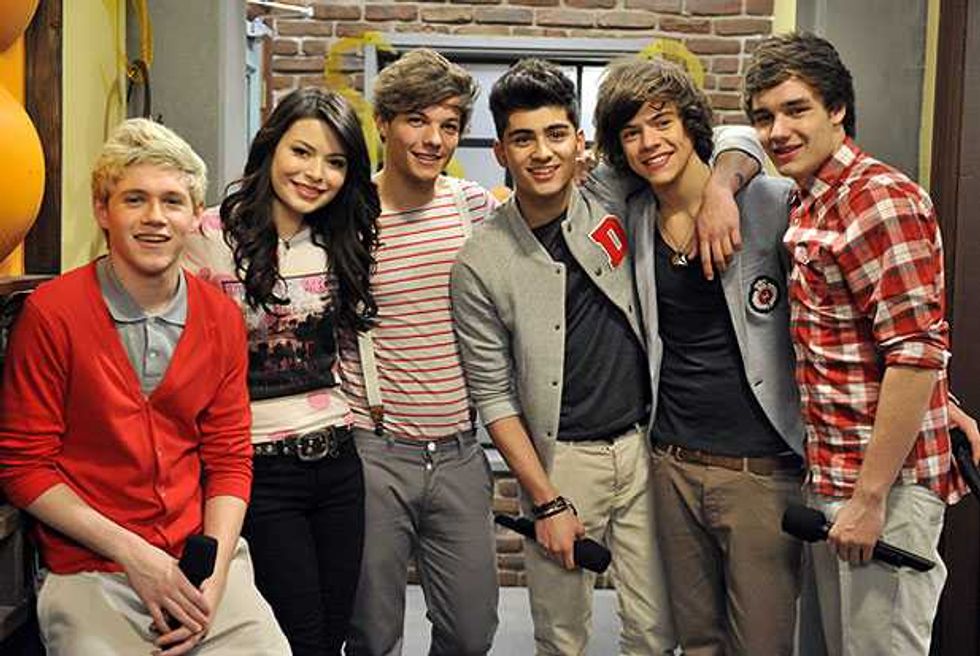 Since the boys of One Direction came together on camera, taping a prime-time episode for a hit Nickelodeon show should be a snooze. E! News was on the iCarly set as the group mingled with the cast, who couldn't help but comment on the state of their collective scent (all good, in case you're wondering) and the insane jealously that's overtaken their friends outside the show since the band taped their appearance. But it works both ways. While many American girls are counting down the hours until the episode airs on April 7, Zayn has managed to score a few extra Cool Big Brother points just from breathing the same air as Ms. Miranda Cosgrove. "I spoke to my younger sister the other day and I took a few pictures of the set," he explained. Aww. Better make a note of what she likes and dislikes, future Mrs. Malik.
Revealing a bit of what drags the band to Carly's at-home studio, Niall explained their scheduled performance of "What Makes You Beautiful" almost doesn't happen, after Harry comes down with a strange and debilitating stomach ailment. Note to talent: Never share a water bottle with your host. You'll never know when they're trying to be generous, or when they're planning to poison you, just so they can nurse you back to health themselves, Misery-style. Despite the script's call for Harry to act notably out of his element (moody rather than broody), he seems to be happy with how things turned out. "Them pesky jungle worms," he explained. "It's fun, because I just have to groan loudly." Funny. That's what a certain 32-year-old said, too. If 1D's management team really wants this "no sex" rule to stick while they boys are on tour, they should consider starting a little rumor that those "pesky jungle worms" have spread to all five of the guys.
Prepare to give your DVR a workout, as the next seven days will feature a lot of 1D on your television screens. Along with the premiere of their iCarly episode on Saturday, they'll be performing in New York as musical guests on Saturday Night Live. Surely it's time to replicate the Bieber-Fey teacher crush skit with Harry and host Sofia Vergara? Por supuesto.