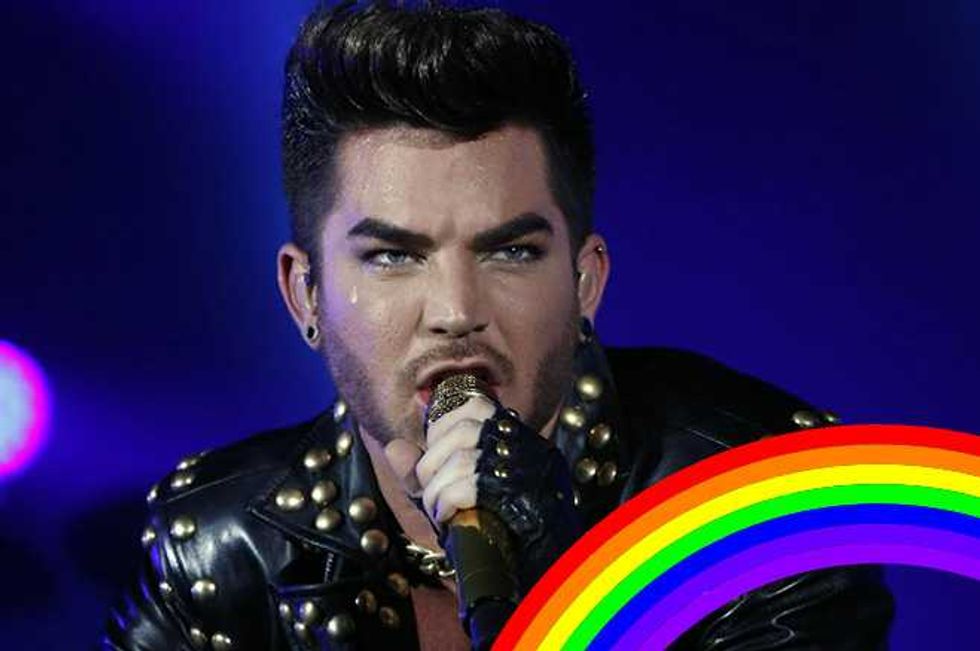 adam lambert singapore petition homophobia
A petition to prevent Adam Lambert from performing in Singapore on New Year's Eve has reached its goal of 20,000 supporters who object to Lambert's sexuality.
The petition calls on the government as well as the concert's organizers to remove Lambert from the line-up of the annual televised event.
Adam Lambert Talks About Sleeping With Closeted Stars.. .And Women!
The language of the petition is wildly homophobic, even though its backers now dispute the nature of their 'concern.'
Singaporeans can enjoy a good show without their consciences being affronted by lewd acts in the name of entertainment.
Yes, but couldn't most female pop singers who aren't Adele be accused of "lewdness" in their stage acts? Beyonce, Miley, J-Lo, Britney, Rihanna, Taylor, hello??
Adam Lambert Is Looking SMOKIN' HOT!
The petition goes on:
In addition, a simple online search would reveal that he is well-known for his active promotion of a highly sexualized lifestyle and LGTBT rights, of which are contrary to mainstream Singaporean values.
LGBT rights are still a divisive issue in Singapore, where sex between men is a criminal act.
Adam Lambert Reads From 50 Shades Of Grey—Mmmmm
But a rival petition, supported by Lambert and his legion of ever loyal Glamberts, has now reached its goal of 24,000 signatures.  Lambert posted a link to the petition on his Facebook page, where he wrote:
My performance at Celebrate 2016 will not only be a spectacular one, it will celebrate the entire human family in all its diversity. I am a uniter, not a divider, and I believe in celebrating the human heart and spirit. I have put together an entirely new show experience for my fans that is kicking off in Singapore. The Original High tour is based primarily on new material, and it promises to be a thoughtful and sophisticated insight into the pursuit of happiness and self-worth. There is no better time for celebration than at the moment one year changes into another, so I hope you will join me to celebrate the future and 2016.
The group behind the original petition have construed Lambert's statement as a concession to their concern about lewdness. Here is their latest statement:
Thankfully, the performer himself has responded that he will be putting on a different show which is hopefully in better taste and shows greater restraint.
Well. One can only hope that Adam Lambert shows Singapore and homophobes around the world that music and sexuality are joys to be celebrated by everyone everywhere, on New Year's Eve and every day thereafter.
Brian May Raves About Adam Lambert 'He Can Sing Even Higher Than Freddie!'
Bring the diversity, and bring the hotness, Adam Lambert!
A spokesperson for Stonewall told The Independent:
While there has been great progress for LGBT equality around the world, huge challenges still remain. Sex with some of the same sex is illegal in 76 countries and punishable by death in 10. It's great, therefore, to see that so many spoke out in support of Adam Lambert and against discrimination.