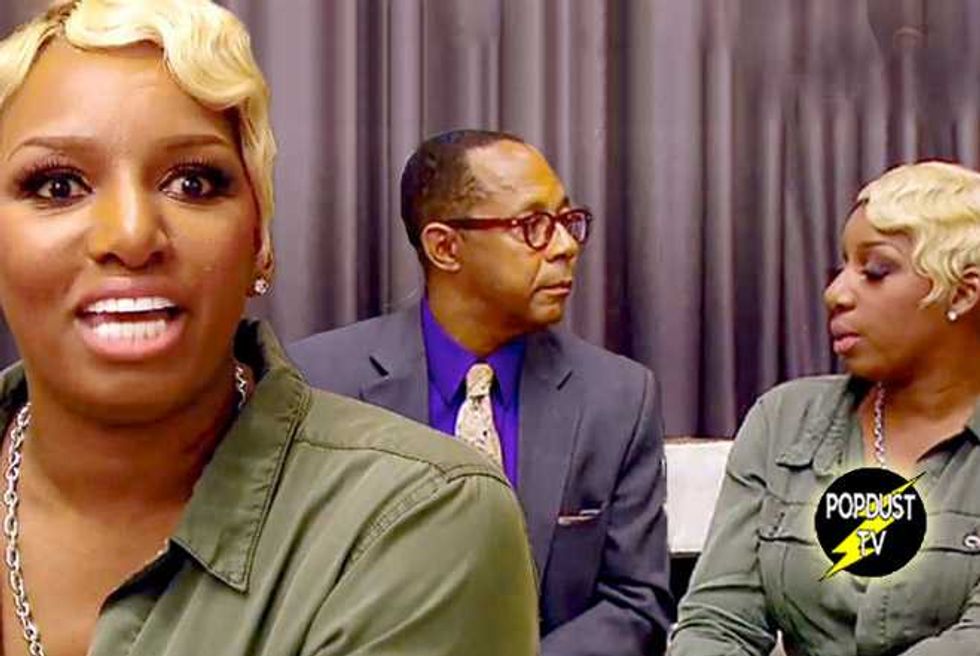 It's good to talk—unless you're trying to do so with NeNe Leakes—and then it inevitably just turns into an insane, screaming bitch-fest.
At the behest of the 47-year-old, The Real Housewives of Atlanta gathered together to air their grievances under the watchful eye of Dr. Jeff Gardere.
Not surprisingly, given this bunch of nut jobs, things soon turned sour, resulting in raised voices, accusations, tears galore and…piece de resistance….. NeNe throwing an epic tantrum and storming out—you can watch the drama unfold, right here on Popdust.
Talk to the hand bitches, 'cos this delusional drama queen really ain't listening.
It all started off well enough, as Leakes beseeched her castmates to talk it out, with the aim of the good doc getting things "back on track."
NOTE TO NENE: Give the poor guy a break, he's a therapist, not a miracle worker.
Sure enough, sparks started to fly after Dr. G asked NeNe and her arch nemesis Kenya Moore to discuss their fractured friendship and ongoing feud.
"We're never going to be friends," NeNe sniped. "We will never be friends. Ever again."
So much for "getting back on track"….
It didn't take long for all the Housewives to start calling NeNe out on her cray cray to the max shit—with good reason, right? Seeing as SHE was the one who instigated the therapy session then cut it dead in its tracks.
"You don't realize you're the drama," voice of reason Kandi Burrusss was quick to point out. "This desire to be head bitch in charge is driving her crazy."
Claudia Jordan jumped straight into the frey, branding NeNe's behavior as "bipolar."
However, things turned nuclear after the subject of NeNe's war with ex-best friend Cynthia Bailey was broached.
In true Real Housewives style, the two women went AT IT, screaming over each other, and accusing each other of being a "mean girl" ...forcing Dr. G to intervene in a vain attempt to cool the situation.
Yeah, good luck with that mate.
But, the straw that broke the camel's back was when Kandi started sticking up for Cynthia….oh, hell no!
A suddenly stoic NeNe just couldn't take it anymore, standing up and silently leaving the room in protest, with the long suffering doc running after her.
"I'm not going to sit here and act as if I am the sole cause of these friendships and relationships being the way they are today," NeNe sniffed indignantly. "I'm not staying here for Attack NeNe Day!"
"This must be Attack NeNe Day, and I'm not doing it with you," she vowed dramatically."Nope!"
Meanwhile, Kandi summed it up perfectly, "I am so over it!" She declared.
We so hear you girlfriend….we so hear you...
If you want to see yet more screaming matches, general insanity and jaw dropping levels of delusion, tune into Bravo at 8/7 on Sundays for all new episodes of The Real Housewives Of Atlanta.