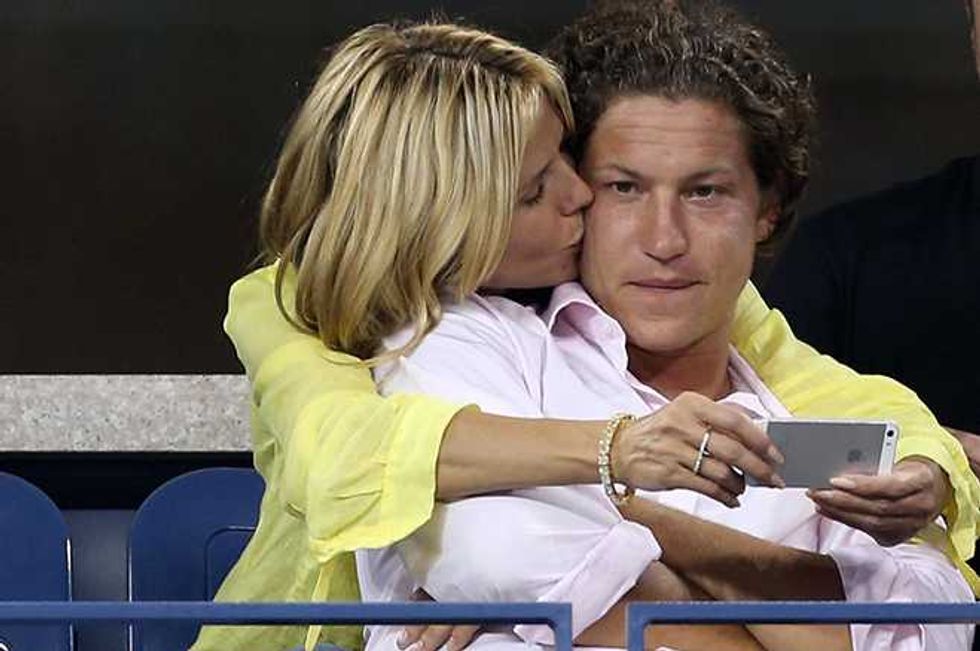 Heidi Klum has lost her heart to socialite boy-toy Vito Schnabel, a 27 year old 'art dealer' who has dated a string of celebrity cougars including Demi Moore and Elle Macpherson.
Vito is the son of artist and film director Julian Schnabel, a notorious womanizer in his own right.
Growing up among artists and celebrities, young Vito is a spoiled brat an art dealer whose penchant for older women seems to have started at the tender age of 13. And while you'd think he is used to amorous displays of public affection, he seems distincly embarrassed in recent photos with Klum pawing him.
Poor Vito.
Here's how a longtime friend describes young Vito:
The first time I met Vito, when he was about 8, it was at Jacqueline's kitchen at the Frank Lloyd Wright table they have, and Vito was arguing with [now-deceased poet] René Ricard about how to boil a quail egg.
Right? It's like a scene from an Oscar Wilde play! It only gets worse.
I remember when Jay Z [would] see Vito at an art show, he would sorta walk behind him or next to him in an eager way, almost like he wanted to be Vito. Vito had a style at the time, with a white T-shirt and a cashmere V-neck sweater. That was his uniform for about a year when he was 16. I noticed that Jay Z was wearing the exact look. It's funny, but who better for Jay Z to take a cue from?
Who indeed?
In photos, Vito looks like a pudgy,  unexceptional young man who wouldn't warrant a second glance. Clearly, though, he is catnip for older women. Do they just want to meet his dad?
Poor Heidi. Whatever the attraction is, it's going to end in tears.