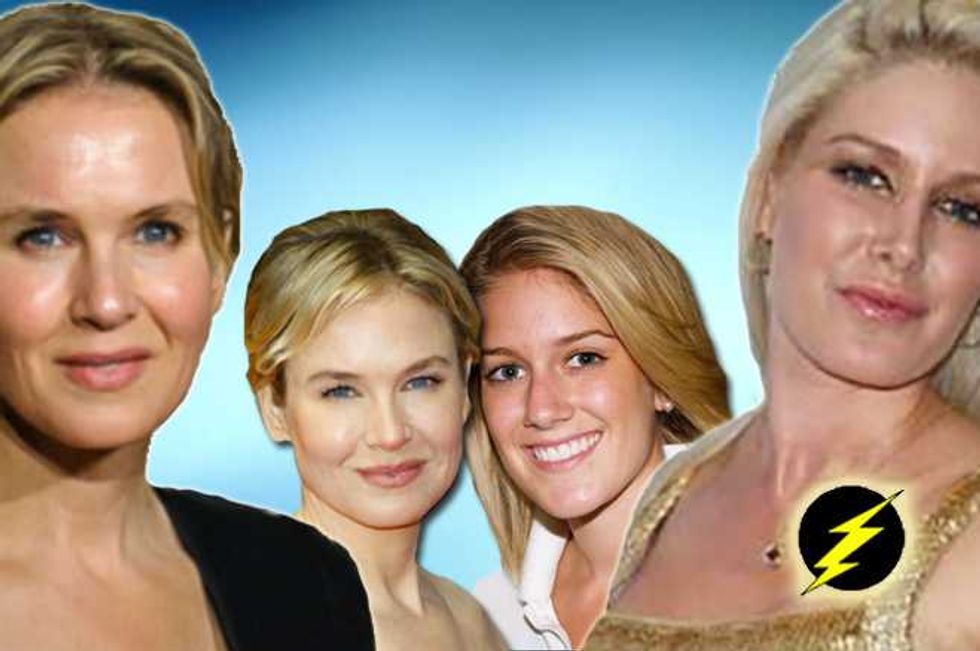 Heidi Montag is speaking out about the recent Renee Zellweger plastic surgery "controversy", saying she has an "empathy" for the actress.
The 28-year-old admitted that whenever she sees someone looking drastically different it brings back memories of her own past unhappiness, and that her "heart goes out to them."
As Popdust previously reported, Montag underwent a staggering 10 plastic surgery procedures in a single day back in 2010, boosting her boobs to a staggering F cup size, and changing her appearance radically. She subsequently admitted that she regretted going under the knife, saying she wished she had gone to a therapist instead of a surgeon—and she recently had the humungous implants removed.
So, it's not surprising, the Zellweger story hit a nerve with the former reality TV star-turned-singer.
"I don't know if Renee Zellweger just aged like she said, I don't really know," she told Extra . "For me, when I see people who look totally different, I have an empathy. I feel like I know why at least I did it, and it kind of brings it back to that time in my life. It's just, I feel for them."
"I hope it's the right decision for them," she added. "I hope they feel good about it. That's the most important thing. My heart goes out them and I think like, 'Why did you do that? Are you happy with it?' It's a hard life-changing decision when anyone does it. Obviously, they're unhappy with something. I hope that they [find] their happiness.
"Not only are you getting the criticism from the world and blogs and people, everybody says negative things… it's harder than it's ever been to be in the public eye. You have to be tougher. You have to have really thick skin."
Meanwhile, Zellweger has publicly denied undergoing any kind of surgical or cosmetic procedures, attributing her new look to a healthy life style and happiness.
"I'm glad folks think I look different! I'm living a different, happy, more fulfilling life, and I'm thrilled that perhaps it shows," she said in a statement.
"My friends say that I look peaceful. I am healthy," she continued. "For a long time I wasn't doing such a good job with that. I took on a schedule that is not realistically sustainable and didn't allow for taking care of myself. Rather than stopping to recalibrate, I kept running until I was depleted and made bad choices about how to conceal the exhaustion. I was aware of the chaos and finally chose different things."