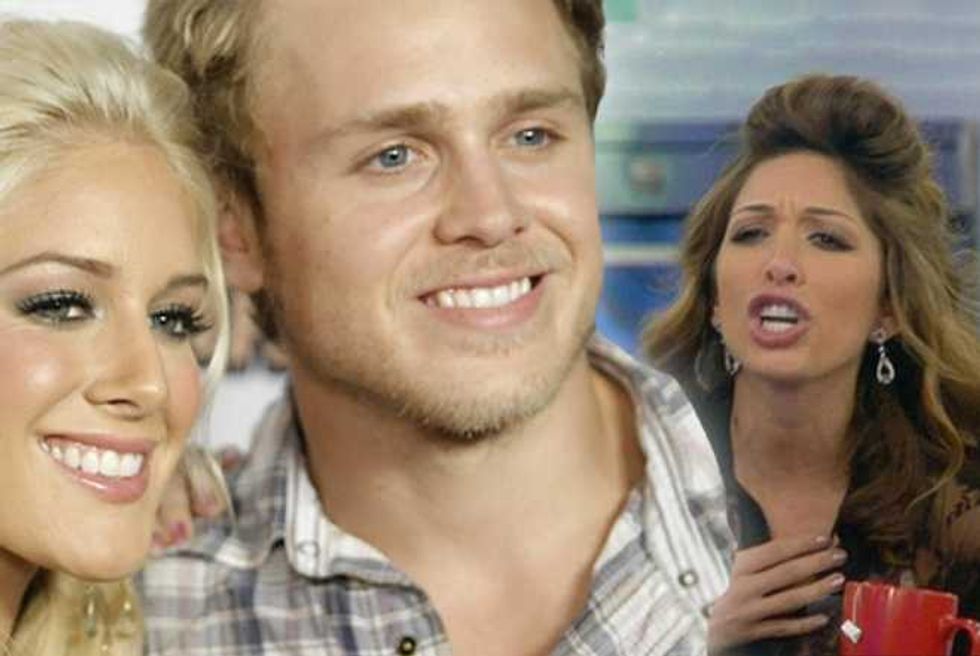 Wah! Wah! Wah! Poor old bullied Farrah Abraham... Wah!
Heidi Montag and Spencer Pratt have spoken out in defense of the Teen Mom star following her shit-tastic and utterly insane appearance on the most recent season of Britain's Celebrity Big Brother.
Sex Tape Star Farrah Abraham Is Too Demure To Actually Say The Word 'Sex'
As Popdust previously reported, Abraham paired up with fellow yank, and porn star, Jenna Jameson, during her time in the CBB house, and they made for a truly deranged and deluded gruesome twosome indeed.
Literally from the get go, Abraham was up in everyone's grill, on the attack, accusing all the British housemates of being "phony" and filled with "Satan" and butting heads—particularly with comedian Bobby Davro and singer Natasha Hamilton.
Teen Mom Porn Star Farrah Abraham Writing Christian Parenting Book
To the casual and uniformed reality TV viewer, Abraham came across as the undoubted aggressor, stirring up a whoop ass can of shit and leaving a trail of verbal destruction in her wake—however, to the more seasoned and discerning reality TV viewer, not so!
In fact, according to Speidi, who were runners-up on season 11 of the show, back in 2013, it was actually poor old Farrah who was bullied and disrespected by the others—and, according to Speidi, the 24-year-old was set up and FORCED into acting like a psychopath.
Not Even Farrah Abraham's Porn Company Likes Her Anymore
The renown and respected Reality TV sages shared their words of wisdom with US Weekly:
She's had such unfair treatment all season long. They bait her, and she tries to make up with them and then they degrade her under their breath as a mom or a woman and whenever she stands up for herself, they call her crazy.

They've had no respect for her from the beginning. ... She was the only entertaining part of that show. She just owned it. It's awful how they called her 'disgusting on the inside,' and they just wouldn't stop. How would anyone react to that?

As far as I'm concerned, with the way they've been attacking her, anything she does is self-defense. ... Farrah was totally set up. It's not that I condone violence, but I completely understand why she'd react to these people because she has been bullied since the day she went in there."
Did these two morons watch a totally different season of the show?!!!
Because, in the one that we watched, Abraham was the one threatening to "straight up fucking kill this whole fucking house" following a fight over a pair of flip flops; Abraham was the one screaming, shouting and acting like a clearly mentally unhinged piece of shit; Abraham was the one doling it out and then crying like a baby and ranting like a crazy woman when it came back to her….
Farrah Abraham: "The Sex Tape Ruined My Life!"
Oh, and let's not forget—it was Abraham who, upon being voted out of the house, verbally attacked a previous CBB contestant, before going on to physically attack another, during a live TV broadcast of the follow-up show, landing another former contestant, Vicki Michelle, in hospital, and forcing the show to go temporarily off air.
But, hey, what do WE know?!!
The 12 Most Annoying Types Of Celebrities On Social Media
Abraham continued to play the victim card right up till the end—making sure she was photographed leaving a hospital in a wheelchair, and then refusing to attend the taping of the live finale for purposes of self preservation—tweeting, "I will NOT be attending the @bbuk finale tonight! I don't wish to put myself in a potentially hostile situation #Cbb."
Meanwhile, the Farrah Abraham crazy train rolls on….