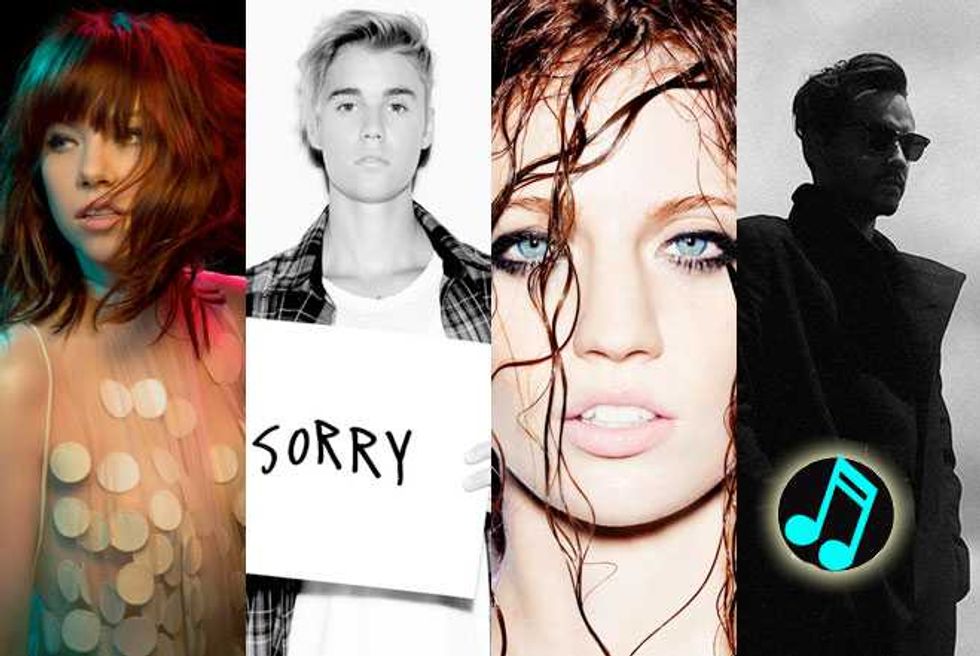 Music is subjective. There's no right or wrong way to listen to, comprehend or enjoy the medium which serves as a universal particle matter to connect every single human being to each other. To sit down and decide which songs are more significant is a behemoth of a task. Some songs speak louder because of their inescapable emotional impact. Others make a cultural or personal statement as focused through the lens of cynicism or youthful angst. Even others might scatter across the discoball-laced club floor with a pounding pop furry to give the listener an intoxicating three or four minutes of escape from their lives. There's no algorithm with which to calculate the perfect year-end list. There's only playlists, a set of ears and a belief that music is as innately earth-moving as any other art from. Music is music is music.
Popdust collects below the Top 15 best songs of 2015, ranging from acoustic folk-pop and traditional country to R&B-peppered anthems and monumental a cappella explosion (and everything else in between). Whether you agree or disagree with our final tally, leave your Top 15 songs in the comments.
Sit back and plug in those earbuds:
Honorable Mention:
20. Fifth Harmony, "Worth It" featuring Kid Ink (Reflection)
One of X-Factor's biggest success story, this girl group have officially reached superstardom. You couldn't go anywhere this year without hearing this simmering slow-jam. And now, you'll have it stuck in your head well into 2016.
19. Demi Lovato, "Stone Cold" (Confident)
Lovato is far cooler than summer, let's be honest. And no, her blockbuster summer romp did not make this list. Instead, we traded up for one of her most visceral vocals ever.
18. Coldplay & Beyonce, "Hymn for the Weekend" (A Head Full of Dreams)
This is one of the late entries on this list; it blends together the best of both worlds: Queen B's sexual R&B slinkiness and Chris Martin's arena-sized pop-rock world.
17. Mo Pitney, "Clean Up on Aisle Five"
There's a traditional tidal wave about to wash over Music City. Pitney is at the crest of a return to the old school way of doing things. He writes from his gut, leaving us all breathless.
16. Pentatonix, "Sing" (Pentatonix)
PTX proved they are far more than just cover stars, with their brand new self-titled album. On it, they delivered some absolutely engaged storytelling, layered with some of their best vocals ever.
15. Clairity, "DNA" (DNA)
Clairity isn't your typical pop newcomer. She's off-beat; she's a misfit; she's the outsider in all of us. Her music is impressively artistic, with an obvious fearlessness. She's the next superstar woman in pop. Her songwriting, too, is just downright rad.
14. Kip Moore, "Comeback Kid" (Wild Ones)
Moore has been through the wringer. His radio career is rocky, at best, but he has never given up. He does this thing called music for the love of it and not for the awards. That's the mark of a true artist.
13. XYLO, "Between the Devil & the Deep Blue Sea"
This sibling duo pieces together hazy production elements and piercing lyrics to create a ghostly-folk firestorm of massive proportions. Their delivery is simple but powerful.
12. Erik Dylan, "Color Blind"
This newcomer landed another cut on this list (at No. 14, he wrote Moore's song above), but it is Dylan's conviction and vocal that is even more impressive, earning his own slot on this list. Taking on the needless violence over the past few years, particularly the tragedy in Ferguson, his songwriting is tightly wound around our troubling state of mind and our need for a solution. He sings what we are all thinking.
 11. Adam Lambert, "Ghost Town" (The Original High)
Lambert is always flying inches under the radar. His new album is a fine display of dance-club heat and an evolution to his boundary-pushing sound. This acoustic-turned-club banger is one of 2015's most interesting moments.
10. Cam, "Burning House" (Untamed)
At 31, Cam is bold, bubbly and unabashedly herself. Her searing down-tempo has ignited renewed interest in ballads at country radio. Its magnificent melody is framed around a dream-like state and folk-influenced arrangement, blending genres and surpassing all bounds.
9. Maddie & Tae, "After the Storm Blows Through" (Start Here)
This harmonious breakout duo are redefining what it means to be female in today's country mainstream. Their vivid songwriting is only part of their magical combo, anchored by their sweeping melodies and undeniable charm.
8. Bea Miller, "Force of Nature" (Not An Apology)
"I don't know why but my hands are shaking," this former X-Factor finalist crisply delivers a powerhouse of a vocal performance layered over an acoustic arrangement. Her emotion and maturity pours forth from a well of depth and understanding. Truly outstanding.
7. Chvrches, "Never Ending Circles" (Every Open Eye)
Cooly constructed synth-pop has never been so accessible as presented by this indie outfit. While containing a rather satisfying melody, the band drapes on dramatic and larger-than-life production to heighten the senses and images.
6. Eric Paslay, "She Don't Love You" (Eric Paslay)
This newcomer injected mainstream country with a fine dose of soul, bringing the needle back to more traditional-leaning work. The song failed to crack the Top 10 at radio, but the song has left an indelible mark on all of us.
5. Justin Bieber, "Sorry" (Purpose)
Bieber made one helluva comeback this year. "Sorry" is a natural progression following his teen years, showing that he has artistic instinct worthy to be recognized.
4. Selena Gomez, "Same Old Love" (Revival)
Gomez, too, hit it big this year. It's simply coincidence she so happens to land right next to her on-again, off-again flame, but her music stands on its own. If there's on thing this former Disney princess has learn, it is how to delivery an infectious pop hook.
3. Jess Glynne, "Take Me Home" (I Cry When I Laugh)
Glynne has yet to have a breakthrough here in the states, but there's no denying her impeccable and soaring talent. Much like Adele, she'll make you curl into the fetal position with a tube of Ben & Jerry's and cry your eyes out.
2. Carly Rae Jepsen, "Run Away with Me" (EMOTION)
A feverish heartbeat serves as the foundation for the year's most driving pop track. Carly Rae, ever the elusive chanteuse at radio and elsewhere, delivers a wholly sweet, nuanced and compelling vocal.
1. Adele, "When We Were Young" (25)
"Hoping you're someone, I used to know. You look like a movie. You sound like a song," reads one of Adele's (and pop's) most potent ballads this year. There's really no need for an introduction, because Adele.
Stay tuned for music updates. Be sure to follow @Popdust and @JasonTheScott on Twitter!