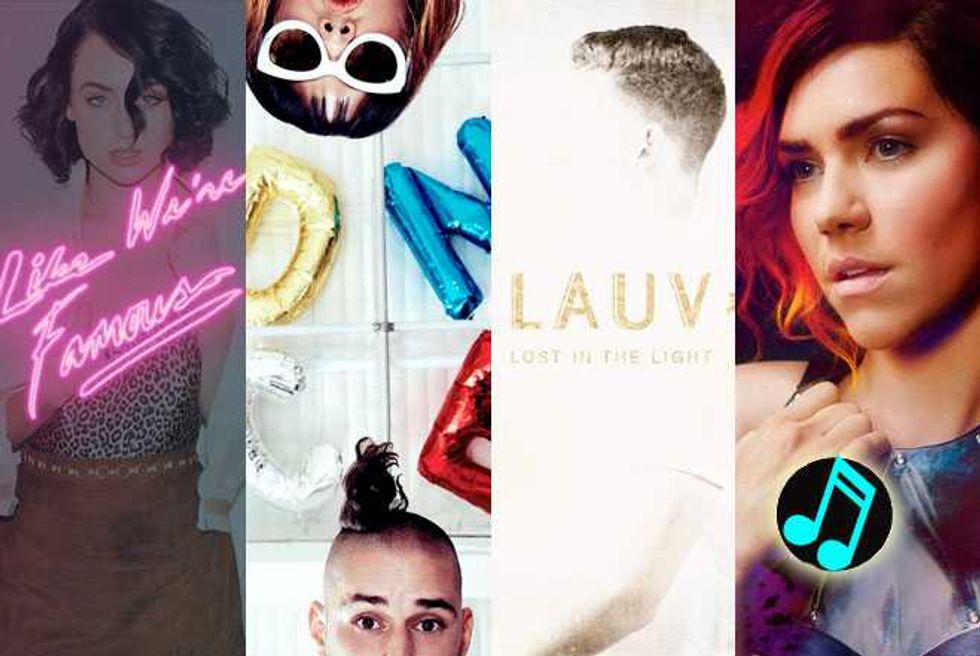 "Life is your design, so go ahead, design it," Genevieve, formerly of alt-outfit Company of Thieves, proclaims on the feverish title track to her Colors solo debut EP. It's an empowering statement which needles its way through her entire project and gives Popdust good reason to include it on our final scorecard of the absolutely best, most compelling, most vibrant EPs of 2015. In many ways, that insightful reconstruction of the world seeps into every aspect of music. When we sat down to gather our thoughts spanning the past 12 months of some damn good music, we found it incredibly difficult to keep the list to just 20, so we added in two more that gave us chills, made us think or propelled us to reimagine our pre-conceived notions about life, love and loss.
Our 22 Best EPs of 2015 includes everything you could possible imagine, ranging from pop-country and grunge-rock to provocative EDM and tender singer-songwriter. You may see a few delightful surprises, too.
Grab your earbuds and dig in:
Honorable Mention:
Poema, Pretty Speeches
22. Daya, Daya
Sexually-charged and spirited are two terms which could aptly describe this 17-year-old's brash and brave concoctions. They go down smooth like a fifth of Jack and give off a high as intoxicating as life itself.
21. Genevieve, Colors
As colorful as the rainbow or the Milky Way on a clear summer night, this singer's solo bow is electric and encapsulates the very heart and soul of what makes modern pop so great.
20. The Score, Where Do You Run
Where do you run from such infectious bops? You can't. Even if you try, this pop-rock duo will lure you back into their cave of arena-sized anthems  without thinking twice.
19. Kate Crash & the UFO Club, Play It Hard
She is as eccentric as she is alarmingly original. Traces of grunge bleed into risky electronica and then into blistering, hard-pumping rock. You most definitely won't be bored out of your mind.
18. W. Darling, Lost Girls: Chapter 2
Her melodies give off an air of western influence. Darling's vocal is tender and lilting but, most importantly, rather haunting.
17. The Royal Concept, Smile
Easy-listening rock glossed over with chants, hums and groovy percussion. It's throwback soul is only the key to a cooler galactic future. It's charm is only part of the story.
16. Tay Beckham, Love Hard
Moody and magical, Beckham draws from '90s R&B and pop in appropriate quantities. She dolls up the old school with a sweet vocal and modern accessibility.
15. Bonnie McKee, Bombastic
The woman behind many of Katy Perry's biggest smashes dares to return with her long, long, long, long-awaited new EP, which is so titillating you may want to excuse your grandma from listening. It's brash; it's electric; it's liberating; and it's exuberant, to say the least. It will leave you empowered with the stroke of only four tracks.
14. DNCE, SWAAY
This one will make you want to eat cake by the ocean. No, seriously. Joe Jonas' post-Jonas-Brothers, power-pop dance project is absolutely satisfying in every imaginable way: from the energetic beats and the disco-laced hand-claps right down to his oh-so sweet falsetto. The EP is even frosted with powdery and accomplished musicianship. Yum.
13. Dani Elliott, The Best Part
The best part of this project? Elliott's feathery voice. She delicately caresses each note, each syllable, each image and makes you believe the pain or the joy through which she trekked to get here.
12. Meghan Linsey, Believer
Transitioning from country to soul-pop could be a daunting task for some, but this former Steel Magnolias singer and The Voice runner-up makes the shift effortlessly. Her voice was made for the kind of dizzying material found here. She's never sounded so good or as self-assured.
11. Dicey Hollow, Dicey Hollow
A raw vocal pours over vivid narratives and delicate piano. Strings and smoky production are later added to heighten the thick, inescapable atmosphere.
10. Clairity, Alienation
Her voice is unmistakable, hidden away behind a hazy cloud of clicking and often thumping percussion. She's larger than life, piecing together her own understanding of the world around her through the lens of obscurity, destruction and rebellion.
9. Young Brother, Kamikaze
Piano is the skeletal remains of his Nashville performer's vibrant and erratic EDM-pop explosion. His project slips through the ears with unrelenting drops and a piercing vocal line, leaving the listener stunningly captivating and trapped between wall-to-wall textures.
8. Hailee Steinfeld, Haiz
The biting chomp of You're Such A and the sheepish glow of Hell Nos and Headphones are particularly slinky, charming and satisfying. Her vocal is electric and engaged, too, as it rises from structures of cool guitar and ghostly melodies.
7. Maren Morris, Maren Morris
This country starlet isn't your typical country singer: her roots stretch far and wide between southern rock, glossy '80s pop, throwback soul and traditional country. She melds all these influences together into a truly impressive project.
6. Max Frost, Intoxication
Guitar licks, synthesizers and echoing drums are laced together with Frost's funky musical ticks and storytelling. He's a little bit soul, a little bit soul, a little bit rock 'n roll but completely and unabashedly modern-day pop.
5. Frankie, Dreamstate
As the project title suggests, this newcomer blends together dizzying breakdowns with giddy power-pop melodies and a light vocal. Her breezy presentation underscores her potential for superstardom. Dreamy.
4. The Chainsmokers, Bouquet
Forget your preconceived notions about this EDM duo. Selfie was a viral sensation that just wouldn't go away, but now, they stamp their originality into five throbbing stories that are as immediate as they are vulnerable.
3. Heather LaRose, Beachside
The singer-songwriter template is doused with a distinctive dusty varnish, and LaRose's vocal is fierce. The tone mixes country, rock, dance and soul into a tight and remarkable five-track bow.
2. Lauv, Lost in Light
Moody and romantic, this guy's tender vocal is mesmerizing. Combining his irrefutable talent with heart-palipating production, you get a recipe for pop perfection.
1. Alexx Mack, Like We're Famous
Provocative kaleidoscopic pop fused together with reckless rock undertones results in a dynamic and electric debut EP. 2016, you better watch out. You know it feels so good to be this bad.
Stay tuned for music updates. Be sure to follow @Popdust and @JasonTheScott on Twitter!