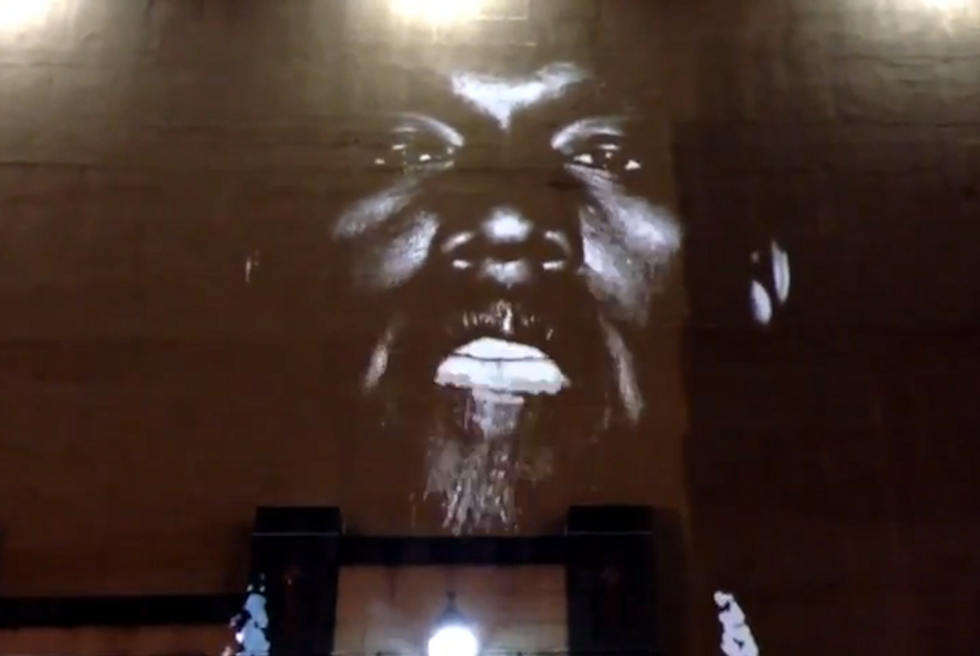 There's been such a flurry of Kanye West news over the past four days that keeping up with everything would require the assistance of a full-time Kanye-ologist. That's where we come in. Here's everything Kanye did during The Biggest Weekend Of His Life.
FRIDAY
Told everyone that he was going to premiere a new song on 66 random buildings across the globe:
NEW SONG AND VISUAL FROM MY NEW ALBUM BEING PROJECTED TONIGHT ACROSS THE GLOBE ON 66 BUILDINGS, LOCATIONS @ KANYEWEST.COM

— KANYE WEST (@kanyewest) May 18, 2013
Actually did stream his new song, "New Slaves" on random buildings across the glove:
SATURDAY
Played the season finale of SNL, where he did not make any jokes to "humanize himself," just like he promised. Instead he played two new songs, the aforementioned "New Slaves" as well as another called "Black Skinhead." As you might be able to tell from the titles, things got pretty dark:
Sunday
Tweeted a picture of the "Black Skinhead" lyrics, which turned out to be pretty heavy indeed:
Enter the kingdom

But watch who you bring home

You see a black man with a white woman

At the top floor they gone come to kill King Kong
Monday
Confirmed that the world's easiest Easter Egg hunt had found out the truth: His new album really would drop June 18.
Continued to troll the world by revealing that said new album would be called Yeezus, which means we all need to get used to reading articles like this one for the time being.
Unveiled the Yeezus cover art, which resembled what you would get if Damien Hirst started gold-plating samples of his own vomit:
Oh, and Jay-Z announced he wouldn't be having a baby that overshadowing Kanye's after all. What a great weekend!