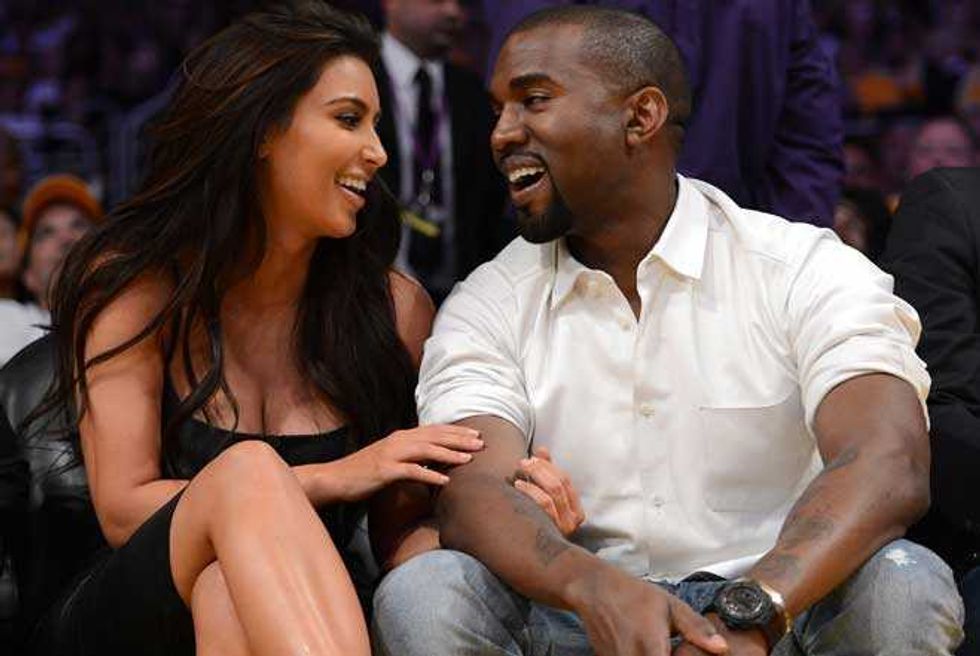 Well, that's one way to make people forget about your freaky-ass masks.
At his final show in Atlantic City this weekend, Kanye West announced that Kim Kardashian, his girlfriend of not quite one year, was pregnant with the couple's first child, thus heralding the arrival of the most anticipated pop-star baby since Blue Ivy Carter. This huge news brings with it a host of questions all its own, which we will attempt to answer for you below:
How did this all go down?
Kanye got the ball rolling when he gave Kim a special shout-out at his Sunday night concert:
And Kanye just pointed out Kim and called her his baby mama. People are excited about this. I'm just reporting.

— Matt Camp (@TheMattCamp) December 31, 2012
From there, members of the extended Kardashian Klan weighed in, basically confirming the rumors:
Been wanting to shout from the rooftops with joy and now I can! Another angel to welcome to our family. Overwhelmed with excitement!

— Kourtney Kardashian (@KourtneyKardash) December 31, 2012
That's so cute! Wait a second, are Kim and Kanye married?
Nope. Kim is still technically married to Kris Humphries, and their divorce has turned into a messy legal battle, with lots of rancor on both sides.
Oh. Now we're kind of sad. Isn't this supposed to be a happy story?
Sorry about that. Here's a happy image for you: Imagine if the Kimye baby became best friends with Blue Ivy!
Oooooh! What if they grew up together and fell in love and then got married?
That is a possibility, but it's sort of weird to be speculating about the hot celebrity weddings of the 2040s. Besides, we don't even know what sex the baby will be yet.
Right. Is there a name picked out for it yet?
Not that we know of, but if you go on Twitter you'll surely be able to find a lot of hilarious ideas. We're a little partial to "Mercy." It's gender-neutral, and what kid wouldn't love being named after a beloved pet?
Do you think Kanye's going to be a good dad?
Probably? We don't really know enough to say. As a substitute answer, here's his verse about parenting from last year's "New Day":
And I'll never let my son have an ego

He'll be nice to everyone, wherever we go

I mean, I might even make him be Republican

So everybody know he love white people

And I'll never let him leave his college girlfriend

And get caught up with the groupies in the whirlwind

And I'll never let him ever hit the telethon

I mean even if people dyin' and the world ends

See, I just want him to have an easy life, not like Yeezy life

Just want him to be someone people like

Don't want him to be hated, all the time judged

Don't be like your daddy that would never budge
Does that help?
Sort of, but it seems like that verse is mostly just about himself.
You would be right to say that.
Hmm. OK, last question. Does this news mean Kanye will finally get to be on a Kardashian Kristmas Kard?
That is indeed correct. For Kardashian paramours to make it on the Kard, they either need to be married to a member of the kooky Klan (like Lamar Odom), or have successfully procreated with one (like Scott Disick). This embryo is Kanye's ticket to the big time!