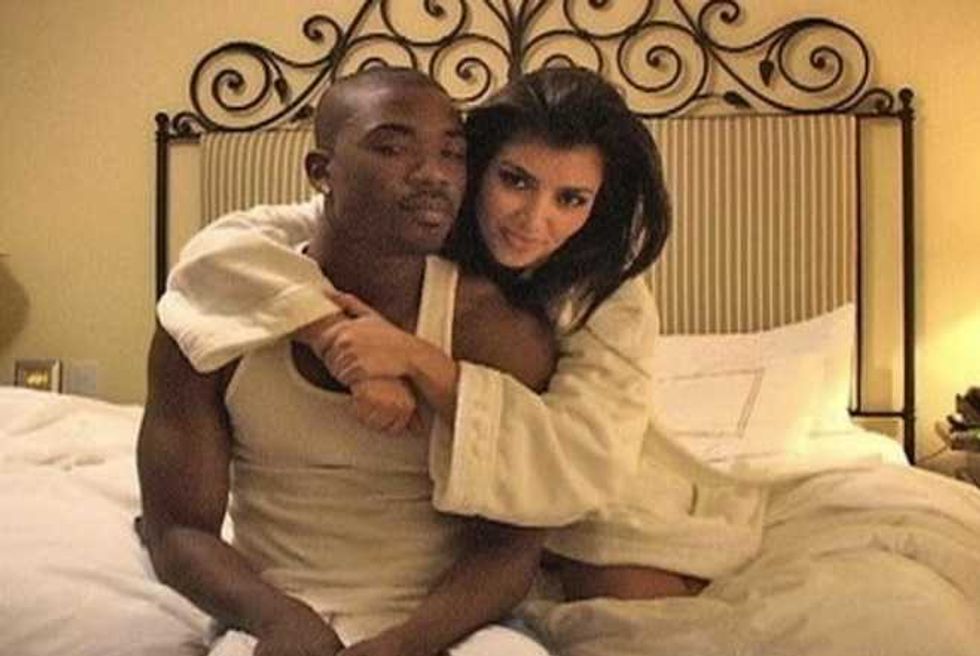 "How did you become famous?" North West will someday ask her (happily married) parents Kanye West and Kim Kardashian. And one of their stories won't completely mortify her.
Why, you ask?
So reads the first Wikipedia tab for Kim Kardashian, whose career took flight when she made a sex tape with singer Ray J and it "leaked." Almost immediately following this leak, the entire Kardashian clan was approached to film a reality television series for E!. The rest is history.
Everyone and their father has an opinion on the Kim seen on television and in the tabloids, but who is the real Kim? I believed the answer to this question might lie in the main source of pre-fame footage we have of her: the sex tape Kim Kardashian Superstar. After watching the whole thing—and after assuring my credit card company multiple times that my four-day subscription to an adult website was not, in fact, fraud—I've come to this startling conclusion:
Kim Kardashian will be an excellent wife and mother.
Here's why:
She has a strong sense of faith.
Kanye recently opened up to Kim's mom Kris Jenner that he feels a child should be "raised with Christian values." Good news, Yeezus! Kim can be seen here prominently displaying the holy cross on her chest before departing for Cabo to film a p*rnographic film with Ray J. More like Keeping Up With the Corinthians!
She's a milk drinker.
The morning after Ray J does her body good, Kim selects a beverage at the airport that will do the same. Baby Nori will not only have strong bones, but a mother who gets to the airport with plenty of time to spare. That's foresight, folks!
She cleans up spills.
"Oh, baby, do you want me to clean that for you?" offers Kim when Ray J spills a little OJ on his white shirt. Although Ray J declines with a hearty "nah," neither Kanye nor North will never have a reason to cry over spilled beverages.
She knows all the cool makeup tricks.
We bet Kim had no idea while she was applying a little pre-coital mascara that she'd someday run her own beauty line! North will never want for products, courtesy of Khroma Beauty, natch!
She'll provide an enviable wardrobe.
If Kim was decked out in Burberry bathing suits before hitting it big, we can only imagine what North will be sporting at her first pool party. Lucky! (Not the brand, duh.)
She's a sound sleeper...
Aw, so peaceful!
...But she'll wake if something important comes up!
Like bad dreams, nighttime croup fits, or the realization that millions of people have watched your mother have a good amount of sex.
She knows that business comes before pleasure.
Kim insists that she and Ray J unpack before heading to the beach, much to the singer's disappointment. North will always know that stuff like homework comes first, giving her a real shot at getting into a great college. Especially if she mentions her parents have a bit of money—and Kanye will always enjoy the benefits of a super organized and nurturing wife... awwwww.....
She protects her skin.
We're pretty sure this is sunscreen!
She knows the power of an apple a day.
That bit of vitamin-rich goodness on the room service plate did not go unnoticed. Doing any sort of activity without a little healthy fuel is, well, fruitless! (For context, she didn't finish the apple because Ray J started doing sex to her.)
She fights for what she believes in.
While we don't necessarily condone excessive usage of the double bird, everyone's guardian should have a protective edge. (For context, Ray J was trying to convince Kim to let him film her feet.)
She hydrates.
Gotta wet that whistle! (For context, she just had sex done to her.)
She loves and supports her man.
Sure, Ray J is responsible for making Kim a star (and he wants everyone to remember this), but she does a lot for him in this video, too. And not just the sexy stuff! She fills out the customs form for him, unpacks for him, shimmies for him, and eventually...
...shows him her toes.
In Conclusion...
North will be well taken care of. Provided she never, ever sees this video.
Ever.
Kanye will be..... well.... Kanye will be Kanye...