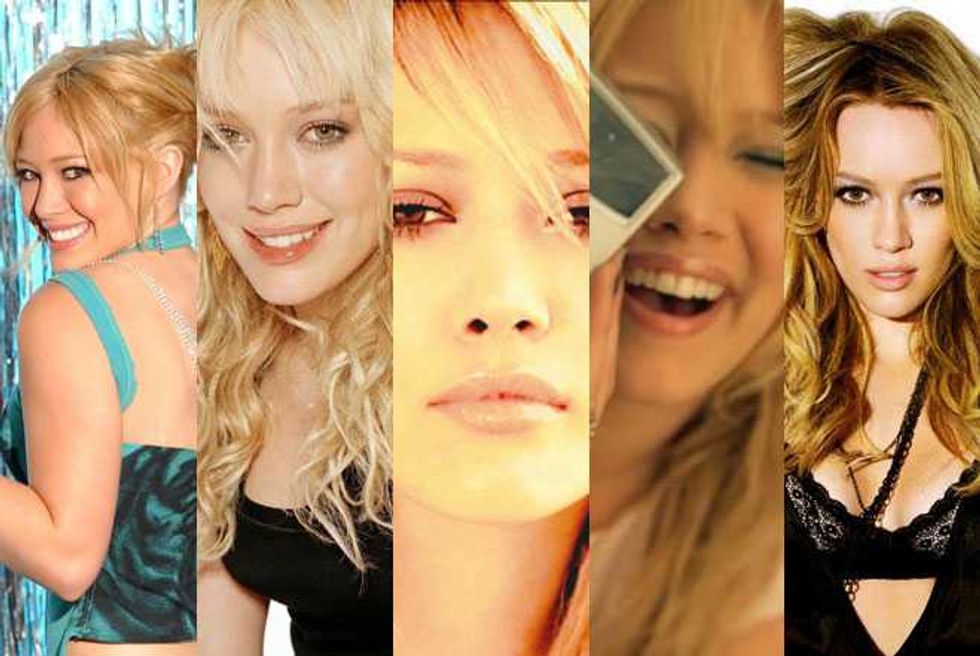 Welcome to the very last installment of Hilary Duff's Comeback Week!
Every day (this week) has been a revelation. The secret of our happiness will all be revealed tonight (!!!) at a Marquee event in New York City. Hilary Duff teased her comeback single "Chasing The Sun" yesterday (July 23), and all of our high school years have flooded back. This week, we here at Popdust have been examining her career in albums, favorite filler tracks and her vivid music videos. Ahead of tonight's special pop culture moment, we have one last entry in our series: our Top 20 Favorite Songs & Lyrics Ever.
(That's not to be confused with Wednesday's edition: Top 10 Favorite Album Tracks.)
Now, we come clean...noted with favorite lyrics, too:
20. "Beat Of My Heart," Most Wanted
Don't deny that you've used this song in an idiotic English assignment (because you suck at rhyming). "I'm up from my down. I turn it around.
I'm making it back, I'm not gonna drown. I'm taking a stance. I won't miss a chance. I want you to see. I'm not scared to dance."
19. "Anywhere But Here," Metamorphosis
We've all had those moments with our newest crush, when our entire love lives suddenly make sense. "You're burning up my dreams, crazy as it seems. I don't wanna be anywhere but here, anywhere but here..."
18. "Danger," Dignity
Danger came be one of the most attractive qualities. "You belong to my darker side. You're a guy who sets a girl on fire. I can see myself falling in line, like the hundred girls you had over time."
17. "Happy," Dignity
Sometimes it's you; sometimes it's us. "There is a reason why we met, I'm glad that we did. But when we broke up, I got back a part of me I really missed. Not saying that you brought me down all the time. There were moments I lived without light on my side."
16. "Holiday," Best Of
The lyric that ripped our hearts out: "You took a holiday from us. You took a trip and left your love. If your heart went down forever, should have told me where it was."
15. "Workin' It Out," Metamorphosis
Life is just a crazy ride. "Sometimes I'm just surrounded by friends. Sometimes we've never met. Sometimes I pray for something I need. But hey, you never know what you're gonna get."
14. "Why Not," Metamorphosis
The book on How To Flirt: "So I walk a little slower, and I try to catch your eye. Sometimes it's so hard to see. The good things passing by."
13. "Outside Of You," Dignity
Thoughtful, searing, self-aware. "For anything to survive, it needs love and light to grow. I could be something beautiful. I guess you'll never know."
12. "Dangerous To Know," Hilary Duff
So many questions, so little answers. "Who needs all the answers? Who takes all the chances? Who said the truth's gonna save you? When the truth can be dangerous?"
11. "Play With Fire," Dignity
The sultry chorus is just...: "Love me, love me. Feed the flame, if you want me back again. Burn into the sky, higher and higher. Baby, can you play with fire?"
10. "With Love," Dignity
We might be too into ourselves...and we might pour it on a little thick. Oops. "Tell me I'm wrong, that I'm coming on way too strong. Don't think I'll be crushed. Just do it with love..."
9. "Love Just Is," Metamorphosis
Well, love...just is...especially when your 13. "Nothing's ever what it seems, in your life or in your dreams. It don't make sense, what can you do. So I won't try makin' sense of you..."
8. "I Wish," Dignity
And sometimes, it's just our fault. "You always hurt the people closest to ya; guess I blamed you for everything wrong. And I don't know why it's so hard to tell ya, I guess that's why I'm writing you this song!"
7. "Wake Up," Most Wanted
Move to the left, haters. "I put my makeup on a Saturday night. I try to make it happen, try to make it all right."
6. "So Yesterday," Metamorphosis
So simple, yet so complicated. "If it's over, let it go and come tomorrow it will seem so yesterday."
5. "Fly," Hilary Duff
A song that had us questioning everything about our lives: "All your worries, leave them somewhere else. Find a dream you can follow. Reach for something, when there's nothing left, and the world's feeling hollow."
4. "Stranger," Dignity
Love can be so cruel, Hilary. "There's no kindness in your eyes. The way you look at me, it's just not right. I can tell whats going on this time. Theres a stranger in my life."
3. "The Getaway," Hilary Duff
The epitome of a breezy summer breakup anthem. Every pop diva would be wise to use this template going forward: "I can't keep coming back to you every time you're in the mood, to whisper something sweet in my ear. It's so hard to move on 'cause every time I think you're gone, you show up in my rearview mirror."
2. "Someone's Watching Over Me," Hilary Duff
Hilary's most inspiring song ever. For the sake of not posting the entire song, we settled on this: "Seen that ray of light, and it's shining on my destiny. Shining all the time and I wont be afraid."
1. "Come Clean," Metamorphosis
The entire chorus, because duh, this a perfect pop song: "Let the rain fall down and wake my dreams. Let it wash away my sanity. 'Cause I wanna feel the thunder. I wanna scream. Let the rain fall down. I'm coming clean, I'm coming clean."
Honorable Mention: "Burned"
#TeamDuff, we turn it over to you. What are YOUR top favorite Hilary tunes, singles, lyrics and album tracks? Sound off in the comments!