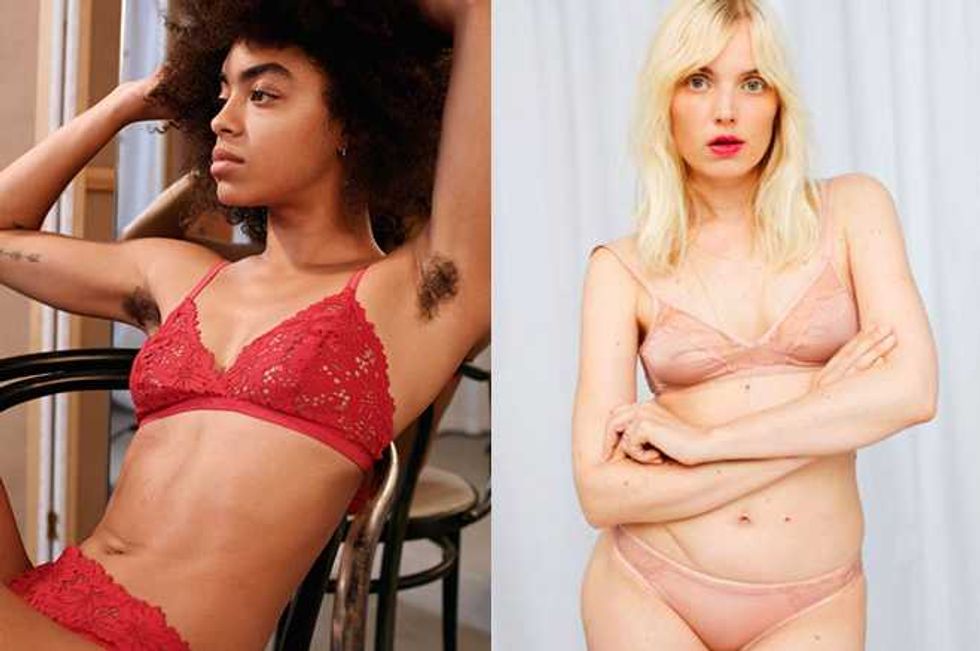 H&M's sister brand & Other Stories has launched a campaign for its lingerie that celebrates real women with armpit hair and scars, refuting stereotypes of female perfection.
The brand's For Women, By Women campaign was shot by female photographer Hedvig Jenning and features women who are not professional models, whose bodies are shown unretouched. The campaign is meant to counter the images of standardized beauty promoted by Victoria's Secret, and is part of the larger movement toward body acceptance.
But are these photos really going to change attitudes?
One might argue that the prominent underarm hair is more of a ploy for publicity than a demand for acceptance. It seems likely to evoke horrified titters, and in fact is doing just that in media outlet like the Daily Mail.
It seems like every time a campaign professes to widen our concept of female beauty, it mostly serves to annoy women who rightly feel they're being pandered to.
The Dove campaign that featured women of all sizes declaring their beauty ended up annoying everybody.
Plus-size retailer Lane Bryant did a good job with its #ImNoAngel lingerie project earlier this year. The ads featured gorgeous plus-sized models reveling in their curves, and I do mean curves rather than 'fat.'
Women with scars, birthmarks and unusual body shapes are unlikely to sell lingerie or anything else, since they do nothing to entice women's desire to look attractive and sexy.
We already know we have imperfections. We don't want to see ourselves in ads, but father an idealized version of ourselves.
While Victoria's Secret does screw up our confidence by featuring models with unattainable proportions, the socially aware campaigns touting 'normalness' still come off as gimmicks.
Maybe H&M deserves credit for its efforts to be inclusive, but considering its more widespread use of models like Miranda Kerr and Gigi Hadid in its advertisements, we can't help but question their sincerity.