On June 6th, Philadelphia formed rock band The War on Drugs performed their new song, Holding On, on The Late Show with Stephen Colbert. "Holding On" is part of their upcoming album, A Deeper Understanding, which is set to release on August 25th via Atlantic.
I first found out about The War on Drugs, ironically, through the solo work of band member Kurt Vile. Vile has been releasing solo music since 2008 (the same year as when The War on Drugs released their first record) - and in that time Vile has released a whopping 6 albums on his own, and four albums via The War on Drugs.

The War on Drugs have a very distinctive sound which many can't get enough of. The sound shows both the influence of classic rock - as well as newer, more electronic influences. This is all heard - or, felt, which at times feels a more appropriate word for their music - in one of their more popular songs, "Red Eyes". "Red Eyes," which was released in 2014 as the second track on their record Lost In The Dream, became an almost instant hit - receiving over 46 million plays on Spotify. The song follows an echo synth melody, underpinned by a clear drum beat - showing this perfect blending of styles.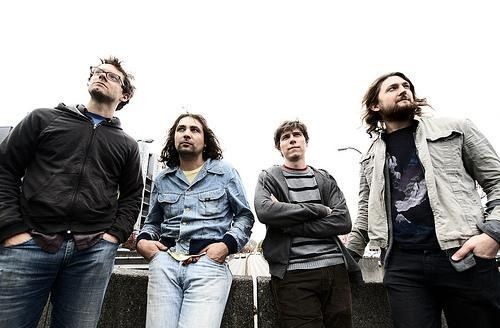 Frontman Adam Granduciel voiced this heavy influence of classic rock to his (often more electronic leaning) music in a 2014 interview with Interview Mag in which he says in response to being asked if there were particular albums or artists who influenced his music that:
"Yeah, definitely. For me to make the kind of music I make and say things like, 'I don't even really listen to Bruce Springsteen,' I mean, that would just be silly and embarrassing to read. I definitely admire all of those people and then some."
The new song shows the extreme care and attention put into the creation of their music. This is seen first in its performance and presentation - the band performed with eight people on stage - a surprisingly large number for a rock band. The song follows an electronic keyboard beat - and is underpinned with guitar, bass, and drums.
The song feels resemblant to some of the songs from Lost In The Dream - a dreamy melody that blends together perfectly, a song that seems to wash over you. The lyrical of "Holding On" shares a sad story of wanting so desperately to hold on to a romantic partner, and how it can feel like a life or death situation.
The first verse of the song being:
"Once I was alive and I could feel
I was holding on to you
And I redefined the way I looked at dawn inside of you"
"Holding On" is a strong, dreamy, and (a word I use very sparingly but which feels appropriate here) vibey track - and I can't wait to hear what else they have in store for us in the upcoming album.