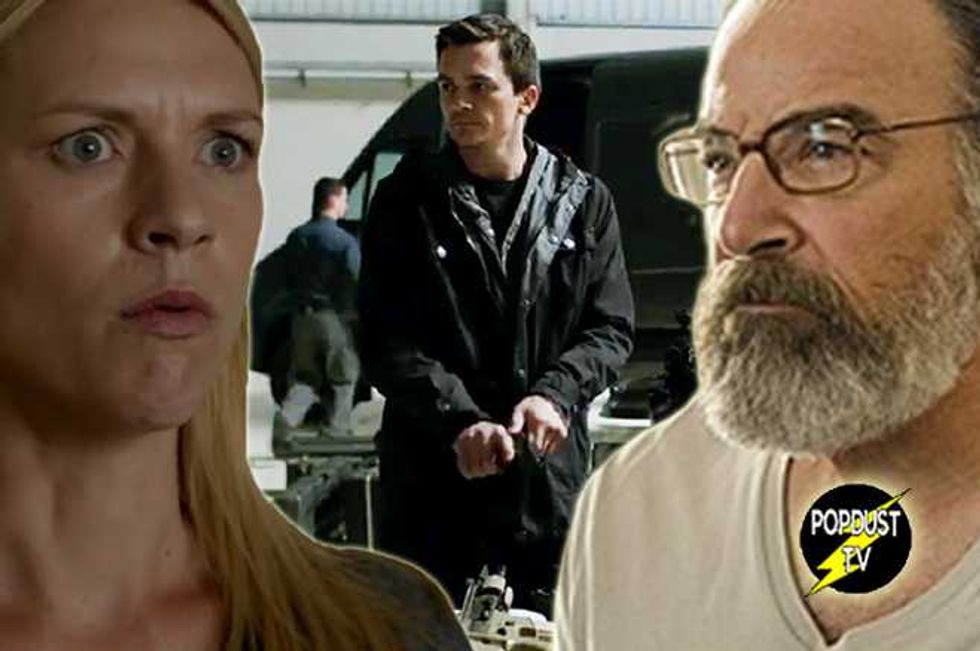 The season finale of Homeland opens with Carrie back in America, going through her father's possessions with her sister.
There's a ring at the door, and it's none other than Dar Adal. They talk about not knowing where the hell Quinn is, and Dar informs Carrie that Haqqani has returned to the tribal area of Pakistan and is being protected by the ISI. Ummm, didn't we see you in the car with Haqqani at the end of the last episode, Dar? Aren't you a traitorous bastard?
We find out later that Dar is determined to get Saul reinstated as Director of the CIA. Somehow, someway he got a hold of the only video footage of Saul in Haqqani's captivity, which apparently was a major road block in Saul's potential return to the CIA. In exchange for the video, Dar magically removed Haqqani from the CIA's kill list. This is all well and good, except for the fact that Saul doesn't want any part of the sneaky, backdoor way he'd return to the CIA. He also knows all about Dar in Haqqani's car, but of course Dar doesn't know that.
Back in Carrie's new reality, she's doing something that we've never really seen her do— she's being a good mother. Oh and speaking of mothers, Carrie's own mom is now randomly back in the picture after being estranged from her children for 15 years. Carrie's like, "Oh hell no" and wants nothing to do with this woman.
At her father's funeral, Carrie gives a very emotional eulogy. Randomly Quinn shows up, and after the funeral he ends up at Carrie's house for the reception. There's some alcohol involved, and when Carrie walks Quinn to his car they start making out. Quinn tells Carrie that he wants out of the CIA and he thinks she should leave too.
Umm, yeah, she's gonna to have to think about that one Quinn.
For whatever strange reason, Carrie decides that she does want to talk to her mom and tracks her down in some Missouri town. When she arrives she learns that she has a 15-year-old brother (hmm, hasn't her mom been gone for 15 years?), and she also learns that her mother was admittedly a serial cheater. The whole divorce was brought about by her adultery, not by her dad's bipolar disorder.
Meanwhile, a heartbroken Quinn decides to do what most people do when they're blown off by the person they love—take off to Syria on some top secret CIA mission.
When Carrie can't get a hold of Quinn, she shows up at Dar's house demanding to know where the hell he is. Dar's not willing to tells her a damn thing about Quinn, which naturally infuriates Carrie. She tries to force the information out of Dar by blackmailing him with the knowledge that he was in Haqqani's car—but no dice.
Dar tells Carrie that she really should talk to Saul before she goes making any threats, and Carrie tells him that Saul would spit in his face.
Ideally, yes.... Saul would spit in his face....but, this is the season finale so of course we're in for some bullshit cliff hangers, right?
Cut to Saul Berenson sitting on Dar's porch, presumably now very OK with the deception that went into him being reinstated Director of the CIA. Carrie is visibly devastated that she clearly does not know the man she thought she knew so well.
Wait, that's it??? That's how we're ending the season?? That's seriously it?!!! NOBODY DIES?!!!!!
REALLY?!!!!!
What did you think of the season finale of Homeland? Sound off in the comments below!