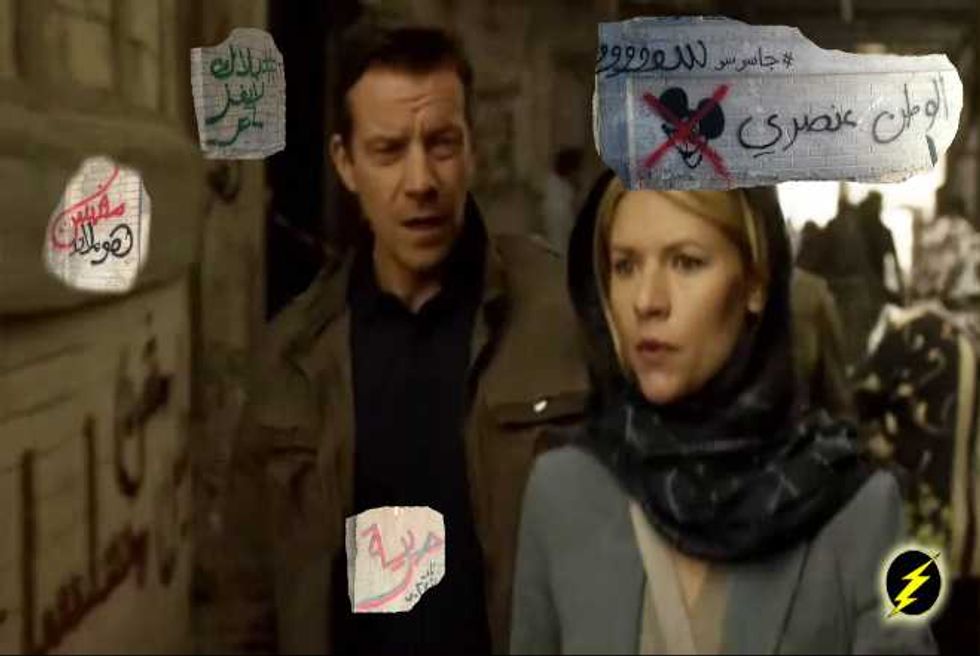 In the most recent episode of the hit Showtime series Homeland, Claire Danes' character is escorted through a fictional Syrian refugee camp with Arabic script graffiti-covered walls. Viewers who read Arabic were quick to observe and report that, when translated, the graffiti actually says "Homeland is racist."
Other Arabic writings-on-the-wall in the episode read "Homeland is not a show," "There is no Homeland" and "#blacklivesmatter." Apparently the subversive messages went unnoticed by the show's producers.
Bristol Palin Schools Obama On Racial Strife, BlackLivesMatter Movement
Three Arabian street artists have taken credit for hacking the hit series, which has been criticized for its portrayals of Muslim stereotypes. Homeland's producers hired Heba Y. Amin, Caram Kapp, and Stone to add graffiti to the set for authenticity, and the artists took the opportunity to release some pent-up "political discontent" with the show. According to the artists' statement on Amin's website, Homeland, which has been called "the most bigoted show on television," portrays "the dichotomy of the photogenic, mainly white, mostly American protector versus the evil and backwards Muslim threat."
The artists were given samples of Arabic graffiti to stylistically replicate. They were told to make their replications "apolitical," but no scrutiny was given to the content after they had painted their subversive messages.
"The content of what was written on the walls, however, was of no concern. In their eyes, Arabic script is merely a supplementary visual that completes the horror-fantasy of the Middle East, a poster image dehumanizing an entire region to human-less figures in black burkas and moreover, this season, to refugees. The show has thus created a chain of causality with Arabs at its beginning and as its outcome- 

their own victims and executioners at the same time

." —Statement from the Arabian Street Artists
Homeland Season 5 Episode 1 Recap
You can check out the artist's full account of their Homeland hack as well as their photos of the graffiti here. What do you think? Is Homeland a racist show?