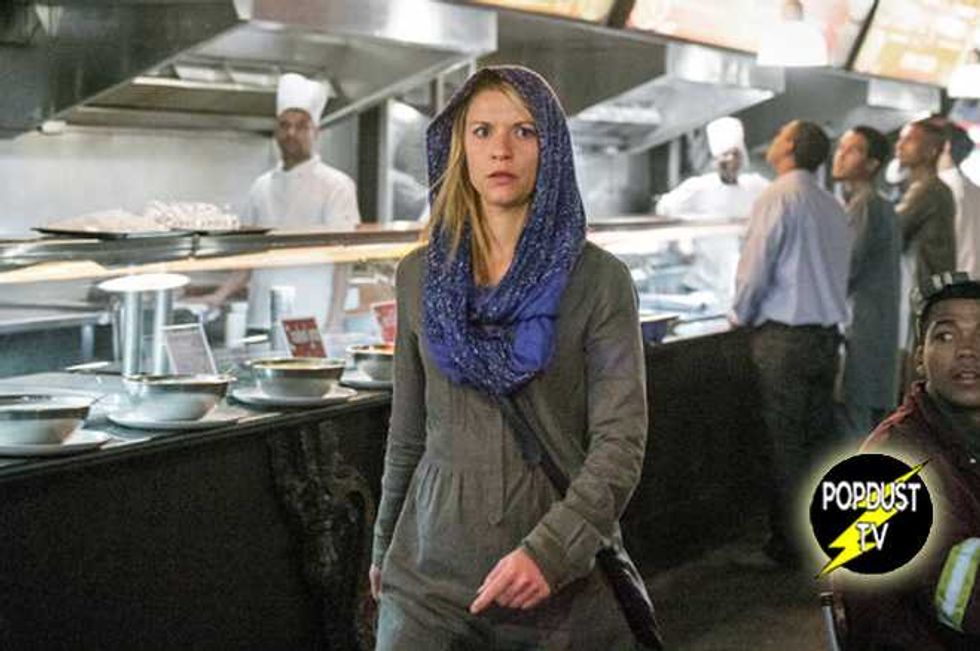 After a two week hiatus and the cruelest cliffhanger of all time, Homeland returns with a great big, explosive bang!
Ok, first thing's first; Saul and Carrie are alive.  We knew the writers couldn't possibly be so stupid as to kill off the two main characters, but stranger things have happened. They're right in the middle of a massive terrorist clusterf*ck when the marines who come to rescue them fall right into a preplanned ambush by Haqqani's men. Carrie calls Khan and tells him that they need to Pakistani army to come help. He hangs up with her and immediately tries to call for help, but that bitch Tasneem tells him to wait 10 minutes to call in order to teach the Americans a lesson…and he waits! WTF? We thought you were  our friend, Khan!
Martha informs Quinn that her piece of shit, traitorous husband told the enemy about the tunnels below the Embassy. She's pretty sure there's an attack about to happen and she needs the marine's back stat. Cue terrifying invasion of the Embassy by machine gun toting bad guys, shooting anyone and anything that got in their way. All the big wigs manage to escape to the protection of the secret vault while everyone else either gets killed or taken hostage by Haqqani and his men. Haqqani is looking for a single document that has the names of all the US's assets in the area. He knows that Lockhart has the document, and he begins executing people one at a time outside the vault, demanding that Lockhart deliver the document if he wants the executions to stop.
Martha is tough as nails, telling Haqqani that there's no way they're opening the door to the vault, executions or not. Lockhart, however, is shitting his pants. When Haqqani holds a knife to Fara's throat, Lockhart loses it and opens the vault door to give Haqqani the list. As all this is going down, Quinn (who managed to escape the initial gunfire) is around the corner planning an attack with another marine. Lockhart hands over the list, and OF COURSE Haqqani slits Fara's throat anyway. "Kill them all," he says to his men. Then Quinn and the marine open fire, shooting Haqqani and killing several of his men, but Haqqani is merely injured and manages to escape through the tunnels.
In light of the attack and breach of security, the President orders that everyone at the Embassy be evacuated immediately and severs all diplomatic ties with Pakistan. Dennis, who's  alive and locked in a cell, begs Martha to give him a belt so that he can hang himself. She's reluctant at first, but when he convinces her that his death might actually save her career, she agrees.
Quinn is overcome with rage after what just went down. He interrogates Saul, hoping to get some answers out of him that could be some kind of a lead, but poor Saul is exhausted and can't remember shit. So Quinn goes down to where all Haqqani's dead men are, takes some photos of their faces, and steals one of their cell phones. Later, he leaves the Embassy and is predictably trailed by an ISI truck driven by none other than Farad Ghazi. Quinn gets out of his car and walks through the busy streets. Ghazi loses sight of him, and before we know it Quinn is in Ghazi's car holding a gun to his head. Hell yes!!! Quinn takes him to an abandoned room with a bevy of shiny metal tools perfect for torturing the truth out of someone.
The next morning, buses and cars arrive to evacuate the Embassy, but Quinn is nowhere to be found. Carrie refuses to leave him behind and insists on staying (unprotected, of course) until she finds him. Saul, Lockhart and Martha prepare to head out and Martha ashamedly asks about the whereabouts of her husband, expecting someone to say that the asshole was dead. Guess again Martha! He's in car number one because that spineless coward didn't have to guts to kill himself. Oh well, death was too good for him anyway.
What did you think of this week's Homeland? Sound off in the comments below!
Check out Popdust's gallery—50 Shades Of Homeland Cray—Carrie's Best, Worst, Most Insane, Crying Faces: