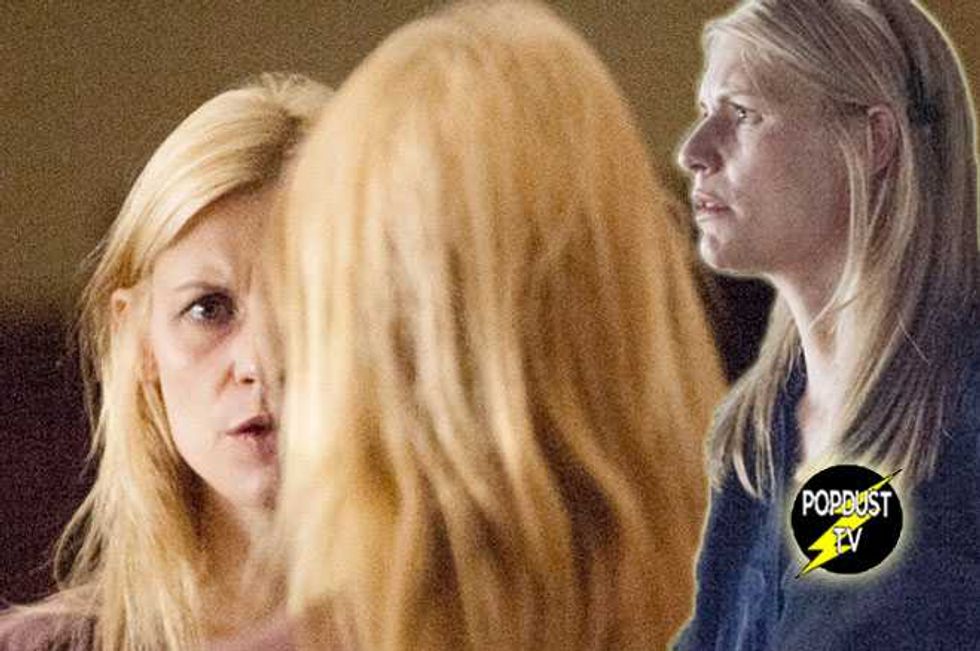 This week's episode of Homeland opens with a very shaky Carrie waking up in Aasar Khan's house after the most insane trip of all time. She has absolutely no recollection of the nights events, so Khan gives her a little recap. As she's washing her face and preparing to take her little a.m. green and white pill, she becomes glaringly aware of the fact that she has been drugged. She accuses Khan, being that she was taken to his house, but he denies it.
Carrie heads back to the embassy and alerts Quinn and Lockhart that she was drugged and there's been a breach. She's incredibly alert and clear headed, which is shocking considering what she went through on top of the fact that she hasn't had her real meds in days. Then Lockhart relays the news of the breach to Ambassador Boyd, who in turn confides in her traitorous husband, Dennis, because blah blah blah something about wanting him to stay safe. Of all times to act like a concerned wife!
Later at the embassy, the CIA gathers with the ISI to watch a live feed of Haqqani's demands. First Saul is placed in front of the camera and he tells them in no uncertain terms that they are not to barter with his life. Then Haqqani comes on screen and rattles off the names of the prisoners he wants released in exchange for Saul's life.
The Taliban men throw Saul back into his cell (Stop being so rough with him you rat bastards!), but not before he tackles them to the ground to pick up a nail from the floorboard. When his guards leave, he immediately begins picking the locks on his handcuffs and frees himself…because he's a freaking bad ass.
A guard hears some commotion, and when he charges into Saul's cell he finds him hanging by his chains! Saul, NOOOOOO!!!!! The guard pulls him down from the rafters and then Saul miraculously comes to and strangles the guard with his chains. Are you freaking serious?! They teach you how to fake hang yourself in CIA school?? Well, wherever he learned it, it's amazing. He's amazing.
He steals a cell phone and calls Carrie as he races from the scene in the dead of night. Carrie then heads to the embassy to get her people to track the cell phone and get eyes on Saul. They manage to locate him and give him directions to a safe house in a nearby town, but before Saul agrees to go he tells Carrie that he will not be captured again and if it comes down to it she has to make sure he escapes or dies. Luckily he makes it to the asset in the town and waits to hear from Carrie what to do next.
The CIA and the ISI meet again to discuss Haqqani's demands. Carrie knows that they must know that Saul has escaped, but the ISI have on their poker faces, especially that bitch Tasneem. Carrie realizes that they know exactly where Saul is because of the freaking drone they have flying above the town where Saul is. Is this real life? Did the most intelligent espionage masterminds on the planet literally not think that? Apparently not, because before they know it the small town is swarming with Taliban and poor Saul is running around like a mouse in a maze.
Carrie guides him through the town via cell phone and drone camera to try to get him to the extraction point. Saul realizes that there's too many of them and the rescue attempt is hopeless, so he tells Carrie he's going to end it all and he puts a gun to his neck. Carrie talks him off the ledge and promises him she'll get him out. She leads him further through the town and out a side door in an alley, but when he opens the door there are literally about 25 Taliban with guns pointed at him. As they drag him away, Saul screams f*ck you to Carrie over and over because she was a lying ass liar. In fairness she is, but Saul's alive so we really don't give a shit. This forces the CIA to tell Haqqani that they'll meet his demands in order to rescue Saul.
Later, Carrie meets up with Khan who again swears that he wasn't the one who drugged her. Contrary to previous belief, Khan is actually really a good guy who just happens to be guilty by association. In fact, he tells Carrie that he thinks the one responsible is Dennis Boyd.
What did you think of this week's episode of Homeland? Sound off in the comments below!
Check out Popdust's gallery—50 Shades Of Homeland Cray—Carrie's Best, Worst, Most Insane, Crying Faces: