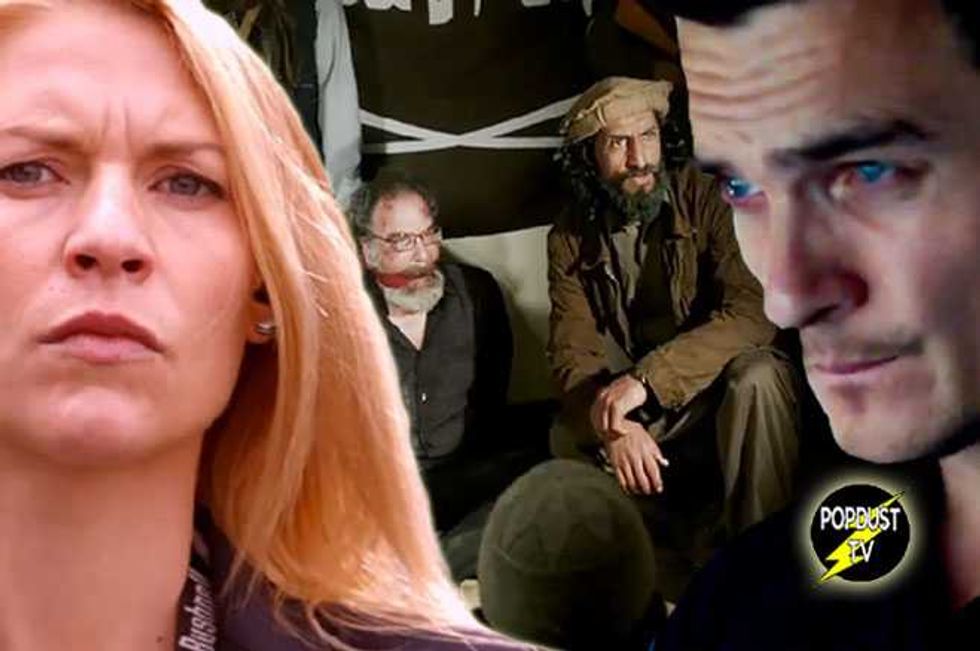 When Homeland producers send in a Season 4 episode for Emmy consideration, this is without a doubt the one to send. Hands down.
Carrie and Quinn have Haqqani's men ready to exchange for Saul, but something's not sitting right with Carrie about the whole transaction. Haqqani faked his death before Saul was ever in Pakistan, meaning that kidnapping Saul was never really his master plan. There is something else coming, but she can't figure out what it is. But someone who might know something about what's going on is that snake in the grass Dennis Boyd. Carrie gets him in an interrogation room and starts pressing him for answers. Obviously he denies knowing jack shit about anything, even when Carrie pulls out her bottle of tampered pills and accuses him of poisoning her. In the middle of her threatening to destroy him, his wifey Martha barges in a ruins everything, telling Carrie that has zero authority at her embassy! Really??
Martha takes Dennis home and asks why Carrie would ever think that he was a traitor. He again denies knowing anything, and she leaves him to his scotch. She goes back to the embassy and straight into a meeting room with Carrie and Lockhart to tell them that Dennis didn't breaks…because she was trying to play her husband like a freaking fiddle. Martha's really a little bad ass in her skirt suit and sensible heels! Who knew?! Later he tries to "head to his office" to pick up papers, but Martha's guards stop him and she has him tossed into a cell. Trapped like the rat he is.
Carrie leaves Quinn at the embassy to monitor things via the drone and she and her team head to the meeting place for the exchange. There she meets with Tasneem, Khan, and other ISI to coordinate the exchange, but something seems wrong to Carrie. She slyly calls Khan to tell him that something's up, and he admits that he was strangely left out of the planning process. Definitely not a good sign.
Eventually the time comes for shit to go down and the three sides (CIA, ISI, and the Taliban) are spread out on an empty tarmac at a small airport. Both sides watch with binoculars and drawn guns as Saul is reluctantly pulled from a van and dropped in the middle of the tarmac. The van the pulls back, but not before leaving a ten year old boy standing next to Saul with a suicide vest on!!! The Americans send the 5 prisoners walking and wait for Saul to walk to them, but he refuses. He lays on the ground and starts yelling at the Taliban to blow them both up, he doesn't give a f*ck! Saul clearly isn't going to come easy, so Carrie decides to walk out to Saul to somehow convince him to come with her. He tells her that she lied to him and that he would rather die than be pawn in this f*cked up game. But now the only way he can die is if the young boy dies too, and Carrie remind him that only the terrorist would sink so low as to sacrifice a child. "That's not who we are. That's not who you are."
He gets up and walks back with her. The prisoners walk over to the Taliban side, and everyone drives away alive and safe. That was too easy. Carrie and Saul head back to the embassy in a convoy, and as Saul reaches for a cell phone to talk to his wife…BOOM!! EXPLOSION!!! The entire convoy was hit by what looked like mini missiles and there's nothing but fire and burning rubble. Quinn and Lockhart are freaking out in the control room at the embassy, literally not know what hit them. They immediately deploy all the marines to the blast site from the embassy. At the time, Martha is downstairs trying to talk some sense into her traitorous husband and is informed of what has happened. She tells Dennis that the convoy was hit and that they've deployed the marines. "All the marines?" he asks. Shit…why Dennis?!? Well, because he told Tasneem about the tunnel system underneath the embassy, that's why. Sure enough, cut to Haqqani and his men prying open the door to the tunnel and entering with disastrous intent. THIS is his master plan.
What did you think of this week's amazing episode of Homeland? Sound off in the comments below.
Check out Popdust's gallery—50 Shades Of Homeland Cray—Carrie's Best, Worst, Most Insane, Crying Faces: