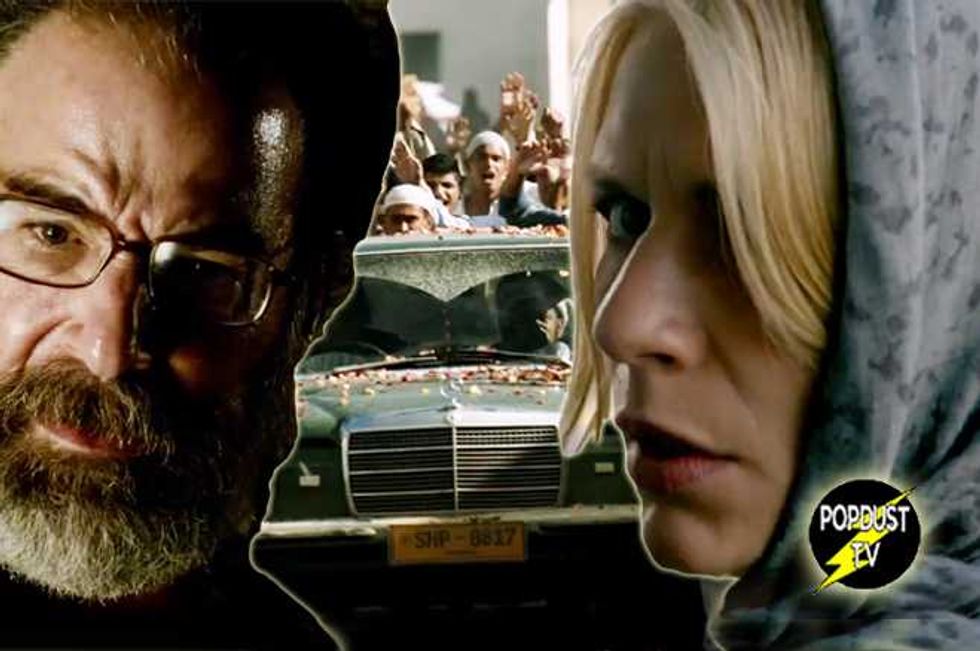 Ok Homeland, you win. You've thrown us some monster curveballs over the past few seasons, but this one takes the cake.
The episode starts in the aftermath of the whole "You almost took out Saul" debacle. It opens with someone in a pharmacy pouring a powder into green and white pills. Later we find that the disgusting pig Dennis Boyd has broken into Carrie's apartment (again), but this time with the new pills to pour into Carrie's prescription bottle. Rat Bastard! We never really find out what exactly the new pills are, but obviously they're going to do some damage.
CIA Director Lockhart is in Islamabad to do some damage control. He and Ambassador Boyd meet with the ISI in an attempt to help rescue Saul. Obviously, Ambassador Boyd is all about going the route of diplomacy, but Lockhart comes out guns blazing demanding that the ISI find the leaks in their organization or else lose U.S. funding.
And everyone can sleep easy tonight, because as of this episode, Saul is alive and well. Haqqani travels freely during the day because he knows no harm will come to his caravan as long as Saul is with him. He takes Saul first to his home village to see his family for the first time in years. After dinner and an uncomfortable sex scene in which Saul is handcuffed to a chair while Haqqani and his wife have sex in front of him, Saul is driven to a house in the middle of nowhere and left in an empty room until Haqqani can negotiate the release of Afghani prisoners from the US. Saul keeps trying to convince Haqqani that he's not that valuable, but Haqqani assures him that the U.S. is going to bend over and take it up the ass if that's what it takes to get Saul back.
At the Embassy as the ISI is leaving, Carrie has a confrontation with Aasar Khan and accuses him of knowing more about what went down with Saul and Ghazi at the airport. Khan insists he knows nothing, and even offers to take Carrie to the airport to look over the surveillance tape. He also makes a comment about how fast Carrie is talking, prompting her calm the fuck down and act cool. She agrees to meet him in 30 minutes, but she first runs back to her apartment to take her meds. Dun, dun, duuuuuun.
Everything's fine at first as she heads over to the airport to view the footage. As she suspected, there was nothing there that would help her because as it happens, some of the surveillance cameras were out of order that night. It's at about this time that the pills start kicking in and Carrie starts to bug out. Every annoying sound is amplified in her head. She accuses some poor security guard of having something in his briefcase and forces him to open it. Turns out it's his lunch.
Carrie seems to be aware that something is seriously wrong. She heads back to her apartment in a fog and falls asleep on her bed for an unknown amount of time. Her phone wakes her, and the rest of what happens in the episode is up for interpretation. Who knows how much, if any, of the following really happened and how much of it was Carrie tripping the fuck out, but here it goes.
Carrie goes to the hospital and confronts Aayan's ex girlfriend Kiran, demanding to know what illness Aayan told her that Haqqani has. As she's practically mauling this girl, Quinn grabs Carrie from behind to drag her out of there. Carrie whips out her self defense training and starts beating the shit out of Quinn, knocking him to the ground. She runs out of the hospital, into the streets, with the look of a crazed rabid animal. As she tears through the streets, she's followed by a car. When the two men get out of the car, she pulls out a gun and starts shooting at them. She then turns to open fire on another guy, but when she looks down at the gun in her hand, she realizes there's no gun at all. There never was. She's been pulling the fake trigger of an invisible gun. Just then, two men throw her into the back of a car.
Cut to Carrie sitting in a disgusting prison cell crawling with bugs, strapped in a straightjacket. She's then grabbed and driven to a fancy home. Carrie runs into a room to hide from a man who's walking down the stairs toward her. When he walks into the room, she tackles him to the ground and when the dust settles she looks into his face and sees…………BRODY!!!!!
NO FREAKING WAY!!!!
[Well, of course there's no way. We all saw him die! Didn't we?! Didn't we watch him get hanged?? It's pretty hard to fake a hanging death, right? Ok, ok everybody calm down. We know this can't be real and it's just the best Carrie meltdown of all time. Let's get back to what went down.]
Carrie sobs in Brody's arms, unable to believe that it's actually Brody because she saw him die too! "I don't know what you're talking about. No one has died," he says. LIAR!!!
Carrie climbs into Brody's lap and holds onto him for dear life. Then a man's voice whispers "Who's Brody?" Then we see the real man who's lap she's in…Aasar Khan!
Touché, Homeland. Touché.
What did you think of this week's Homeland? Sound off in the comments below!
And, check out Popdust gallery of 50 Shades Of Homeland Cray—Carrie's Best, Worst, Most Insane, Crying Faces: