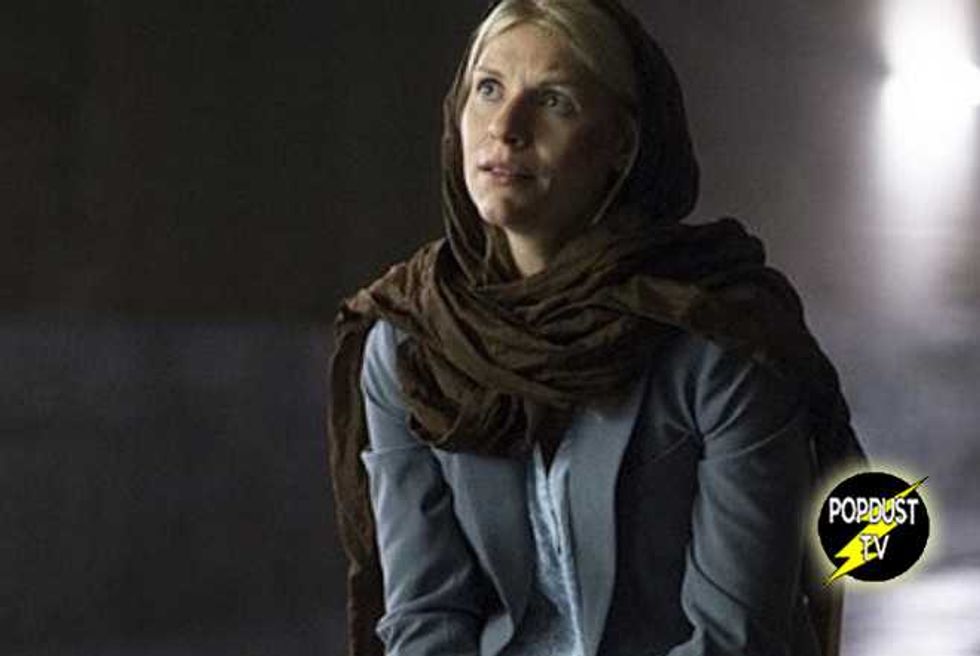 The Season 5 premiere of Homeland got off to a slow but pretty damn strong start.
Separation Anxiety kicked off two years after last season's events unfolded—with Carrie Mathison attempting to live a peaceful, drama-free civilian life in Berlin, Germany.
But, lest we forget, this is Carrie Mathison folks…. and, as we all know, peaceful and drama-free is never going to last for long where she's concerned.
Claire Danes Kinda (Not Really) Regrets Billy Crudup Leaving Pregnant Wife For Her
Carrie is giving it her best shot though, working as the head of security for the During Foundation, living with a coworker, a smokin' hot German lawyer beau, named Jonas, and playing mom to daughter Frannie—at the same time, she's also doing what she always does best, staring into the distance, brow furrowed, looking pensive.
There's Carrie receiving holy communion in a Berlin church, praying, looking pensive….there's Carrie dropping Frannie off at school, looking pensive as she watches her walk away…. there's Carrie making balloon animals at a kids' party, staring off into the distance pensively… you get the idea.
50 Shades Of Homeland Cray—Carrie's Best, Worst, Most Insane, Crying Faces
Carrie's peaceful and drama free civilian life is about to come to an abrupt end though, courtesy an urgent and nefarious sounding trip to Lebanon with her boss at the Foundation, Otto During.
During tells Carrie they need to leave in three days, all under the guise of having to drop off food and medical supplies to a Hezbollah run refugee camp, that provides a safe refuge to those fleeing from ISIS.
And, with that, Carrie is about to thrown back into the fray.
Sex With Carrie Mathison Should be Considered Torture
Meanwhile, the CIA is facing a potential major embarrassment after two German hacktivists manage to breach their security system and download documents including a shit ton of confidential state secrets.
One of the hacked documents contains information about a top secret surveillance program, monitoring possible jihadi activity in Germany, that's being run by the CIA on behalf of the Germans, who aren't officially allowed to run a surveillance program in their own country themselves.
It's the kind of top secret information that would cause a major embarrassment to both countries should it make its way into the public realm—and, guess what, it's about to.
Homeland Finale—But, Wait, Where's All The Violence And Death?!!!!
An Edward Snowdon inspired coworker of Carrie's has been sent a copy of the document, and she stops by for a visit, to see what Mathison knows about the alleged surveillance program—which, Carrie insists, is nothing.. in fact, she explains, she can't even look at the hacked document as that would violate the terms of her exit agreement with the CIA.
The coworker threatens to publish it anyway, and beseeches Carrie to tap up her CIA sources to find out if it's valid, or not…something that pushes Carrie into her usual bug-eyed state of panic.
"My old life came back.. everything I moved to get away from," she whines to Jonas later on that night. "I don't want to be in that world, I want to be here with you and Frannie."
Homeland Recap—How Is Carrie Not Dead Yet?
"You don't have to do any of that Carrie if you don't want to," Jonas replies….
Haha! As if….
Back at U.S. headquarters in Langley, the CIA is attempting to come to grips with the ever yummy Peter Quinn, who, fresh home from two years in Syria, is well and truly running rogue—all with the secret approval of Saul Berenson.
You may remember from last season that Saul was spitting mad after losing out on the top CIA position to the creepy Dar Adal—well, he's still butt sore and licking his wounds over the slight, and he's mixing shit up big time, courtesy the ever yummy Quinn.
Saul is also still pissed at his old protege, Carrie, blaming her for the recruitment slight, in addition to sulking about her decision to quit the agency.
The two engage in a showdown when their paths collide in Berlin, after Carrie meets with the CIA bureau chief there—her old Beruit buddy, Allison Carr—in an attempt to help gain safe passage to Lebanon for herself and her new boss, and to glean info on the possible surveillance program.
Homeland Recap—Should've Known That Was Too Easy Carrie!
It all goes rapidly downhill however, after Allison starts quizzing Carrie about the intentions of her new employers, and what the hell they're really up to.. resulting in an awkward standoff between the two, which ends with Allison advising Carrie to leave via the back stairwell as she's about to meet with Saul.
Saul's jetted into Berlin for a crisis meeting about the hacking, and, as he enters the Berlin bureau, he runs smack bang into Carrie, who's been lurking around at the bottom of the stairs in the hope of accosting him on his way in.
A terse conversation follows about Carrie leaving the agency, and her new job at the During Foundation—with Saul warning Carrie not to "go over to the other side" and Carrie insisting to Saul that the Foundation is not the other side.
"What are you atoning for Carrie?" Saul asks. "Keeping America safe? You're being naive and stupid, something you never were before."
Homeland Recap—Should've Known That Was Too Easy Carrie!
Clearly rattled by the day's events, Carrie returns to the During Foundation, to advise her boss to delay the trip to Lebanon for safety reasons.
Carrie's advice goes down like a cup of cold sick however, and it's made pretty damn clear that the trip is going ahead whether she can ensure their safety or not.
With that in mind—Carrie busts out her very best headscarf from her extensive collection and heads to a local Muslim gym, that the Foundation funded. She begs with the Imam to facilitate a meeting for her with the Hezbollah commander, so she can speak to him about safe passage to Lebanon.
Hmmm….. has she conveniently forgotten all that shit that went down last season?!!!
Saul's day is going every bit as badly as Carrie's it seems. He and Allison meet with their German counterparts for a very awkward lunch to let them know about the security breach. To say they're pissed would be an understatement—and they make it crystal clear that the joint surveillance project is well and truly over.
Whoopi Goldberg Farts On The View
But Saul's not throwing in the towel just yet, he vows to Allison that jihadis are still a threat to Europe, and that he can't just stand by and do nothing—and, with that in mind, he storms off into the city.
Meanwhile, guess who else has cropped up in Berlin? The newly rogue and ever yummy Quinn.
We see him staking out a hookah bar in the dark, before climbing round the back into an apartment above.
Once inside, Quinn discovers a pipe bomb making factory, and when a swarthy looking old dude enters the apartment he bashes him over the head with a lead pipe, rendering him unconscious.
It doesn't end there however, Quinn gets straight to building a fresh new pipe bomb, and when the now tied-up swarthy old dude comes round, Quinn makes small talk while finishing off his explosive handiwork, before telling the swarthy old dude that he has two minutes to prepare himself for paradise…. two minutes, more or less….as it's not a very good timer on the bomb.
With that, Quinn exits onto the street….and….BOOM!
Carrie's back in church looking pensive, clearly unaware of the drama that's about to unfold. As she leaves to go home, a van pulls up, a hood is forced over her head and she's bundled into the back.
She's taken to a dark and dank basement where she meets with a top Hezbollah operative—and, he takes no time in reminding her of their last interaction in Beruit…. you know, when the CIA attempted to assassinate Abu Nazir.
The operative tells her he lost two of his men during the failed assassination, and that he's sick of the CIA meddling in the affairs of his homeland, he's sick of all the suffering they cause.
"All that suffering and yet nothing changes, that's one of reasons I don't work for the government anymore," Carrie insists, going on to promise Hezbollah a shit ton of money if they arrange the safe passage to Lebanon.
But, no dice.
"You killed my son in Beruit. I will fight you for ever," the operative vows before walking away, leading Carrie to scream after him that he's obliged to take her request to the council.
Back home, Carrie's smokin' hot German lawyer beau, Jonas, is on the phone, attempting to persuade the Edward Snowden inspired coworker not to publish the hacked CIA documents—however, he hangs up mid-conversation after a van screeches up outside and he sees Carrie being thrown out and dumped on to the side of the road.
"Fuck you then, I'm posting," the coworker vows into the suddenly dead phone line.
Oh shit son, it's about to get real cray cray.
The ever yummy Quinn rendezvous with Saul at a mailbox place. Saul hands Quinn a key, he opens a mailbox, and takes out an envelope.
"How did your work go?" Saul asks.
"He's in paradise, I'm stuck here," a nonchalant Quinn replies.
Saul warns Quinn that the Germans want nothing to do with their next rogue operation, and that if anything goes wrong, he is on his own.
It transpires that the upcoming operation involves Quinn killing a whole bunch of people from the Al Fayid community center… something it seems, he relishes.
Finally, Carrie is in bed, next to Jonas and Frannie. She glances over at her phone, it's ringing silently, she answers it….
"This is Hezbollah calling," a voice says on the other end. "We are inviting you to visit Lebanon as our honored guest."
Cue one last pensive look by Carrie…..
What did you think of the season 5 premiere of Homeland? Sound off in the comments below, and check back on Popdust next Sunday for a new recap.
For more entertainment, music and pop culture updates and news, follow Max Page on Twitter