FILM
China might be forcing stars like Mulan's Liu Yifei to spread anti-protester propaganda.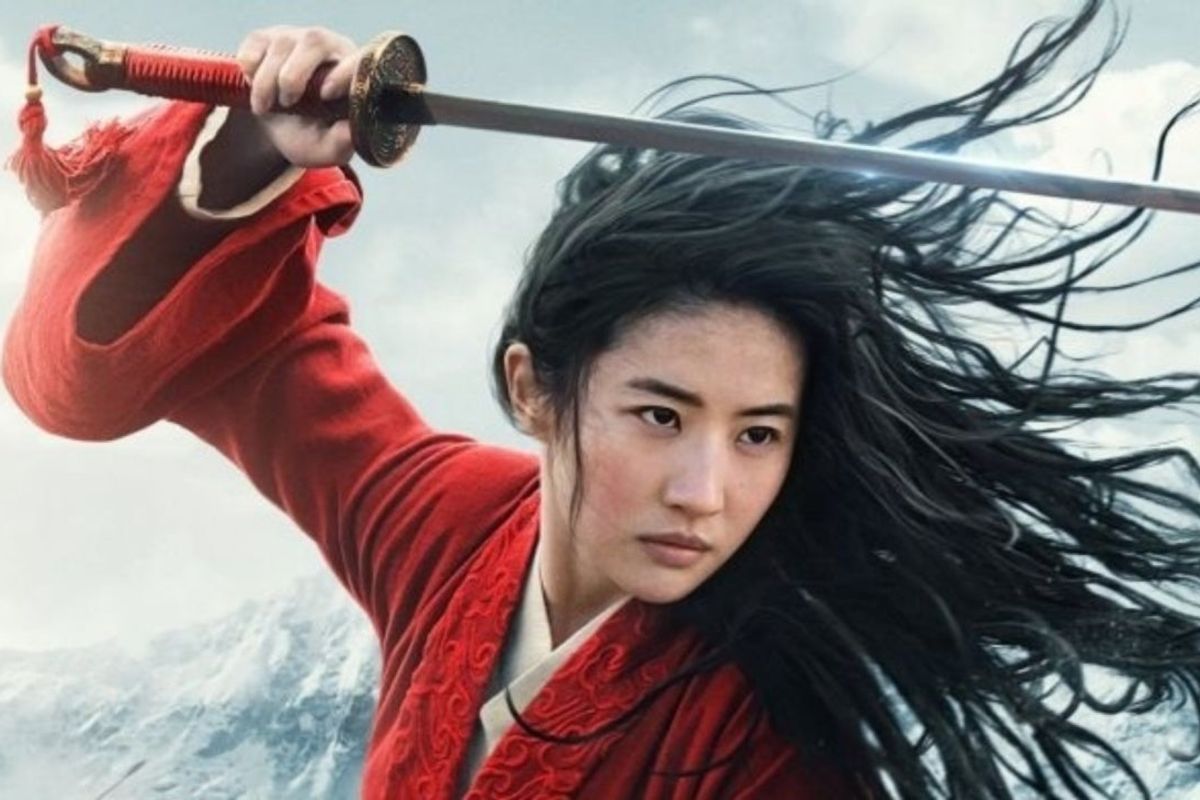 Mulan's official trailer dropped. Meanwhile, pro-democracy protesters persist in their fight for freedom in the face of violence from Hong Kong police.
Remember the controversy surrounding actress Liu Yifei (a.k.a. Crystal Liu), star of Disney's upcoming live-action Mulan, when she posted anti-protester sentiment on social media? While anger at the star's anti-democracy stance might seem natural, it's very possible that Liu is also a victim of the Chinese government.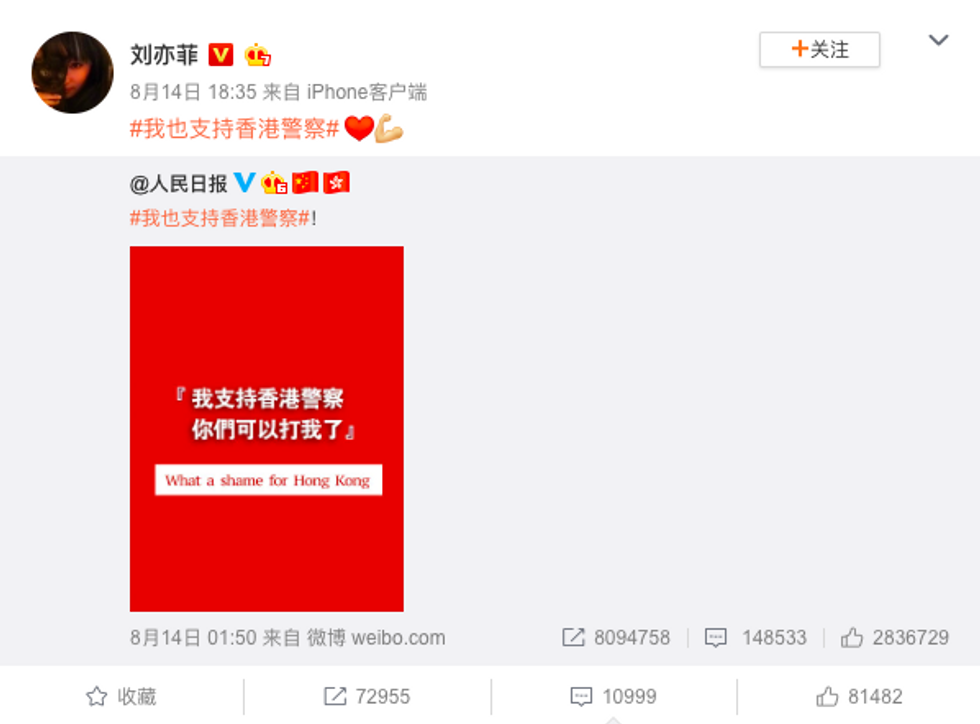 In August, Liu shared an image on Weibo (China's Twitter-like platform––Twitter is blocked in China) that translates to "I support Hong Kong's police, you can beat me up now." These are words of Fu Guohao, a mainland Chinese journalist who was roughed up by protestors after being caught taking close-up pictures of them at the Hong Kong airport and refusing to show his press credentials (the details here are scant as much of the information available is Chinese propaganda). Upon returning to China, he has been deemed a hero, and his words have become a rallying cry against pro-democracy Hong Kong protesters.

Liu's post, which was originally printed in China's state-backed People's Daily, concluded: "What a shame for Hong Kong." Liu added the hashtag "IAlsoSupportTheHongKongPolice" alongside a heart emoji and a bicep flex.
The backlash against Liu was immediate, with #BoycottMulan trending in both Hong Kong and the US on Twitter. She's been globally criticized for supporting a police force that is currently being accused of human rights violations against protesters by the UN.
"Disney's Mulan actress, Liu Yifei, supports police brutality and oppression in Hong Kong. Liu is a naturalized American citizen. it must be nice. meanwhile she pisses on people fighting for democracy," wrote Twitter user Sean Norton.
Disney's Mulan actress, Liu Yifei, supports police brutality and oppression in Hong Kong. Liu is a naturalized Am… https://t.co/bJtXwI3Abd

— dumb enough to hate, ok enough to tolerate (@dumb enough to hate, ok enough to tolerate) 1565870606.0
But while Liu's post certainly is not a good look for a Western movie star, disturbing evidence suggests that her sentiments might not be entirely her own.

In fact, around the same time, a ton of other Chinese celebrities shared roughly the same sentiment, with startling uniformity: the same "What a shame for Hong Kong" picture (or, alternatively, the Chinese Five-starred Red Flag), the same "IAlsoSupportTheHongKongPolice" hashtag, and very little else.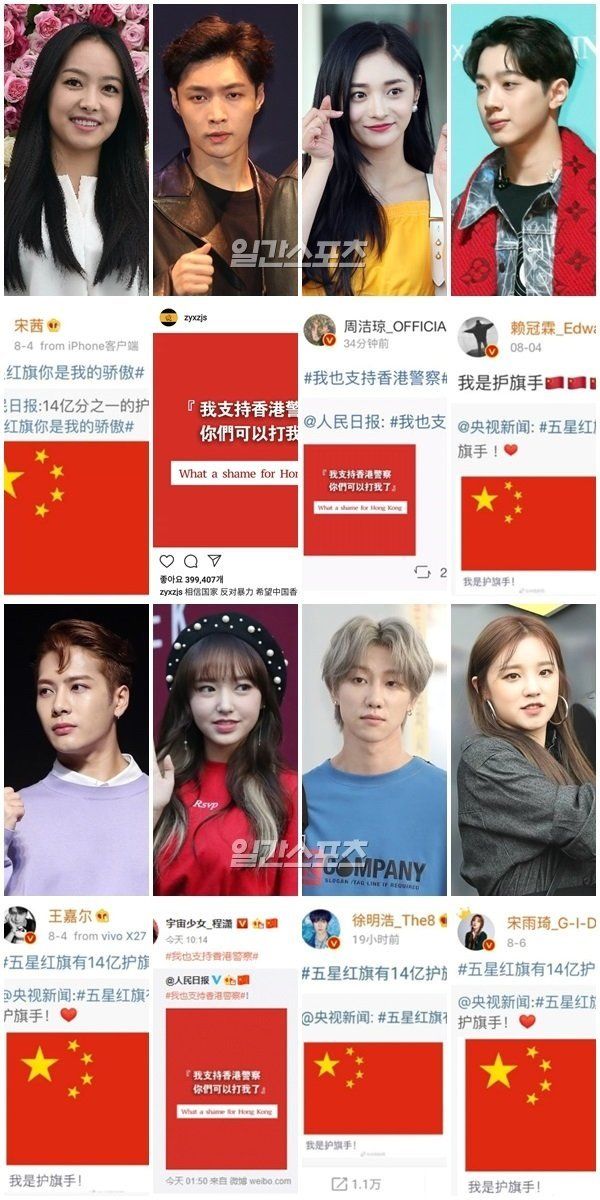 pds.joins.com
Some internationally known Chinese celebrities, like singer Lay Zhang, posted the same thing on Twitter:
What's stranger is that none of these celebrities seem particularly well-known for their political activism.

Then, in another instance, many other accounts shared the same exact message as China Central Television: "Hong Kong is part of China forever," followed by the Chinese Flag emoji.
Isn't it strange to see so many influential Chinese social media accounts essentially copying and pasting the same messages in coordination? Moreover, the comment sections for all of these posts (including Lay Zhang's tweet) are full of people supporting mainland China and the Hong Kong police against pro-democracy protesters. This anti-democracy sentiment seems especially weird on Twitter, considering, again, most of the Chinese people who hold these sentiments wouldn't typically have access to the platform.
This isn't to say that Liu Yifei doesn't actually support the Hong Kong police, nor mainland China's claim to ownership of Hong Kong. She very well might. But the possibility also exists that the Chinese government is forcibly using influential Chinese celebrities as mouthpieces for political purposes.
This is not unprecedented in China. There, celebrities' careers are explicitly tied to whether or not they hold favor with the ruling party. This was proven when they "disappeared" their most famous and successful actress, Fan Bingbing, over supposed tax evasion charges. Some, however, suspect her disappearance had everything to do with her growing international influence. She quietly returned months later, oddly sharing a pro-China Communist Youth League post in response to a director who supported Taiwan's autonomy.
"China cannot miss out on any inch," shared Fan.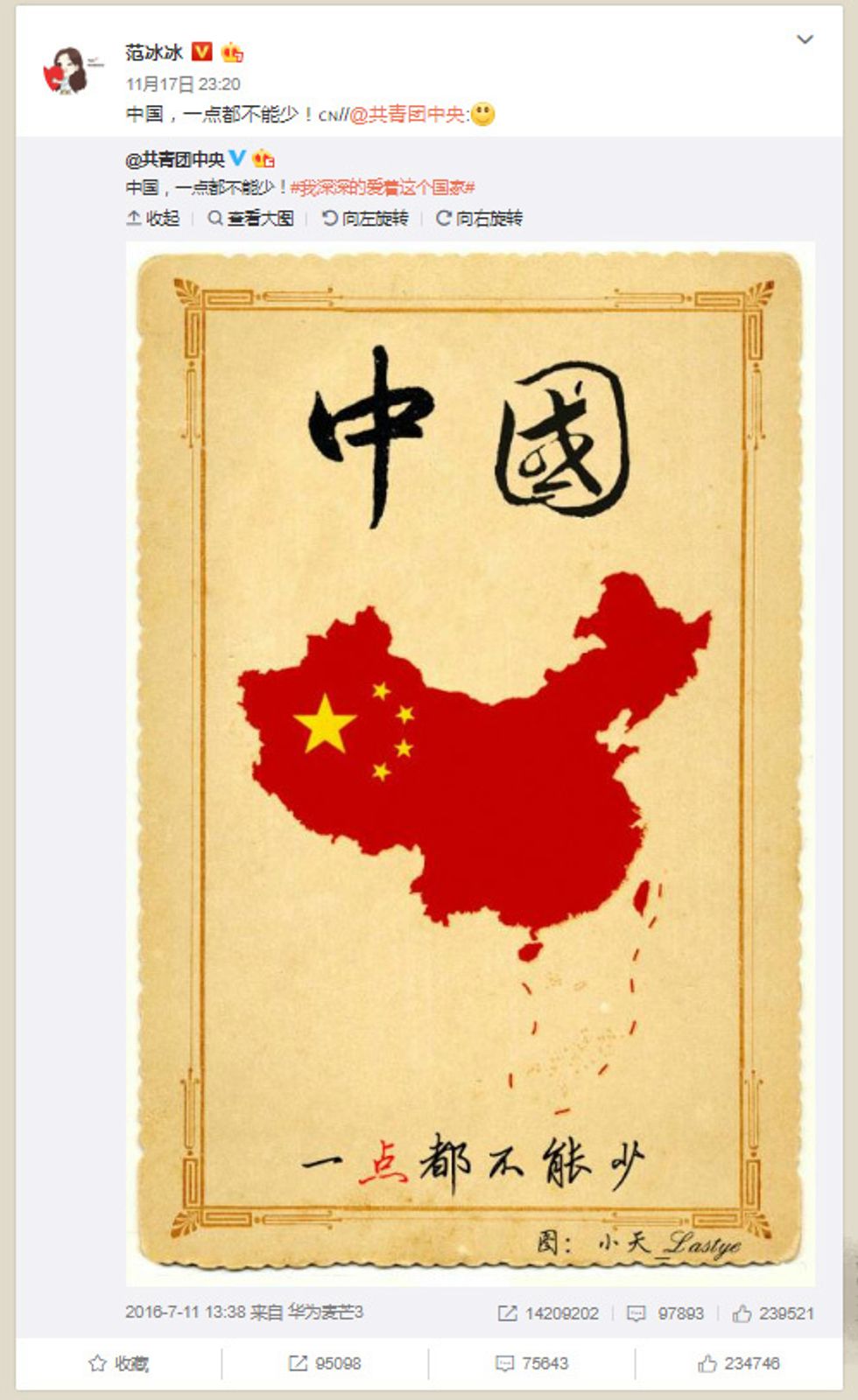 Moreover, even a naturalized American citizen like Liu isn't necessarily safe. The Chinese government has a tendency to use family members still living in mainland China to silence and control expats who might prove problematic. Such was the case for Anastasia Lin, a China-born Canadian beauty queen who spoke out about human-rights abuses in China, only for herself and her family to become targets of the Chinese government's wrath.

"My father sent me a text message saying that they have contacted him telling him that if I continue to speak up, my family would be persecuted like in the Cultural Revolution. My father's generation grew up in the middle of the Cultural Revolution, so for him it's the biggest threat you can make. It means you die, you get publicly persecuted," said Lin.
With a government like the Communist Party of China, which has unprecedented control over its people, it's hard to say what celebrity political endorsements are genuine and which are forced propaganda. While it may be a combination of the two, as seems to be the case with Hong Kong-born action-star Jackie Chan, who now goes above and beyond as a pro-China advocate, one can never really know for sure. When "freedom" is removed from the equation and the safety of someone's family hangs in the balance, it's impossible to distinguish which Chinese celebrities are patriots and which are victims.