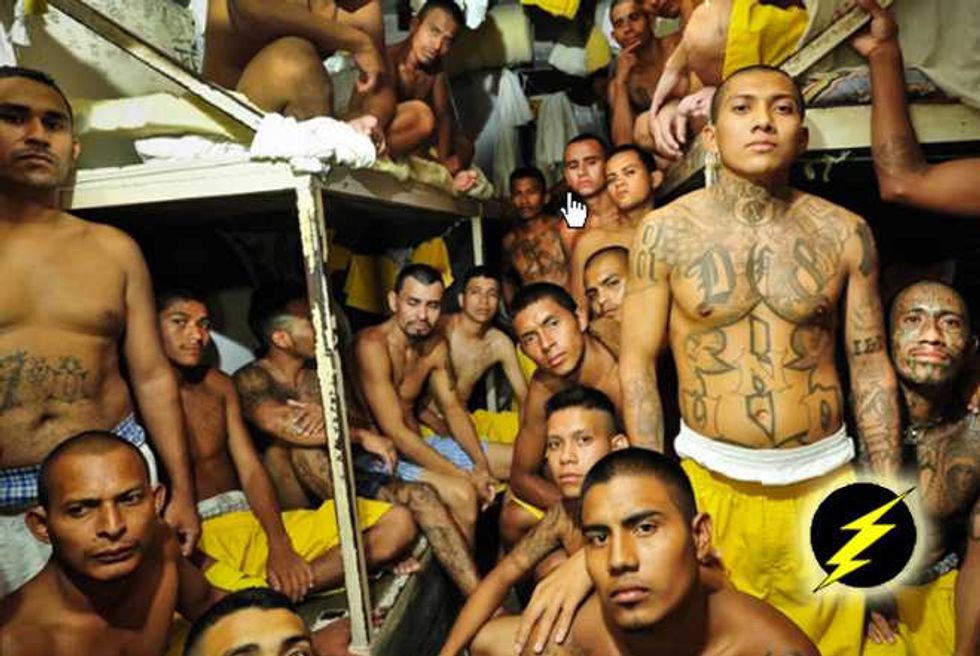 37 men crammed in to one tiny windowless cell, sleeping huddled together on a bare and filthy concrete floor, sharing one bathroom, with just a narrow slit in the door, allowing just a hint of sunlight and fresh air to trickle through into the stinking, boiling hot and oppressive space.
Welcome to life inside the "punishment and transfer" wing of a Brazilian jail, where every day survival is pretty much a living hell on earth.
Heartbreaking Story Behind That Photo Of A Dead Syrian Boy On A Turkish Beach
With rampant corruption; a breathtaking disregard for inmates' safety and well being; severe under-staffing; high levels of sexual assault and rape; crumbling, old and squalid living conditions; poor sanitation and ventilation; a lack of adequate medical care; a shocking prevalence of HIV and tuberculosis infection; chronic under-funding; and insane levels of overcrowding, it's no surprise Brazil's penal facilities have been branded a "human rights disaster."
Inside The Tragic World Of The Dancing Boys Of Afghanistan
In fact, even attempting to discuss the subject of human rights inside Brazilian jails, is impossible.
It's an oxymoron to string the two together in one sentence—every day life inside the prisons has become so bad, that Human Rights Watch is urging the Brazilian authorities to address the situation and undertake profound reform, or face international scrutiny, condemnation, possible financial penalties, sanctions and boycotts.
So, how bad can it really be?
Tour Banksy's Dismaland—The Unhappiest But Artistically Awesome Place On Earth
Well, first off, a significant percentage of inmates have not even been convicted of a crime, or even had the opportunity to appear before a judge to determine if they should be held or released on their own recognizance pending trial—they are being thrown in to these facilities pretty much straight after they've been arrested.
In a truly shocking report titled, The State Let Evil Take Over, HRW concentrates on the north eastern Brazilian state of Pernambuco—finding that nearly 60 percent of the approximately 32,000 prisoners held there, have not been convicted of any crime.
Adding to the horror of the situation, suspects awaiting trial for petty, non-violent alleged crimes, like minor theft, and possession of small amounts of drugs, are being held in the same cells as hardened, violent, convicted criminals such as murderers, rapists, contract killers, gang members, and drug barons—in direct contradiction to both international and Brazilian law.
The state's severe delays in judicial processing is fueling the chronic prison overcrowding crisis yet further, as suspects are forced to languish in jail for months, awaiting the opportunity for any kind of hearing, let alone trial—HRW reports that one suspect was held in a Pernambuco prison, pre-trial, without ever seeing a judge, for six years.
Chill With The Free-Bleeding Bullshit—It's Actually All About MIND, Not Menses
2,300 inmates are crammed in to the PAISJ jail, in Itamaracá, which, according to the facility's director, has a true capacity limit of 520—forcing detainees to sleep in any kind of space they are lucky to find—on top of cement tables and benches in the yard, in the dining room, corridors, toilet floors….
Controversial UK Porn Ban Sparks Mass 'Facesitting' Demonstration
Not surprisingly, given the insane level of overcrowding, combined with the shockingly poor sanitation, inadequate ventilation, and lack of medical care inside Brazilian jails, disease is rampant.
The prevalence of HIV infection inside Pernambuco's prisons is at a level 42 times higher than that of the general, non-incarcerated population of Brazil—and, TB infection is even worse, running at a shocking 100 times higher.
Then there's the very real, and ever present, non-medical related dangers that prisoners face.
Inside The Unbridled Douchebag World Of 'Instagram Playboy' Dan Bilzerian
With severe under-staffing levels, it's common for jails to have fewer than one guard for every thirty inmates—In fact, at the PAISJ facility, only a paltry four guards are on duty together at any one time, to oversee the 2,300 inmates—leading to the terrifying scenario of select prisoners being tasked with controlling and maintaining the order inside the facility.
In Defense Of Sweet Home Alabama—Why Its Racist Legacy Is Not Deserved
The specially chosen inmates are referred to as "keyholders" and have the power to run everything when it comes to life inside the cells and communal areas. The prison guards only control what happens on the outside.
Given the criminal nature of the convicted inmates inside the jail, they frequently take their new found power as an opportunity to extort money from fellow prisoners, forcing them to pay a fee to sleep somewhere or to eat; they sell drugs.
They form militias to threaten and intimidate inmates that don't obey their every rule and demand; they run guns and other weaponry; they sexually assault and rape weaker inmates at will…
And, prison officials, who are often take a percentage off of the keyholders' pay, or receive kick backs from the criminal endeavors, simply turn a blind eye.
Bigger The Better! Welcome To The Fab And Fat Fetish World Of 'Gaining'
Even when inmates attempt to report being the victim of a serious crime, like two detainees who were gang raped, they are ignored by guards, or, even worse, punished yet further.
HRW has a horrific first hand account of how much worse life can get for those poor victims that attempt to report violent assault and, or, rape.
Croatian Human Rights Dude's Pants Fall Down As He Accepts Award From President
28-year-old "Jorge" was a law abiding, hard working, married father-of-two, who ran a small food delivery business, before becoming addicted to cocaine–leading to his arrest for alleged theft.
He was thrown into a tiny, cramped cell with 10 other men, at the Centro de Observação Criminológica e Triagem Professor Everardo Luna facility, just outside of Recife.
People Please Just STFU About The Chrissie Hynde Rape Victim Blame 'Controversy'
A short time after Jorge arrived in the cell, a bag was forced over his head, his hands were tied behind his back, and he was repeatedly gang raped, both orally and anally.
When they were finished, Jorge's rapists beat him, and threw semen in his face.
Jorge tells HRW, "I cried for help and the men were shouting and singing. Nobody came."
Mesmerizing Video Gives Glimpse Of Everyday Life In Pyongyang, North Korea
Jorge's attackers were armed with knives and threatened to kill him if he dared speak out about his ordeal.
When he did, asking a prison guard for help, the guard told Jorge, "Prisoners have to suffer," and did nothing about it.
A month later, Jorge thought his luck had changed, when he got the chance to meet with a Human Rights Ombudsman who was visiting the prison.
She reported the attack, and pushed for Jorge to be given an HIV test as his rapists had not used condoms, but he never received one. She did manage to arrange for him to be transferred to another facility though.
But, that's when life took an even darker turn for Jorge—as, after he arrived at the new prison, he was thrown into a windowless filthy cell with 36 other men, in the "punishment and transfer" wing, specifically designed for the most violent prisoners—those inmates who are unable, or just plain unwilling, to follow the "rules."
Inside North Korea's 'Nazi-Like' Atrocities—Torturing, Starving, Exterminating Citizens
Despite his new cellmates' propensity for violence, and the lack of guards patrolling the area, Jorge was told he was placed there for his own safety.
And, that's where Jorge remains, four months later, still awaiting the opportunity to appear before a judge.
Go here to read more of Human Rights Watch's reports on Brazilian jails, and visit Amnesty International's website to learn how you can take action.
For more entertainment, music, world and pop culture updates and news, follow Max Page on Twitter