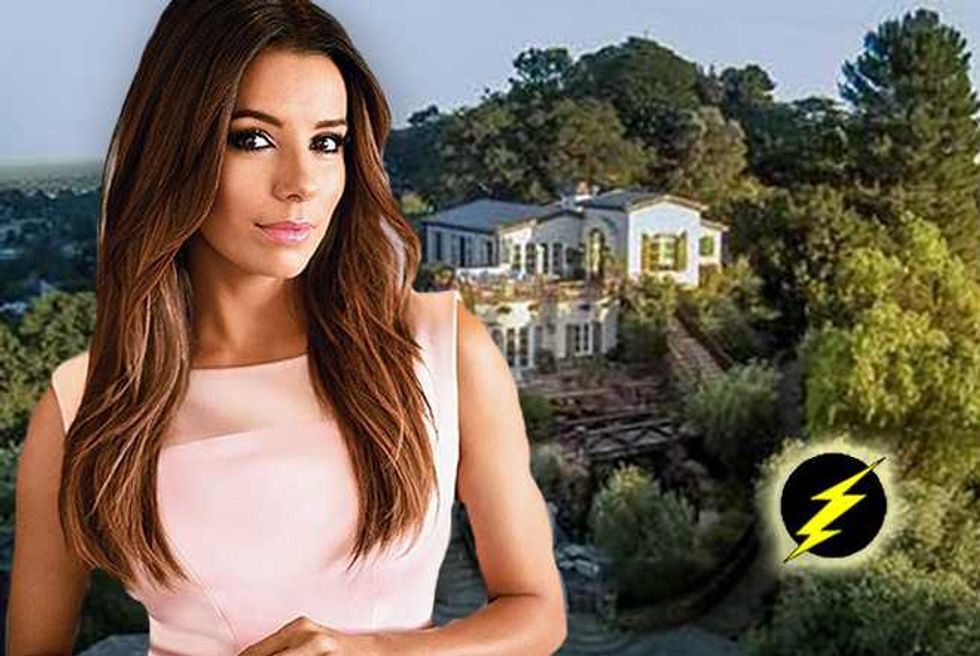 eva longoria hollywood home
Eva Longoria's proved she's no Desperate Housewife.
The actress is doing pretty damn well actually, thank you very much, so well in fact, she recently bought herself an $11.4 million dollar, 2.75-acre pad.
House Tour Tuesday - See Selena Gomez's Stunning Calabasas Mansion
Set atop the breathtaking Laurel Canyon, the gated, European-style villa is a steal, as it has been reported by Zillow that the former owner was asking for closer to $13 million.
And this is no ordinary seller. Let's just say the couches were probably jumped upon like an untrained puppy would and the library was stocked with L. Ron Hubbard hardcovers.
House Tour Tuesday—Beyonce and Jay Z's New Orleans Mansion
Yep, none other than Mr. Tom Cruise used to live there. Now, the 2-story, 3-bedroom, 3-bathroom home in the elite Hollywood Hills will be enjoyed by the elegant 40-year-old Eva, who showed Cruise the money.
The gorgeous home is decked in wide plank oak floors, Venetian plaster walls, and an Italian farmhouse-style kitchen with chef-worthy appliances. Eva's a restauranteur, so this was surely a hot selling point.
Madonna Buys $20 Million Penthouse In Tel Aviv—Take A 3D Tour!
There's also an elaborate guesthouse with 4 more bedrooms, 4 baths, a lagoon swimming pool, a spa, and a waterfall! Tom, why are you giving this all up… have you gone into Oblivion?
If Eva ever gets maternal, there is a children's playground for the little ones to explore. Sorry Suri, say "bye bye" to your swing set.
Looking At 17-Year-Old Kylie Jenner's $2.7 Mil House Can Seriously Fuck Your Zen Up
For the winos, Daily Mail reports that the sprawling home features a wine cellar with a tasting room, and a party room for entertaining if Eva wants to invite A Few Good Men over for a Cocktail.
It's been reported that Eva's got a new special someone in her life, so perhaps they'll be shacking up in this palace of a property.
Congrats Eva, let's hope your new TV show, Telenovela is a hit, otherwise, you may need to rent out the guesthouse.
Check out Longoria's pricey new pad below—and you can take a tour of other stars' homes here