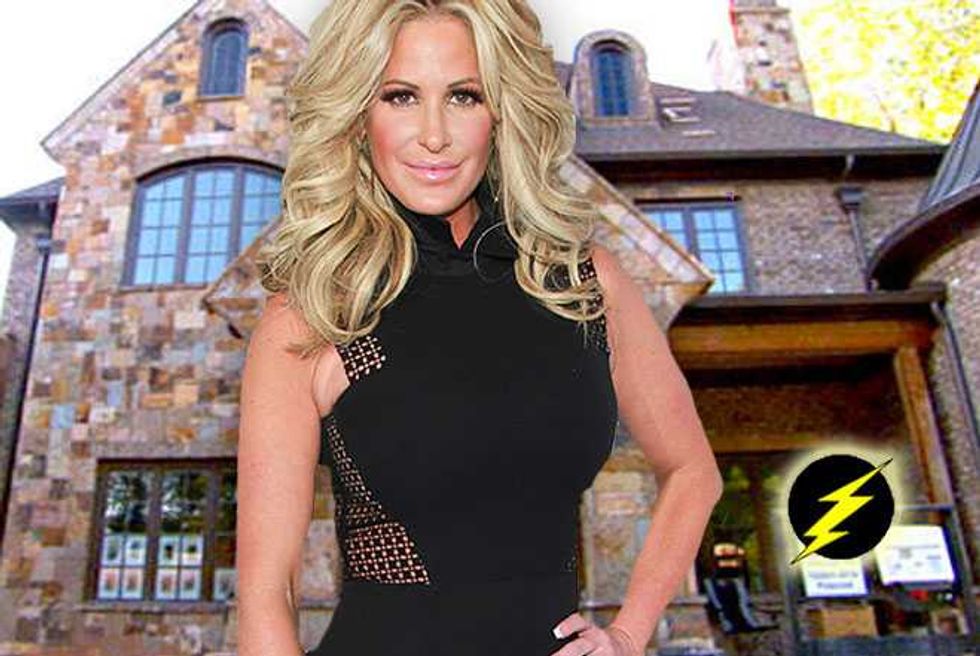 kim zolciak atlanta mansion House Tour Tuesday—Kim Zolciak's Atlanta Mansion
Former Real Housewives of Atlanta "singer" of Don't Be Tardy, mother-of-six, and doting wife of athlete Kroy Biermann never does anything small—as evidenced by Kim Zolciak's Atlanta mansion.
From her bodacious boobs, to her wild wigs, to her humungous home, this gal is livin' large in Atlanta. Her new place with her hunky hubby and kids is a mega-mansion.
House Tour Tuesday—Lisa Vanderpump's Absolutely Fabulous Villa Rosa
Heck, Us Weekly reports there's even an elevator to transport Kim and her red Solo cup cocktail from one floor to the next.
Here's what else the home boasts:
First up, there's a luxurious swimming pool in the yard which looks more like a beach club, decked with fancy lounge chairs and a huge patio. Can we come over for a dip, Kim?
House Tour Tuesday—Kanye West And Kim Kardashian's $20Mill Mega Mansion
The front of the mansion is covered with gorgeous brick, giant windows, and a large circular driveway for all their cars and SUVs.
The living room is decorated in luxe black, white, and grey, with cozy chairs, sexy sofas, and round rugs. Elaborate drapery surrounds the floor-to-ceiling windows making the room bright and open.
House Tour Tuesday—Beyonce and Jay Z's New Orleans Mansion
Kim's a lover of the outrageous, making her "Candy Cane" room unique in shades of red and white, with large mirrors, chaise lounges, and fancy seating. An expensive chandelier tops off the room with elegance.
Of course, Kroy needs his space, hence the "Man Cave." Shades of brown with leather and animal prints make the room most cave-like, and the wet bar makes it perfect for drinking with the boys.
The study looks sophisticated and smart, though we're not sure who's doing any studying in that room, especially with a large portrait of Kim strapped in leather hanging above the fireplace.
Looking At 17-Year-Old Kylie Jenner's $2.7 Mil House Can Seriously F*ck Your Zen Up
The master bedroom is magical, with a bed fit for a queen and her king, plenty of space, and lots of special touches. A soft beige rug makes the room warm and snuggly.
The kids' rooms and nursery are nicer than most of our entire homes and will set them up for wanting nothing but the best as they get older. Let's hope the family keeps going strong bringing in the reality TV dough.
Apparently, Kim has "closed her legs to married men" and opened her home to her large and good-looking family.
Take a tour of Kim Zolciak's Atlanta mansion courtesy of Bravo TV—and check out other stars' fabulous homes here