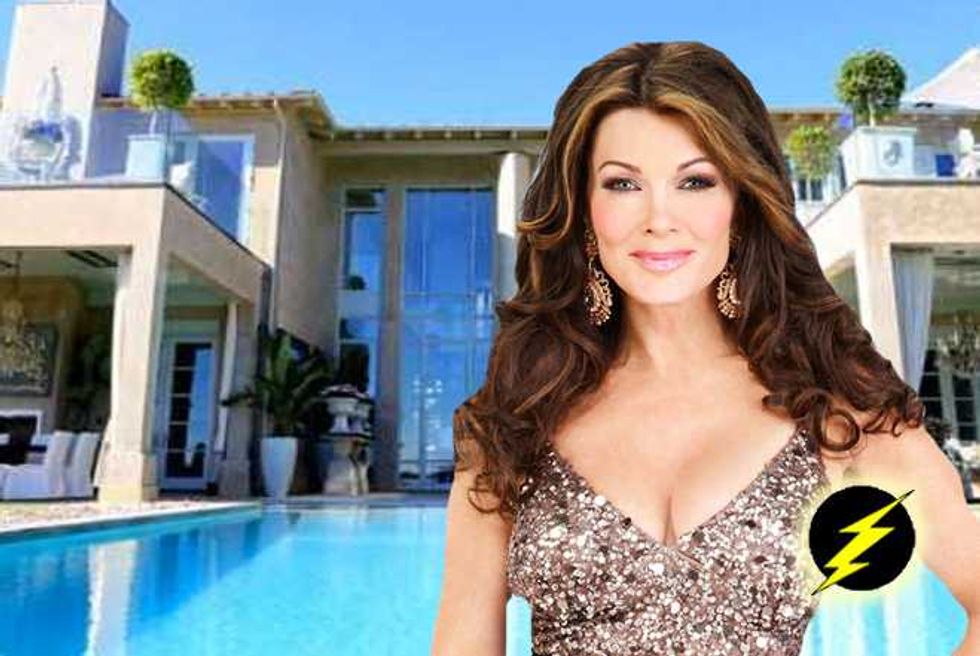 lisa vanderpump house villa rosa
As far as Real Housewives go, Lisa Vanderpump is by far the classiest.
Heck, her Beverly Hills home has a name, like it's a hotel – Villa Rosa. Do you call your home anything aside from a mess?
Queen V dwells with her hubby Ken and various animals in the 8,800 square foot mansion, as The Richest reports.
House Tour Tuesday—Kanye West And Kim Kardashian's $20Mill Mega Mansion
If you think that sounds overly spacious, take note that the couple moved out of a 17,000 square foot place to, you know, minimize.
Ah, to be a rich Beverly Hills restauranteur and reality star with a fabulous accent. We can only dream of such luxuries or live vicariously through her on TV.
Looking At 17-Year-Old Kylie Jenner's $2.7 Mil House Can Seriously F*ck Your Zen Up
So what's inside this magnificent home?
The Richest states that the glorious mansion boasts five bedrooms, eight bathrooms, and a huge two story library. Get a Kindle and convert that space into a spa or something, Vanderpumps!
House Tour Tuesday—Beyonce and Jay Z's New Orleans Mansion
There's an enormous swimming pool (though I can't imagine Lisa getting her hair wet), a restaurant-quality chef's kitchen, and a guest house on the premises.
The four extra in-house bedrooms are obviously not suited for guest accommodations.
House Tour Tuesday—Selena Gomez's Stunning Calabasas Mansion
The home is the epitome of fancy-schmancy, with marble décor, plush sofas and bedding, huge windows, chandeliers up the kazoo, and the finest of furniture and knick-knacks (if you can even call such expensive items as such).
The grounds are spectacular with breathtaking views of Beverly Hills.
House Tour Tuesday - Eva Longoria's Luxurious Hollywood Hills Home
That little Giggy surely is living the good life.
Take a peek inside Villa Rosa, courtesy of Bravo TV—and check out other stars' fabulous homes here
When your closet looks like a department store, you know you have too much room to spare.