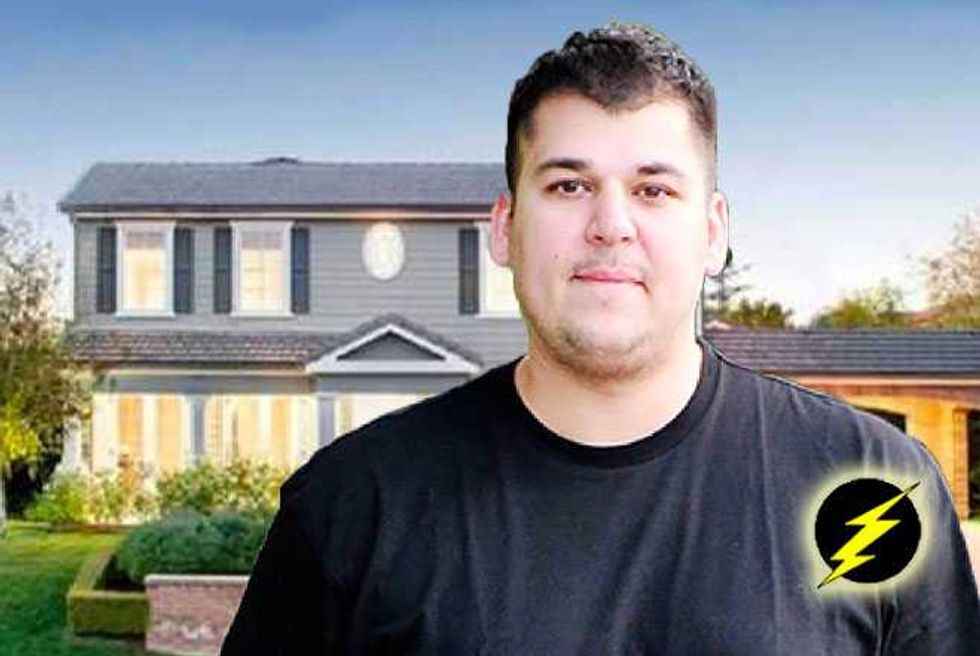 rob kardashian calabasas house photos
Glad to see Rob Kardashian came out of his hole and is getting back into the sunshine.
Folks were starting to worry he'd be the one to predict whether or not we'd see six more weeks of winter next year.
Thankfully, Blac Chyna used her super powers (likely stored in her "trunk") and got Rob out of his funk.
New bachelor (but not for long) pad
The black sheep of the family got back into the Kardashian way with the purchase of a $2.3 million bachelor (but not for long!) pad in a swanky gated community in Calabasas, CA, as per Page Six.
Sisters Kourtney, Khloe, and Kylie, and mom Kris all live nearby in case he ever repairs his relationship with them and they're willing to invite Rob and Blac over for one of those huge salads they're always chowing down on.
Back to the house
It's 4,256-square-feet, with four bedrooms, five bathrooms, and a pool outside for some major cannon balls.
The front of the home looks quaint with a gray paneling and bright windows.
The living room is neutral with elegant artwork, beige couches, and an inviting fireplace.
Another living area boasts a manly leather sofa, a huge screen TV, luxe wood flooring, and floor-to-ceiling windows.
Top-of-the-line kitchen
Inside the kitchen (where we hope Rob is stocking up with healthy snacks), there's a large marble island, top-of-the-line appliances, and plenty of countertop space.
It has an open, airy feel which looks out onto other rooms in the home.
Up in the boudoir, Robbie will sleep in a neutral-toned bedroom with large windows to let the sun shine through as he awakes from dreams about Blac Chyna and his sock line.
There's an adjoining sitting area beside the bedroom for hanging out and chilling before hitting the sack.
Bathe in style
Rob will bathe in style in his super-modern bathroom with a giant tub and expensive-looking marble floors.
It's a huge space big enough for a few Kardashians to primp in together (not that they need to).
Along with the pool, Rob's outdoor patio is the place to hang with the guys and toss back some beers.
There is cushioned seating, small tables, and a cool vibe.
Momma pay, or momma not?
Congrats Rob! You are finally manning up and doing something pretty remarkable for someone who's been hibernating for the past few years.
Although, some reports say Mama Kris bought the pad for him. Hmmmm.
Either way, enjoy your new abode while you can.
We're pretty sure Blac Chyna is gonna put her stamp on the place, now you've finally put a ring on it.
Check out the Rob Kardashian Calabasas house photos for yourself below—and take a peek inside other stars' fabulous homes here
House Tour Tuesday—Scott Disick Bachelor Pad
House Tour Tuesday—Kim Zolciak's Atlanta Mansion
House Tour Tuesday—RHOBH's Erika Girardi's Pasadena Palace
rob kardashian calabasas house photos

House Tour Tuesday—Melissa And Joe Gorga Sell NJ Home
House Tour Tuesday—Yolanda Foster's Luxurious LA Condo
House Tour Tuesday—Inside Kandi Burruss' Palatial New Atlanta Estate
rob kardashian calabasas house photos