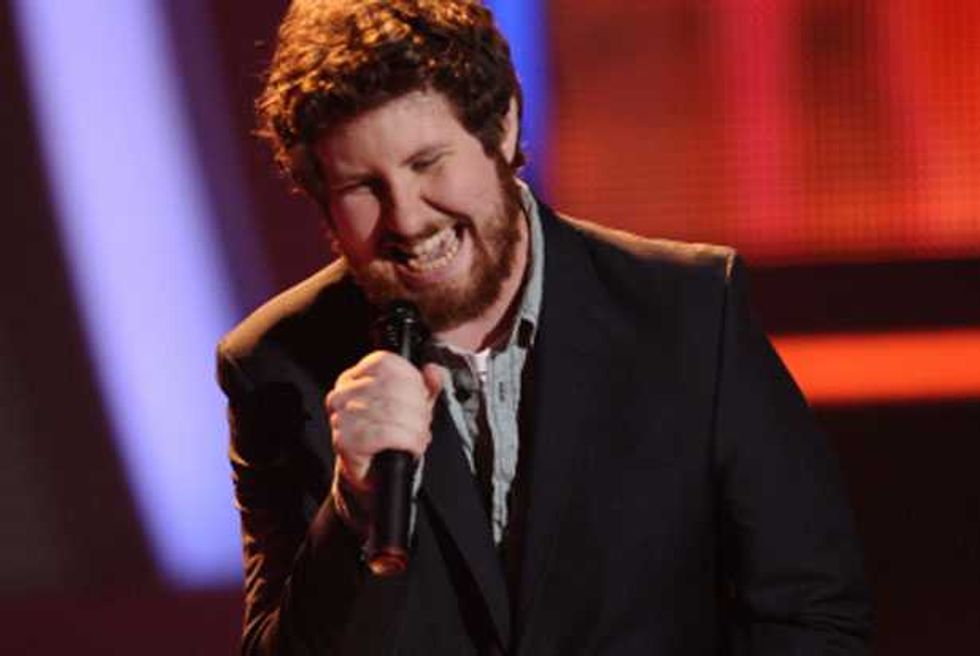 The American Idol semifinals begin tonight, with an episode featuring performances by the top 12 male contestants (including the on-the-mend Casey Abrams, above) that was taped last Friday night. Because the shows were taped in advance, spoilers of what everyone would be singing have leaked out. Let's take a look at what we'll allegedly be hearing tonight and tomorrow (via Rickey):
1. Clint Jun Gamboa: Superstition (Stevie Wonder)

2. Jovany Barreto: I'll Be (Edwin McCain)

3. Jordan Dorsey: OMG (Usher)

4. Tim Halperin: Streetcorner Symphony (Come On Over) (Rob Thomas)

5. Brett Loewenstern: Light My Fire (The Doors)

6. James Durbin: You've Got Another Thing Comin' (Judas Priest)

7. Robbie Rosen: Angel (Sarah McLachlan)

8. Scotty McCreery: Letters From Home (John Michael Montgomery)

9. Stefano Langone: Just The Way You Are (Bruno Mars)

10. Paul McDonald: Maggie May (Rod Stewart)

11. Jacob Lusk: A House Is Not A Home (Dionne Warwick / Luther Vandross)

12. Casey Abrams: I Put A Spell On You (Screamin' Jay Hawkins / Creedence Clearwater Revival)

1. Ta-Tynisa Wilson: Only Girl (In The World) (Rihanna)

2. Naima Adedapo: Summertime (Porgy & Bess)

3. Kendra Chantelle: Impossible (Christina Aguilera)

4. Rachel Zevita: Criminal (Fiona Apple)

5. Karen Rodriguez: Hero (w/Spanish lyrics) (Mariah Carey)

6. Lauren Turner: Seven Day Fool (Etta James)

7. Ashthon Jones: Love All Over Me (Monica)

8. Julie Zorrilla: Breakaway (Kelly Clarkson)

9. Haley Reinhart: Fallin' (Alicia Keys)

10. Thia Megia: Out Here On My Own (Irene Cara)

11. Lauren Alaina: Turn on the Radio (Reba McEntire)

12. Pia Toscano: I'll Stand By You (The Pretenders)
And now, a few theories based on this information:
Certain Idol standards will continue to persist. "I'll Be"! "Light My Fire"! "I'll Stand By You"! All of these (and a few others) have been done by Idol contestants before, which makes performing them now a risky proposition for this year's hopefuls. Especially in a year that's been so about explicitly breaking tradition—how many times will Randy Jackson turn back the clock during his judging?
There are some concessions to very current music. Bruno Mars is going to be a pick hit for lots of contestants this year—I wouldn't be surprised if one of the more belt-inclined girls even goes for him in the finals—but I still am mystified by peoples' decisions to sing songs that are the product of studio trickery like "OMG" and "Only Girl (In The World)." Particularly in the latter case, since I have yet to hear Rihanna herself pull off that song's big swoops in a live setting.
Español! Very curious about the supposed decision of Karen Rodriguez—the Idol contestant found via the show's MySpace auditions—to incorporate a bit of the Spanish-language version of "Hero" into her performance. Will this galvanize a new demographic to vote for her, or will it backfire? And will other contestants follow suit over the course of the season?
Slightly edgier choices. James Durbin's decision to sing Judas Priest is pretty unsurprising—oh look, he can go for a cat-strangling high note once more!—but it's enough to make me wonder if the rockers are going to go in harder over the course of the season. (If they stick around, that is.) Meanwhile, I kind of can't wait to hear Rachel Zevita do Fiona Apple's "Criminal"—after her performance of Lady Gaga's "Speechless" on the selection show, I am starting to really like her, and I can't help but wonder if she's trying to brand herself as a New York CIty girl.
(And a final note to Haley Reinhart, who actually seems kind of awesome: Why would you sing "Fallin'"? That song is such a dirge! Here's hoping you switched it up a bit and made it somewhat interesting.)