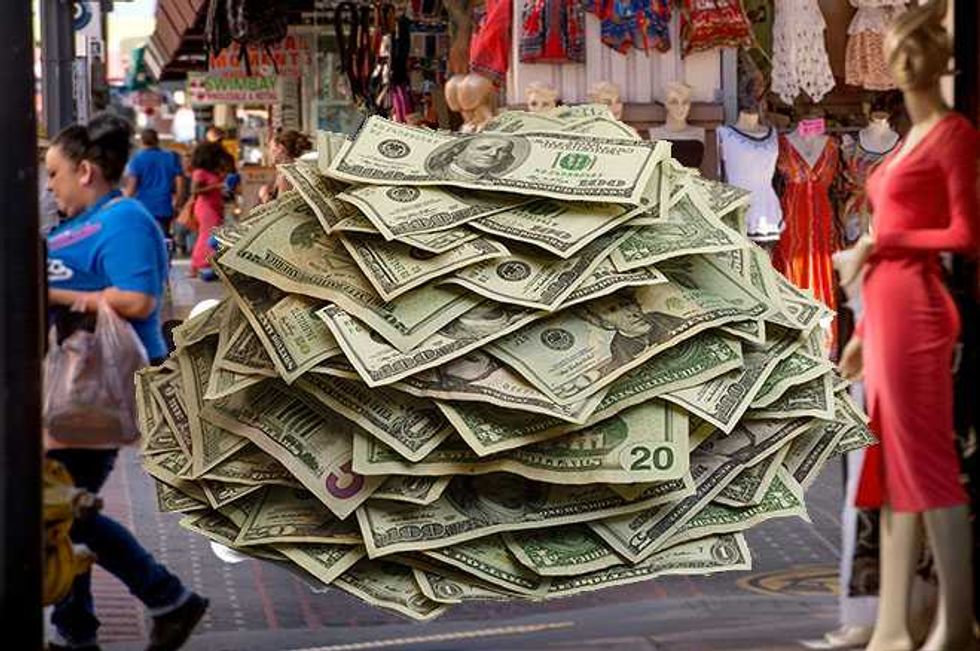 Los Angeles is known for many things - sun, surf, movie stars and smog, but now you can add one more thing to the list - a Mexican drug cartel money laundering hub.
Following a series of federal raids on and around Los Angeles' historic Fashion District, earlier this week, it's come to light that the notorious Sinaloa drug cartel has been using wholesale fashion store fronts as a way to launder and transfer criminally-earned money back to Mexico.
Since 2010, when Mexico limited the amount of U.S. currency that can be deposited in their banks, exchanges and brokerage accounts, the cartels have been hard pressed to find ways to get their drug dealing, and related criminal activities, earnings from the states back into their possession in Mexico, without alerting authorities.
However, as is usually the case with hugely successful criminal enterprises, it looks like they managed to find a way. Taking a page from the good old Colombian drug cartel king, Pablo Escobar's 1980s' Miami money laundering tactics guide book, the Sinaloa drug lords starting utilizing wholesale retail businesses to funnel their dirty cash and then return it, nice and clean, back to Mexico.
It worked like this, black market peso brokers would contact legitimate businesses south of the border and broker deals to import clothing goods from LA. Once a deal was struck, the peso brokers would contact a U.S. based cartel employee and they would pay the cost of the order in cash dollars to one of the LA Fashion District wholesalers. Meanwhile, the importer in Mexico would transfer the order amount into the broker's account, in pesos—the broker would then take their cut and pay the remainder to the cartel.
And, bingo! Just like that the dirty dollars became clean pesos in the cartel's grubby hands and Mexican bank accounts.
One of the businesses being utilized by the cartel was QT Fashion, a maternity clothing store in downtown LA, which helped facilitate the laundering of $140,000 in ransom money paid by a cartel hostage's American family in order to secure his release.
And, they would have got away with it if it wasn't for those pesky law-enforcement dudes!
Immigration and Customs Enforcement Agents had been monitoring the laundering operation for some time, before going undercover—infiltrating black market peso brokerages, and approaching the suspected Fashion District stores with bundles of shrink-rapped, blood spattered cash they claimed had come from drug trafficking and needed laundering. According to the agents, nobody even blinked at their request, and willingly took the dirty dosh.
The FBI became involved in the operation following the kidnap ransom payment, and, when they finally gathered enough intel they struck— conducting dramatic raids of 75 LA area locations on Thursday.
According to the LA Times, the raids resulted in nine arrests and the seizure of $90million—$70million of that in cold hard cash.
During one of the raids, on a condo, Feds uncovered a whopping $35 million packed inside banker boxes piled in a bedroom—in another, at a Bel-Air mansion, they discovered $10 million stuffed inside of a duffel bag